Singer Malini Awasthi talks about her musical journey and being an authority on the folk traditions of Uttar Pradesh
Now it's such an open market and there are no barriers like there were earlier, says Malini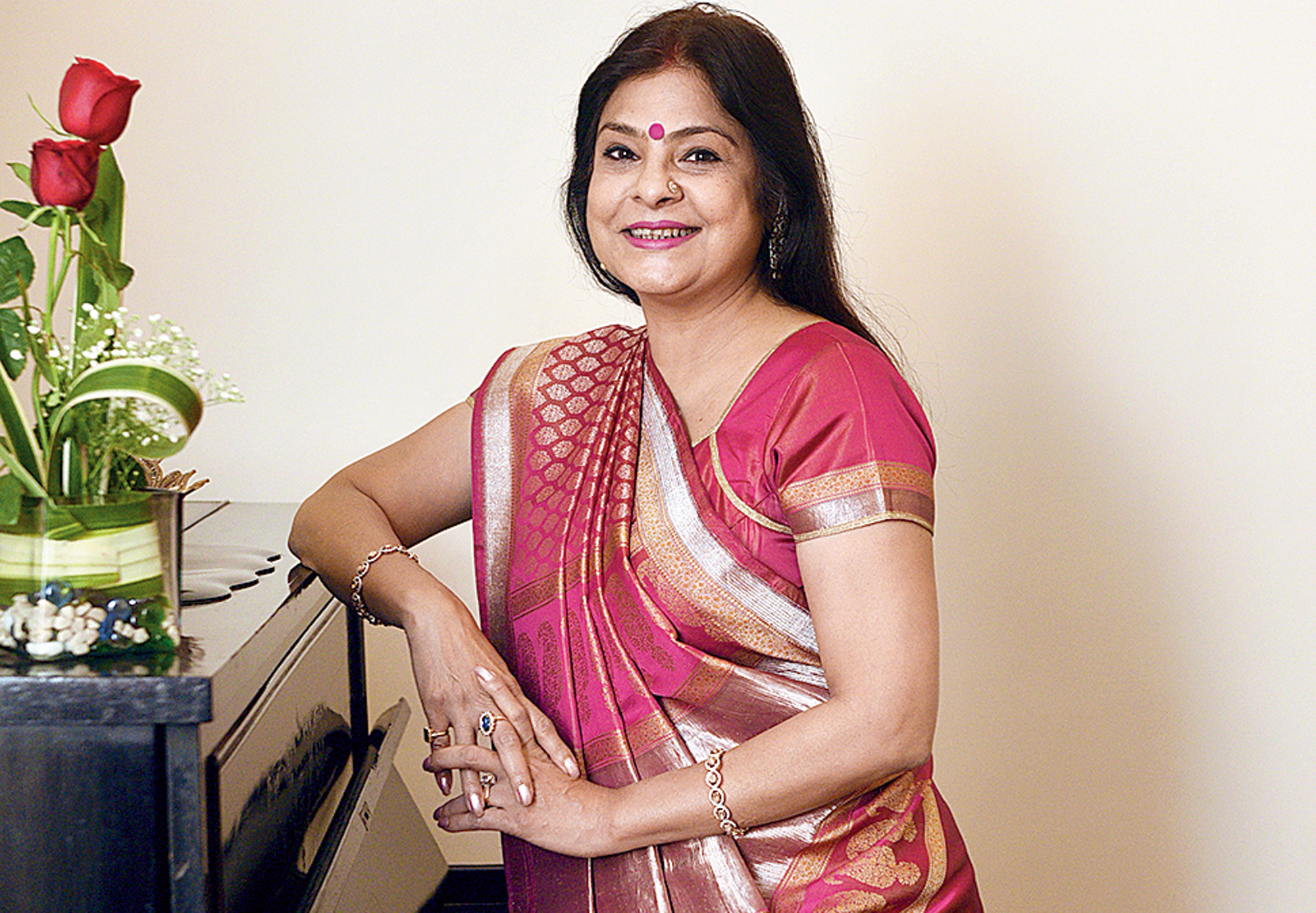 Malini Awasthi.
Rashbehari Das
---
Published 22.03.19, 05:01 PM
|
---
Celebrated Indian folk singer Malini Awasthi — who sings in dialects such as Awadhi, Bundelkhandi and Bhojpuri — was in the city to perform at a classical music festival recently. Awarded the Padma Shri in 2016, Malini originally hails from Lucknow, but now shuttles between Delhi and Lucknow. A t2 chat with the singer.
When did you start singing?
I come from a traditional Brahmin family in Uttar Pradesh but my parents were very open-minded and believed that girls should know music. I learned music from various gurus. My father was a doctor and we moved from one city to another and a great deal of my musical education took place in Gorakhpur. I was there for eight years and I learnt from Rahat Ali Khan saab and Shujat Hussain Khan saab. Shujatji is from Rampur gharana and Rahat Ali Khan saab is from Patiala gharana. Then I moved to Lucknow for my post-graduation from Bhatkhande Sangeet University. Classical has always been a part of my grooming and learning but meanwhile our gurus also taught us light music — gazals, thumri, bhajan.
The folk of Uttar Pradesh always attracted me and I thought not enough is being done. It hadn't got its due and I felt there was a class difference — if it was classical people would say it's great even if there's no ras. Music is all about ras and folk people who are untrained, ungroomed can move you to tears and it's not easy to do that. So I thought somebody needed to do this. I started collecting songs, learning from my taiji, my grandmother… every woman in UP plays the dholak and sings songs. In the '70s and '80s every house used to have a dholak, sadly not anymore. I remember as a teenager, writing those lyrics down and trying to sing. These songs have been passed on to the newer generation through oral tradition.
What have been the highlights of your folk music career?
A lot of them! Now everyone knows in India that if anyone needs to know about UP ka folk, they should contact Malini Awasthi. Very early in life, Jagjit Singhji had heard me sing kajri in Sa Re Ga Ma and told me, 'Malini I had no idea that there are varieties of kajri and you have presented us three.' I told him, 'I can present you two more'. Recently, I performed at India Habitat Centre in Delhi and Amjad Ali Khan saab and many more were there. I chose to perform some rare songs of mirasans — they were women folk singers who were invited to sing for weddings or other festivities at home. So I sang sehra, mubarakbadi and a lot of rare wedding songs. By the time I finished, Khan saab just got up and said, 'We all need to go to stage to felicitate her. Where were you all these years?' It was amazing.
There's another instance 10 years back, when my guru Girija Deviji was travelling and came to my performance in Delhi straight from the airport. I got very scared because a guru is a guru… I was performing the journey of folk from lullaby to nirgun. In the middle of the performance, I realised she has just come and stood there… when I finished, I went and touched her feet. She just held me and said, 'I respect you for this… what I teach, everybody sings. But this is your own creation, your own audience.' Then she started singing a folk song on our way back, earlier I had never heard a folk song from my guru because she sings classical.
What's your daily riyaaz routine like?
Woh toh karna hee hai till our last breath. There's a saying — sur will support you as long as you give respect to sur. If you forget sur and one fine day you want him to support you, he won't. That's the key. There's nothing without riyaaz. My journey has been of almost 40 years and I do 20 to 25 minutes classical palta every day.
Which are your go-to songs when you're in a solemn mood?
I think it keeps changing with age. These days, thanks to YouTube, I started listening to a lot of Pandit Vishnu Digambar Paluskarji and Bhimsen Joshiji. At times, I would just listen to the '70s and '80s English songs... go back to listening what we grew up listening to, like Abba, Paul Anka and Bee Gees. Otherwise, I enjoy listening to Mehdi Hassan saab. It's a wide range... I sing folk but I listen to all kinds of music.
What's your take on the music of today?
Now it's such an open market and there are no barriers like there were earlier. By barrier I mean very strict restrictions on who can come on stage, who can perform where. There used to be so many dos and don'ts. It was good in a way because we were ultimately generating quality. Now it has become a democratic setup — everybody can put up a song on YouTube and be your own producer. There is no more hierarchy of music companies, which is good because everybody is creating independent music. Also, there is a great deal of world music influence. I think they've done Western music and done it all, now they are coming back to the roots and want a sitar.
Otherwise, music is now being created in a studio on a machine, you don't need people or a harmonium. It'll obviously kill the soul and that's happening. But if you speak about classical, it's good to see a great deal of young people in India learning classical music. But what we lack today is gurus of that quality. I think I'll start a guru-shishya parampara this summer.
Any current band that you follow?
I appreciate the kind of music they do but unfortunately I don't think bands have been very consistent in their numbers. One song can be good and the second song not so good… that also speaks of creativity, it often sounds repetitive. I like Maeri of Euphoria, Indian Ocean was very good, Parikrama during the '90s was good. But there's so much of music happening that I feel good bands suffer because of that. Earlier, there used to be limited festivals, people would look forward to them and they would also remember the performances. Now with visual medium available 24x7 at your fingertips, it's all over and the recall quality of any performance has reduced.
What's your take on the music reality shows?
There's no doubt that talent comes out. In every reality show, you'll see 10 good singers, there are no dearth of good singers. Shreya (Ghoshal), Sunidhi (Chauhan) have made their career out of reality shows and that too at such a young age. But what people forget is that they made it big because they never stopped learning even after winning shows. Sonu Nigam kept learning from Ghulam Mustafa Khan saab for so many years. Even if you win a reality show, it's good for identity and confidence boost but beyond that you shouldn't stop learning.
Who are your favourite singers?
Lataji (Mangeshkar) is an all-time favourite. And Begum Akhtarji is somebody I really respect. She was the one and only original diva... look at her voice quality, her class and the way she would sit and sing. Ghazals made her famous but I'd say that she was a typical Uttar Pradesh singer. She sang Holi, kajri, jhula, purvi, dadra....
And from Bollywood?
Arijit (Singh)... I just love him!