Settings: Roads and crossroads named after bygone stars
The naming of roads and crossroads after leading lights of the Hindi film industry keeps their memory alive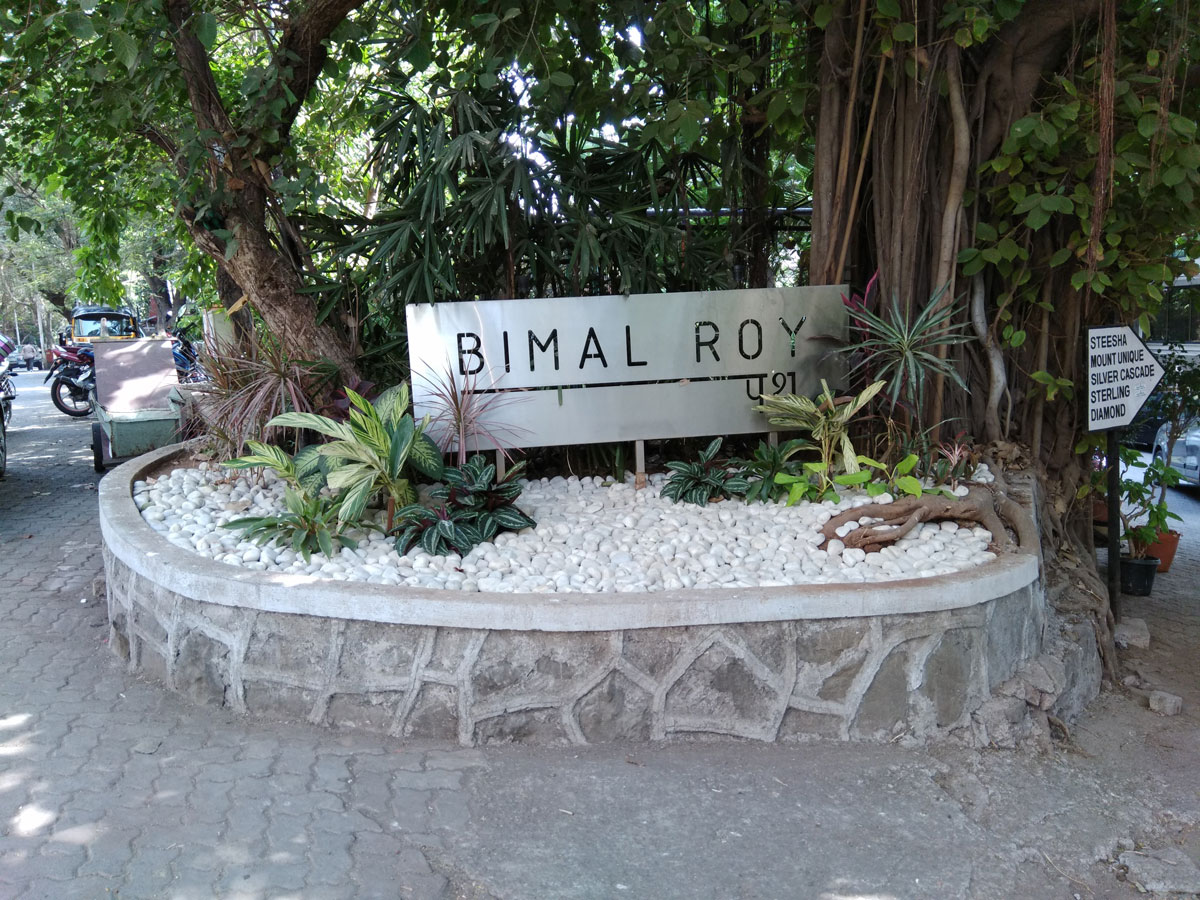 A plaque on the lane opposite filmmaker Bimal Roy's cottage on Mount Mary, Mumbai
Alpana Chowdhury
---
Published 13.10.18, 07:01 PM
|
---
A gloom descended on Hindi film buffs when the brothers Kapoor announced the decision to sell their father Raj Kapoor's iconic studio, which had seen the making of landmark films such as Awara, Shree 420 and so many more. One by one, institutions like RK Studios are giving way to highrises. The city of Bombay, which was once dotted with film studios, is fast getting depleted of these hubs of cinematic creativity.
What is heartening is the naming of roads and crossroads after leading lights of the Hindi film industry. The stretch from Yari Road in Andheri, through Juhu, Santa Cruz and Khar to Bandra, commemorates stalwarts through road signs. If "Bollywood", coined by a scribe, had to be given a physical form, it would be this stretch.
Setting the tone on Yari Road is a hero of the 1960s, the late Joy Mukerji. His affable face on a plaque, at a crossroad, brings back memories of entertaining, escapist confections with foot-tapping numbers.
Music has always been an integral part of Hindi films and, appropriately, a park named after lyricist Kaifi Azmi on the outskirts of Juhu reminds you of an era when lyrics were poetic gems. Further down, in Juhu Vile Parle Development Scheme, a crossroad is named after the late music director, Laxmikant, who lived in a bungalow at this junction.
Melody to comedy… another crossroad in JVPD Scheme is named after the legendary funster, Mehmood.
On to more serious forms of acting, a lane in the village of Juhu is named after the Left-leaning actor, Balraj Sahni, whose crumbling bungalow stoutly opposes the builder's hammer. A short distance away is Prithvi Theatre, a fitting tribute to doyen of theatre and actor nonpareil, Prithviraj Kapoor.
Heading out of Juhu village, on to the road leading to the beach, a signboard commemorates another Leftist — writer-filmmaker K.A. Abbas, who made Raj Kapoor a favourite in erstwhile Soviet Union with the golden-hearted vagabond of Awara.
Kishore Kumar won hearts through his rumbustious style of singing. The municipal corporation has named the road leading to his red brick bungalow after him, one of the all-time favourites of the music world.
Another great figure whose memory is kept alive by the naming of a junction in Santa Cruz is Sasadhar Mukerji, movie mogul of the 50s and 60s, who set up several studios and groomed talents. Santa Cruz also boasts of a chowk named after music director R.D. Burman while his father, S.D. Burman, has been honoured at a crossroad in Khar. Old-timers recall seeing the senior music director relaxing on the balcony of his bungalow, oblivious of his fame, quite unlike the ivory-tower stars of today.
Fans of the late silken-voiced Mohammad Rafi have ensured that both a road and a junction in Bandra are named after him. His house, Rafi Mansion, though re-built, is a pilgrim spot for his admirers from distant corners.
Admirers of music composer Naushad Ali persuaded the authorities to re-name Carter Road, by the sea, where he lived in the 1953-built bungalow, Ashiana.
Villainy too has been given its due with the naming of crossroads in the vicinity after Amjad Khan and Pran, two anti-heroes who lit up the screen with their menacing presence.
At one end of Sangeet Samrat Naushad Ali Marg begins a road that brings back warm memories of timeless masterpieces like Anupama, Satyakam and Anand. This road is named after Hrishikesh Mukherjee, whose erstwhile bungalow, Anupama, was a hub of many an adda and film shoot.
Parallel to the seafront stands the leafy Pali Hill, where most of the big actors and filmmakers of a bygone era resided. Many of their homes are no more but by renaming a part of Pali Hill as Nargis Dutt Road, memories of a passionate actress who lived here are kept alive in these ephemeral times. Similarly, a junction near his house on Pali Hill reminds you of the stupendous popularity of jubilee star Rajendra Kumar.
Filmmaker Bimal Roy lived on Mount Mary. On his 51st death anniversary, a lane opposite his award-laden cottage was named Bimal Roy Path. Nestled between trees, on a bed of marble, a plaque is perhaps the most aesthetic one of all the signposts celebrating talent from the Hindi film world.
Thus, with these plaques and road signs, the heart of the amazing, amorphous Hindi film industry continues to throb in a city that ruthlessly wipes out studios and bungalows suffused with memories of a wondrous past.