Season 4 Volume 1 of Stranger Things sets the stage for the show's send-off
The series feels right at place in the mythos and magic that we have grown to love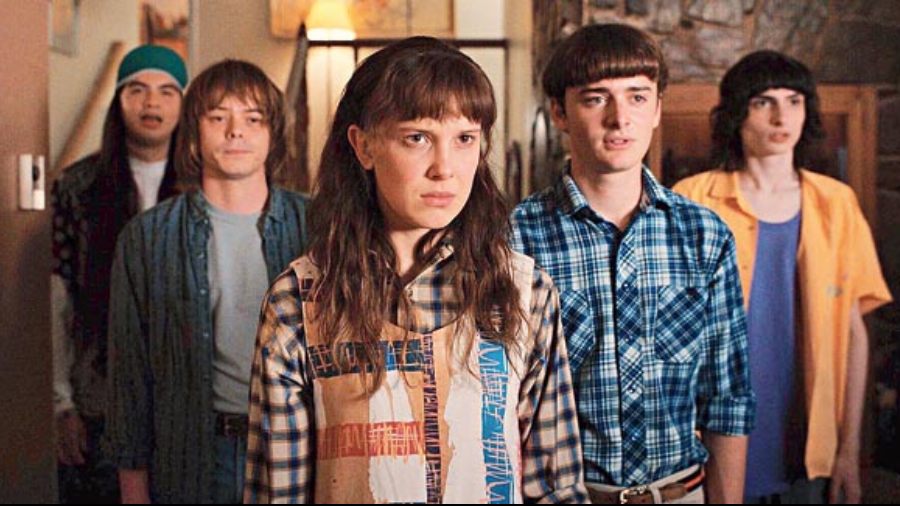 A moment from Season 4 Vol 1 of Stranger Things, dropping on Netflix today
---
Published 27.05.22, 01:16 AM
|
---
Hawkins is in danger... once again. And once more, led by Eleven, it's up to our much-loved brigade — now in their awkward teens and battling everyday issues that extend beyond Demogorgon and Mind Flayer — to rise to the occasion and save their beloved town.
Except that some of them don't stay in Hawkins anymore. And that, at the outset of the new season, Eleven (Millie Bobby Brown) hasn't quite got back her powers after she lost them in the battle at Starcourt mall. Bullied in school, she's a pale shadow of her former self, even as the gang is split, not only across geography but even in the way they now look at life, friendship and relationship.
But if there's one thing that can get them back together, then it is, of course, the Upside Down throwing up another monster. "This evil is like a virus... each time it comes back smarter, deadlier," says someone early on in this season. He could have been referring to the mutating strains of Covid-19 that have pummeled the world between Season 3 and 4. But this is Stranger Things we are talking about and so it's a monster — Vecna, derived as expected from Dungeons & Dragons lore — in a season that not only cranks up its thrills and chills but also levels up its mythology.
The penultimate season of Netflix's flagship series — Vol 1, dropping today, comprises seven episodes, while Vol 2, which streams in July will play out the final two episodes — evolves, but also harks back to its roots. By which we mean that this season is, in many ways, a retread to Season 1 in the manner in which it blends together its period setting and its thematic influences.
"A war is coming to Hawkins", is the somewhat lip-smacking warning (for fans of the show, of course) that arrives somewhere in the middle of S04E03. Before that, Stranger Things takes a few episodes to gradually warm to the impending danger. That journey may either be counted as a slow-burn build-up or a lumbering mess, depending on which side of the patience divide you are currently on. But truth be told, with each episode playing out over an hour, Season 4 isn't what one would brand as a binge watch.
Which, if we look closely, may just be the idea. There is a whole lot more to chew on (pun unintended) this time. This season attempts to tie up the loose ends and answer some potent questions. Along the way, in true Duffer Brothers style, it throws up many more.
With its principal characters being scattered across the globe, Season 4 has multiple narrative threads that simultaneously demand the viewers' attention. The path that it takes is often labyrinthine, but more often than not that evolves into a solid, if slow, payoff. Something that Stranger Things fanatics, with the season packing in so much, shouldn't really have a problem with. It's been a three-year wait since the last season and though this demands much more of it, we are more than eager to play along. I, for one, let this season rest in my Netflix account for two days — it arrived almost a week ahead of release for reviewers — allowing myself time to prepare before I plunged headlong into it.
A consistent strength of Stranger Things has been its unique, immersive world-building. The directors this season — the Duffers, Shawn Levy and Nimrod Antal — go all out, resulting in a watch that's frightful as it is jaw-dropping and frequently numbing. There is enough to justify the mindboggling $30 million per-episode budget this season.
The new beast at Hawkins — which Dustin (a still delightful Gaten Matarazzo) accurately calls out as a Freddy Krueger facsimile — is viscerally frightening, making this season's horror vibe more tactile in many ways.
Even narratively, despite seeming unwieldy at times because of the plethora of players and plot points, Season 4 feels more put together than the previous season. With the series quickly finding its grove as a Netflix tentpole, splitting the current season into two parts goes a long way in "event-ising" Stranger Things.
The main characters continue to hold the narrative together, with Season 4, much like its predecessors, giving at least one new player their spot to shine. Robin, introduced in Season 3, is a delight, and perhaps has the best lines, with Maya Hawke lending the character both vivaciousness and presence. The apple really doesn't fall far from the tree, and Maya — the daughter of actors Ethan Hawke and Uma Thurman — is a young gun to watch out for. Max, played by Sadie Sink, is also afforded a lot more layers this season, and the unlikely friendship between Dustin and Steve (Joe Keery) continues to power the show's lighter moments.
Ultimately, Season 4 Volume 1 sets the stage for the show's send-off, and feels right at place in the mythos and magic that we have grown to love across seasons.
Season 4 Vol 1 of Stranger Things streams on Netflix at 1.30pm today