Mowgli is a story of belonging, and trying to find who you really are: Christian Bale
Christian Bale talks about his upcoming Netflix original Mowgli: Legend of the Jungle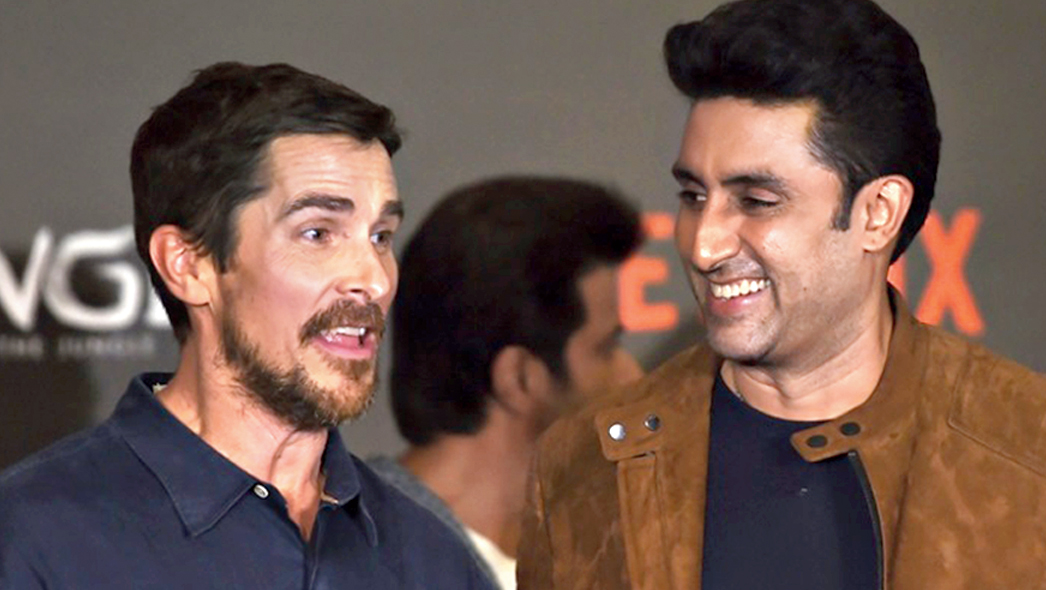 Christian Bale with Abhishek Bachchan at the premiere of Mowgli in Mumbai last week
Agency picture
---
Published 29.11.18, 05:26 PM
|
---
Seven minutes was what I was assigned to interview Christian Bale, one of the most versatile actors in the world today. Seven minutes to talk to an actor whose film career started with Steven Spielberg's Empire of the Sun when he was just 13. Seven minutes to talk about his outing as Christopher Nolan's Batman, his Oscar-winning performance as Dicky Eklund in The Fighter and his upcoming film Vice that's gathering tremendous buzz ahead of the award season.
The 44-year-old actor was recently in Mumbai for the premiere of his film Mowgli: Legend of the Jungle. This new adaptation of Rudyard Kipling's The Jungle Book, directed by Andy Serkis, has Bale voicing the black panther Bagheera who helps Mowgli in his search for identity. Premiering on Netflix on December 7, Mowgli is dubbed in Hindi by Abhishek Bachchan, Madhuri Dixit, Anil Kapoor, Kareena Kapoor Khan and Jackie Shroff.
Surrounded by minders in a room at JW Marriott in Mumbai, the Welsh-born actor is affable, chatty and relaxed. A far cry from his reputation of having a temper (he was arrested for allegedly assaulting his mother and sister at the Dorchester hotel in London in 2008. There were no charges pressed. The same year, an expletive-filled tirade against a director of photography on the sets of Terminator: Salvation leaked on the Internet) and being a difficult interviewee.
You're famous for diving deep into your characters. How did you channel your inner Bagheera?
First, it's about understanding the technology, so it stops being a distraction. When you're trying something new, you don't know what the priorities are; you don't know what's important and what's not. So, it was wonderful to have Andy Serkis who's a master of performance- capture to be able to guide me. But essentially, what you come back to is still the truthfulness of a performance anyway.
Looking at Bagheera, he is a damaged cat in that he grew up in a cage, he saw his mother die, he understands cruelty and he is capable of great violence. But he has chosen, unlike Shere Khan, to be compassionate and full of love. Nobody crosses his path as Kipling says and he's cunning and bold, and can be reckless as well, but finds in Mowgli a little brother as he calls him. So, he has the compassion of a big brother towards him.
It was really interesting spending a few days with Rohan (Chand) as Mowgli and Andy as Baloo in a studio, and understanding what all of the movements and postures would be, and how they're represented in the film. You explore and find the character in those few days, and he's a wonderful character.
Did you enjoy performance capture as a technology?
I did enjoy it. I think that there seems to be incredible potential for it. I played Dick Cheney (in Vice) quite recently and changed my body size for it. I had incredible make-up artists, Greg (Cannom) and Chris (Gallaher), who would sit with me for four hours every single day. Doing performance capture made me wonder whether there would be a day when I wouldn't have to change my body shape at all and maybe not even do any make-up.
Through performance capture, could I completely transform into the character? From what I understand, I don't think we're there yet, but with the incredible progress of technology, there's certainly a possibility that it could happen. It's a brave new world of filmmaking and equally, with the likes of Netflix, a whole new way of consumption. We're all in a state of enjoyable confusion right now, I think. For me, it's enjoyable because I think that this instability will create wonderful inventions.
You've transformed for roles in the past. What was it like to see the transformation after you finished playing the character?
Really fascinating, especially since my experience of watching Andy had generally been simian where it's more relatable in a human way. In The Planet of the Apes films, you have a chimpanzee talking with an ape or an orangutan, and there are wonderful emotional scenes where you forget entirely that you're watching people pretending to be apes. You're just watching apes and believing what they're saying. Now, it's a whole different thing to take a human face and create a panther; that's very different. So, it was fascinating for me to see how they took my facial expressions and managed to put them on Bagheera.
They're true artists, and I don't understand how it's done in the slightest. In the original Kipling writings, the hunter… I can't remember his name. (Christian picks up his phone to Google while explaining, "I have to find out or I'll drive myself mad") Ah... yes! His name is Buldeo. He believes that it's sorcery, the way that Mowgli is able to talk to Akela. Well, for me, the whole process of performance capture seemed like sorcery. Bagheera is a damaged cat in that he grew up in a cage, he saw his mother die, he understands cruelty and he is capable of great violence. But he has chosen, unlike Shere Khan, to be compassionate and full of love
- Christian Bale
Andy Serkis has always maintained that this film has a stronger connection with India, than any of the other interpretations. Do you agree?
Ours stays somewhat more true to Kipling's writings. It's appropriate that the film premieres here, because it's a story that's special to India. But it's a story that touches people globally — a story of belonging, and trying to find where you fit and who you really are. And the story has had different interpretations. I loved it as a musical, I love the animated ones, and also the more recent Disney versions; you don't have to choose one or the other. It shows what a wonderful piece of writing it was, that you can have very different versions.
This isn't your first time in India. Have you managed to see or do anything interesting this time around?
I had come to Jodhpur in 2011 for The Dark Knight Rises. What's different this time is I've brought my family with me, and we had a little more time to explore and do things. We had four days before we got to Mumbai, and had an extraordinary time. We did the Golden Triangle — New Delhi, Agra and Jaipur.
Apart from yourself, who's your favourite Batman?
(Smiles) I would probably say that as a child, growing up, I liked the "pow-bam" campiness of Adam West. I also liked that because it's so much the other end of the spectrum from what Chris Nolan and myself did. They both go into extremes, and I enjoy that.