2.0: Watch for Rajinikanth and jaw-dropping VFX
2.0 isn't a film to be passed around in USBs; its spectacular scale is best watched in the theatre in 3D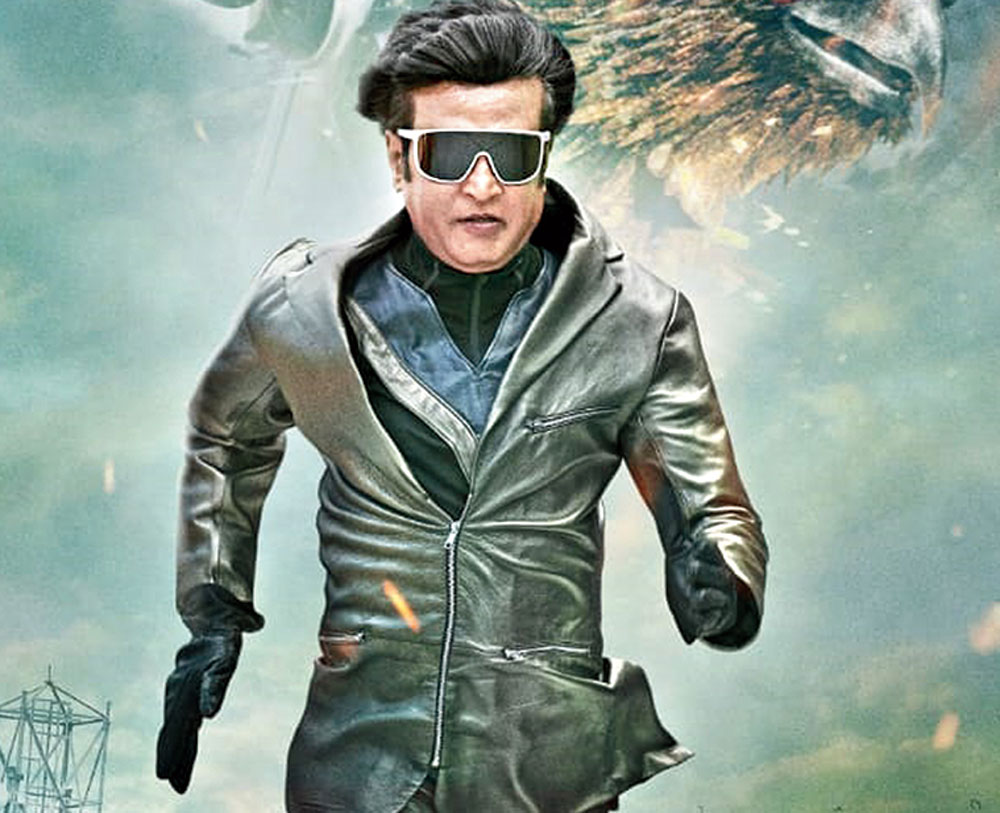 Rajinikanth in 2.0
A still from the film
---
Published 29.11.18, 05:09 PM
|
---
'You either die a hero, or live long enough to see yourself become the villain' — Harvey Dent, The Dark Knight
2.0 — the much-awaited, super spectacular Rajinikanth blockbuster-in-the-making — hinges on this idea that has defined many a superhero film. Except that here, a man with honourable intentions dies to come back as an evil entity, and even as you gleefully watch him being pounded in the climax, there's also a part of you rooting for him. That's Akshay Kumar's Pakshi Raja aka "Birdman", a larger-than-life supervillain that embodies jaw-dropping VFX in a way you wouldn't have watched in an Indian film before.
In 2.0, director Shankar successfully merges his tried-and-tested formula of a socially responsible vigilante film with an eyeball-grabbing visual entertainer that guarantees enough bang for your buck. And then some more.
Rajinikanth has the most fun you would have seen him having on screen in a long time, and that directly translates to the amount of fun you have watching him. He is the do-gooder scientist Vaseegaran and his robot alter ego Chitti; he's also the brazen 2.0 'reloaded' version of Chitti and finally pops up in his coolest avatar as 3.0.
Mobile phones are evil in the world of 2.0, which is a true sequel to 2010's Enthiran aka Robot. Since the first film, Vaseegaran has created a new humanoid robot called Nila (Amy Jackson), even as he keeps lamenting the loss of his prized project Chitti, dismantled and banished into oblivion after it went rogue.
But Chitti is brought back into action when an unknown entity, which Vaseegaran believes is the "fifth force", starts wreaking havoc. Cell phones fly off people's hands, network towers come crashing down and anyone who tries to promote the use of cellular telephony dies a gory death. The modus operandi is dictated by "karma" — a mobile phone storeowner is killed by making him ingest millions of phones; a cellular network owner dies when a tower lands on him. Though the opening disclaimer says that 2.0 is "based on information taken from newspapers and social media", it does little to hide the names of the smartphone brands used for the shoot. Also, an immoral mobile network owner has the same name as a top player in the game.
2.0 has a relevant theme with a sci-fi twist and though the narrative often wobbles — Pakshi's emotional backstory is limp and laughable in parts — the film more than makes up for it with its visual effects. Pakshi the bird is a VFX marvel, its every appearance being greeted with hoots and whistles. The fights and face-offs — especially those between Chitti and Pakshi — are innovative and often bring you to the edge of your seat.
There are nods to many a superhero film — like the moment where Chitti hoists a truck on his back ala Superman or how Pakshi, whose body is composed of millions of mobile phones, disintegrates — like Sandman — every time it's attacked. There's also a "Two-Face" scene where Vaseegaran, with Pakshi controlling his walk and talk, embodies both good and evil, with Chitti not knowing whether he should attack his creator or pull his punches.
Even as it rests on a wafer-thin plot, 2.0 keeps you invested with its breakneck pace. Things kick into top gear in the last hour, culminating in an epic Transformers-like showdown between Chitti (and his army of mini Chittis) and Pakshi. The best visual effects have been reserved for the last, with Shankar bringing back trademark moments from Robot, including Chitti firing on all cylinders from a host of AK-47s.
Akshay Kumar, buried under a pile of make-up and graphics, makes for a compelling villain and much of the film's energy comes from the scenes his "Angry Bird" is in. Amy Jackson perfectly fits the role of a robot, which doesn't say much about her acting skills or the lack of it.
2.0 is all Rajinikanth, and the man — as Chitti would put it — has "a blast", especially in his audacious and super-fun turn as Chitti "reloaded". Unlike Robot, 2.0 keeps it tight, with a sole song popping up only in the end credits.
2.0 isn't a film to be passed around in USBs; its spectacular scale is best watched in the theatre in 3D. Can't wait for 3.0 to take over in the next film!