Math genius Anand Kumar on why Hrithik Roshan was the right man to play him in Super 30
The film is all set to release on July 12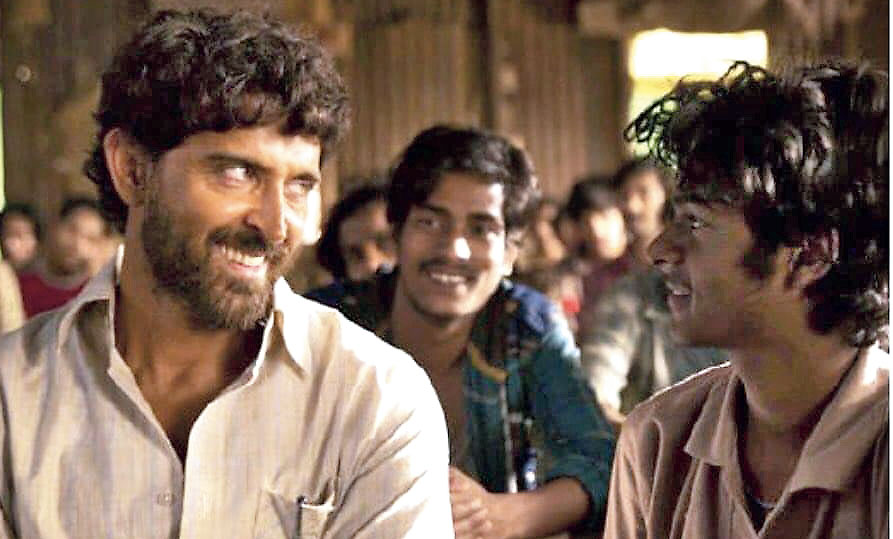 Hrithik Roshan as Anand Kumar in Super 30
(Still from the movie)
---
Published 17.06.19, 02:36 PM
|
---
Hrithik Roshan's Super 30 is based on the life and struggles of Patna-based math genius and educator Anand Kumar. The film, which is all set to release on July 12, recounts Anand's endeavour of coaching underprivileged kids who couldn't afford the expensive IIT-JEE coaching classes. t2 caught up with the much-feted teacher at the Sun-n-Sand Hotel in Mumbai recently to talk about the journey of the film and why he thinks Hrithik was the best actor to bring his story to screen.
How did it feel to watch the trailer of your own life?
It brought tears to my mother's eyes. She really loved that she was watching the story of her son who went through so many struggles. She was very happy with Hrithik Roshan's way of speaking and his accent in the film. My entire family liked it — my brother, my wife, everyone. My two-year-old daughter who was watching the trailer with us saw Hrithik and began chanting, 'Papa aa gaye, Papa aa gaye'. It's amazing how well Hrithik has captured me, because even my little daughter thought it was me on screen. My students got excited as well and began calling me, saying it looks exactly like me teaching them. There's a boy, Shrikant, who studied with me and runs a radio station in the US for the Indian community. He called me saying he was surprised to see the same classroom, the same style and he loved it.
Where and when did the idea of the film start?
About nine years back, I received a phone call from a film scriptwriter called Sanjeev Dutta. He told me he wanted to write a film based on my life. At that point, I thought it was a crank call and told him we'd talk later. He called again and this time I told him to forget about the film but that if he had any questions, he could ask me. Three days later, he called on my brother's mobile phone saying that he was a reporter called Sanjeev Sen and said that they were doing a seminar on education and they wanted to meet me and hear my views. As it was around education, we said it was fine.
When he came, he got Anurag Basu along, who said he wanted to make a film on me. So, I said 'Okay, go ahead'. They stayed with us all day, observed my demeanour and how I teach. They even made a video. Anurag Basu even called a couple of times, and Sanjeev visited Patna again. I met them a couple of times in Bombay as well when I was down for seminars. Eventually, though, they lost interest after a year and I didn't pursue it any further.
Sanjeev kept working on the story and even I felt that if he's put in so much effort, the film should get made. Suddenly one day about three years back, Sanjeev called me saying the story's shaped up very well and a lot of people are interested in doing it. He got me to meet a lot of really big people as well, but when I met Hrithik Roshan, he said this film would be very difficult and there would be a lot of hard work involved — from my accent to my demeanour. He said that he'd need to spend five or six sessions with me, watch hours of my video footage... only then would he be able to do it. He didn't want to do it in a hurry. That really impressed me about him. A lot of people turned around and said, 'These are Greek God type of people, how will they be able to portray you?' But when I saw his curiosity, as a teacher I was convinced, and I said 'yes'.
So, he didn't choose you... you chose him!
Yes, there were a lot of offers coming from good production houses saying they wanted to do it. But I felt Hrithik Roshan was the right person and he's put in a lot of effort. He wanted to know everything possible about me that could help with the film. There would be two-hour sittings that became five or six hours and he'd cancel all his appointments. Once, he was so absorbed as he came to see me off to my car that his guard walked up to him and gave him his slippers, pointing out that he was walking around barefoot. There were seven rounds of long discussions and he always had a lot of questions. For example, he wanted to understand what I went through when my father died or what my relationship with my brother is like. He went deep into all my relationships. In our last couple of meetings, he asked me a lot of questions pertaining to my personal outlook on life.
When the shoot started, were you involved?
I was involved at the script writing stage with Vikas Bahl (the film's director), because he spent another full year reworking the script along with Sanjeev. During this time, he visited Patna a number of times and even went to our village and the kids' villages. Sanjeev, of course, kept visiting throughout — I would have met him 20 times during the last three or four years. The contract I have with them clearly states that every dialogue in the script had to be cleared with me. I had no interest in the money or fame but the story had to reflect the truth. When the shoot started, however, I didn't think it was right for me to be there. After all, I can't tell a director or an actor how to do his job any better... I had complete faith in them. I did go once though, along with my brother, just to satisfy our curiosity.
Why was it important to you that the film gets made?
It wasn't necessary for me, I'm just an ordinary teacher and educator. That it has got made has brought a lot of happiness to my family and me. Every person wants to be recognised in a positive way. But this isn't just a story about the relationship between a teacher and his students. This is a story of a teacher who fights atrocities against young children. I want every teacher to find the inspiration and strength to do good work. I want to spark hope in every poor child that they can also achieve great things even though they don't have the means to do so. The film is meant to inspire every child, rich or poor, that they can study, work hard and do well in life. Education has the power to bring people out of poverty.
Have you watched the entire film?
Not yet. I've seen bits while they were shooting, where they needed my inputs.
This isn't your first brush with Bollywood. For Prakash Jha's Aarakshan, you had helped Amitabh Bachchan get into the character of an educationist....
Yes, we did help on Aarakshan but that wasn't based on my life. I got the opportunity to meet Mr Bachchan twice and he met me when he came to Patna as well. He's a lovely person and called me on KBC (Kaun Banega Crorepati) as well last year. But the involvement was nothing like this film.
Super 30 ran into problems with the sexual harassment allegations against Vikas Bahl. Seeing how invested you've been in seeing this film made, did you lose heart?
No, I was convinced it would all work out. I've had setbacks in my life as well, people have fired bullets at me in Patna. Today, I have four commandos with me, assigned to me by our chief minister Nitish Kumar, for my security. A lot of people keep filing cases against me for cheap publicity and it's become even worse after the film was announced. So, setbacks happen to everyone — the minute you move up in life, people are out to get you. But it's your work that's important, not your detractors. For the common man, the film should be inspiring and that's what's most important.
What's the plan for when the film releases?
There are two screenings we've planned. There'll be one in Mumbai for all my past students and we're planning one in Patna as well. There's a group the kids have made for all the past students of Super 30. People are all over the world, in the US and Japan... this film has given them a reason to connect with each other again. There are 500 kids in all and we're expecting 300-400 to definitely attend.