Working with Hrithik… working with the Greek God himself: Mrunal Thakur
Post her debut film, Love Sonia, Mrunal Thakur will be seen in Super 30 with Hrithik Roshan and Batla House with John Abraham. She is also working on a Netflix original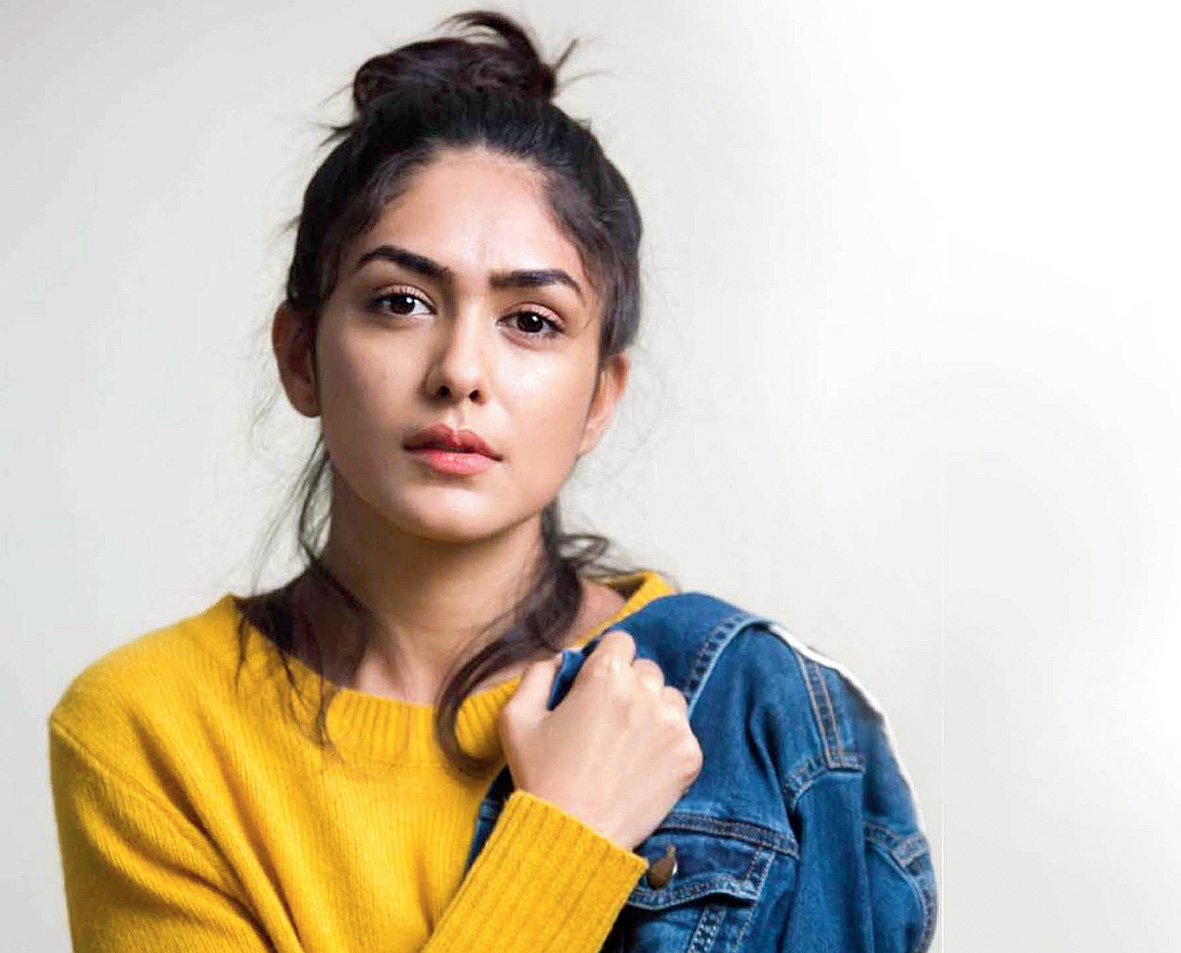 Mrunal Thakur
The Telegraph picture
---
Published 23.01.19, 03:35 PM
|
---
Mrunal Thakur shot into the spotlight playing the title character in the critically acclaimed Love Sonia, a film on sex trafficking, last year. Since then, the actress has hit a purple patch, starring in films opposite Hrithik Roshan and John Abraham and snapping up the role of Sivagami in Netflix's ambitious web series Bahubali: Before the Beginning.
The 26-year-old stunner was recently in Calcutta for a special screening of Love Sonia, organised by Apne Aap, an NGO that works with trafficking victims. t2 caught up with Mrunal for a chat before the screening at Max Mueller Bhavan.
Love Sonia was an unusual choice for a debut...
I did television where I got a chance to play a bubbly girl who didn't wear as much make-up as other actresses, but it was a very different character. Somebody once told me, 'Television actors can't act. They can't do subtle, artistic films'.
I did not even know that Love Sonia was an international film when it was offered to me. It was based on sisters… I really love my sister and I had to do it! I never asked questions like who's in it, who's directing or producing it… I just went with the flow and trusted my instincts. I was really lucky to get a title role. I knew that this film and this subject would make an impact. I was craving to play Sonia. Tabrez (Noorani, the film's director) auditioned me around nine times and wasn't really convinced I could be a village girl.
How did you become Sonia?
I visited Calcutta and a few villages. I would meet the girls and understand their body language. I also met farmers and saw what problems they go through, how they work in the field. All these experiences really helped me play Sonia. I used to wear the school outfit even at home. It really helped me get into the character. I watched a lot of documentaries on sex trafficking and even the tapes of the girls who had auditioned. Tabrez showed me the auditions of the girls who were tested… they had even gone to villages to find Sonia!
How did you manage to look so convincing as a schoolgirl?
I lost around 13kg. If you see the initial phase of Kumkum Bhagya (her TV show), I was plump. The day I got to know I had to play a 17-year-old, I started hitting the gym. I had never hit the gym before, never done yoga before. I had a Snicker chocolate bar with me throughout the shoot and I ate it on the last day of the shoot. That was the motivation! I used to carry one chocolate with me every day. Right now, I'm 10kg lesser than what I used to be.
You got to work with Holly biggies like Demi Moore and Mark Duplass. What was that like?
I never knew that Demi was a part of Love Sonia. It just happened because her ex-husband (Ashton Kutcher) works for an organisation called Thorn. She was also associated with that and when she got to know that Tabrez is making a film on this, she said, 'If there's anything that I can do or be a part of the film, it'd be great'. That's how Demi came on board and we shot the scene. Working with the sexiest woman on the planet was something I hadn't dreamt of in my wildest dreams.
Mark is such a wonderful guy and he kept talking about his daughters. He is a producer himself and he's very professional.
You're playing Sivagami in Netflix's web series Bahubali: Before the Beginning...
It's massive! While I was working on Super 30 (co-starring Hrithik Roshan), I got a chance to audition for this role and I had no idea what it was for. I went there and they asked me, 'Have you watched Bahubali?' and I said 'Yes'. They gave me a scene and asked me to remember that I am a warrior. After a month, I came to know that I had been chosen and that it's a series for Netflix. It's coming out late 2019 or early 2020. There are two seasons as of now. This is a young Sivagami, she's a 17-18 year old girl and how her journey started. It's a prequel to Bahubali.
How did you prepare for the role?
By learning horse riding and kalaripayattu. I'm also learning sword fighting and how to handle an urumi. I'm learning how to be firm because in real life I'm very bubbly and I speak very fast. This character required me to talk slowly and have firmness in my voice. The body posture had to be like that of a warrior. At the same time, she is a young, innocent village girl.
How was it working with Hrithik Roshan in Super 30?
Working with Hrithik was wonderful… working with the Greek God himself! Sometimes I had to tell myself, 'Okay Mrunal, let's focus on work now!' (Laughs) All my friends would call and ask me, 'How was it today? Do you have romantic scenes with him?' He is a very humble and supportive person. He always made sure that I was comfortable.
What can you tell us about Batla House, co-starring John Abraham?
I play Nandita, a character inspired by Shobhna Yadav. She's a news anchor and very different from what I've played in Love Sonia. It was very challenging to make sure that my nails are polished, my posture is proper. If you notice, a news anchor's body language is different, an airhostess' body language is different… I just tried to get that. I watched videos of Shobhna Yadav on YouTube and her news channel.
Actors like Sushant Singh Rajput have made the transition from TV to films seem more fluid. Do you think that it has become easier for actors to dabble in mediums?
I'm very glad that I'm entering Bollywood in this phase. There are so many actors like Vikrant Massey, Sushant Singh Rajput and now Ankita Lokhande… it's really nice of directors who give a chance. As actors we act but who really make us act are the directors. A TV actor came and met me and said that people used to put her down saying, 'You're a television actor, so you can only be on television'. But after seeing me and a couple of other people, she said that she is inspired.