Kissing a same-sex co-star
Divya Dutta, who plays a lesbian in Faraz Ansari's Sheer Qorma, kisses Swara Bhaskar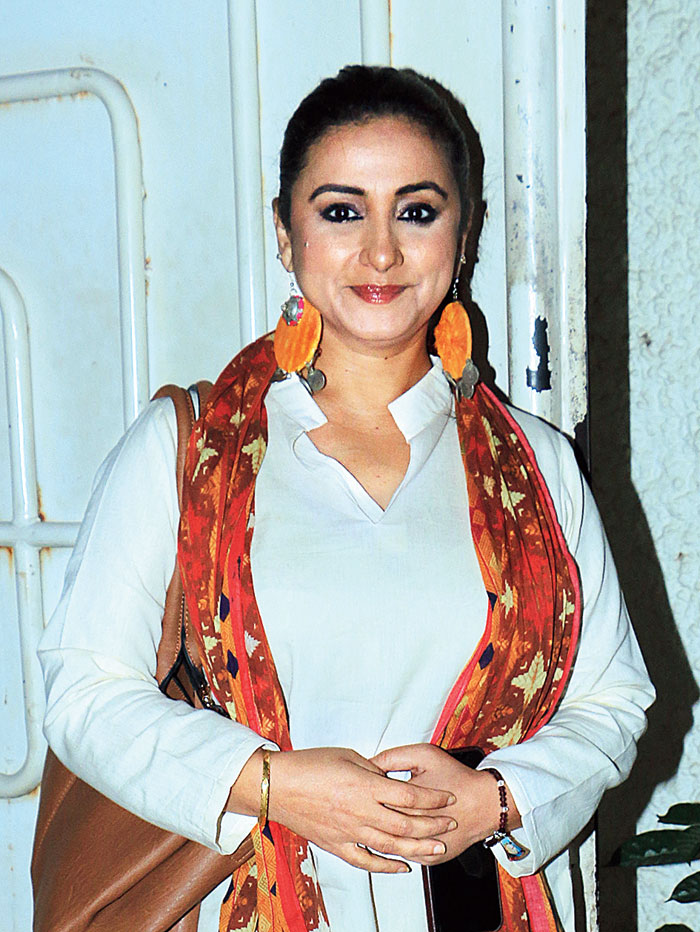 ---
---
So, how does an actor feel kissing a same-sex co-star?
This is not a homophobic question but one prompted by the latest trends in cinema and OTT fare.
In Hollywood, a gay scene has begun to be mandatorily thrown into every third film even if the premise does not require one. Not so, as yet, in India. But a gay track is interwoven into most Web series, like Zoya Akhtar's well-made Made In Heaven, which is about a couple of wedding planners where the male partner is gay.
Sonam Kapoor too went gay in the feature film, Ek Ladki Ko Dekha To Aisa Laga, but it was so clinical that there was no chemistry. There was certainly nothing sexual in the content, the visuals showed no physical intimacy either. But actor Arjun Mathur, who played the gay in Made In Heaven, did some heavy-duty smooching with his male partners in the Web series.
And now Divya Dutta, who plays a lesbian in Faraz Ansari's Sheer Qorma, has Swara Bhaskar for a partner and yes, they did kiss.
Divya has done kissing scenes before — but those were with male co-stars. The first was in the 1998 film, Train To Pakistan, "When I was only 16, I didn't even know how to kiss. And I was kissing Uncle Mohan Agashe," she said, reliving that embarrassment. Watching her inexperience, "Director Pamela Rooks was so disgusted she proceeded to kiss Mohan Agashe and told me, 'This is how you do it'."
Kissing another woman was, however, a new experience.
"It wasn't planned," said Divya about the scene in Sheer Qorma. But when the atmosphere on the set is conducive, there's faith in the director and the scene leads up to an unplanned shot, the actor does not agonise over it before saying, "Yes". As Divya put it, "partner" Swara "was also fine with it". Divya went on to also add, "It wasn't a smooch, so it was easier to do."
But however blasé she was about it, it was evidently not "just another day at work" as Divya later spoke to her friends about it.
"And my friends said, 'Oh, come on, when we're a little high, we've also kissed the same sex. It's nothing, no big deal.'"
So she too shrugged it off as a light kiss that she didn't have to squirm over.
It's a strange coincidence that Shabana Azmi — who was the first Indian actor to ever do a lesbian kiss (a light brushing of the lips with Nandita Das in Deepa Mehta's Fire, 22 years ago) — who plays Divya's mother in Sheer Qorma is the one who takes a while to come around and accept her daughter's sexuality.
With Sonam's film avoiding any visuals and Divya-Swara also shooting only a light kiss, it's clear that actresses by and large are still not ready to go full throttle into gay intimacy for the camera. Unlike the men, who seem to be a little more game for it. John Abraham once told me, "If push comes to shove, I'll do it." But that was years ago, when the world was talking about Brokeback Mountain, the gay relationship that fetched its director Ang Lee an Oscar and the film itself got a pile of awards, including an MTV award for Best Kiss — between Jake Gyllenhaal and Heath Ledger (better known as the Joker of The Dark Knight who died at the age of 29 after a drug overdose).
The first male pair in India was, of course, Randeep Hooda and Saqib Salim, who kissed in Karan Johar's Bombay Talkies (2013) at a time when Article 377 that criminalised homosexuality was still effective. But with Randeep and Saqib too, there was awkwardness while shooting the smooch and they went for it only because they were confident that Karan would handle it with sensitivity. The director does matter.
Incidentally, when Divya met Karan at a party, he told her how much he looked forward to watching Sheer Qorma. The buzz around a short 40-minute film came as a surprise for her. That's right. For all the attention that the Shabana-Divya-Swara project has been getting, it is not a full-length feature film — it is a short. That's how much curiosity a gay subject still arouses in India.
Bharathi S. Pradhan is a senior journalist and author