Keanu Reeves wins more hearts by answering a young fan's random questions at airport
TV producer Andrew Kimmel shared the short and heartwarming exchange that 'The Matrix' hero had with the fan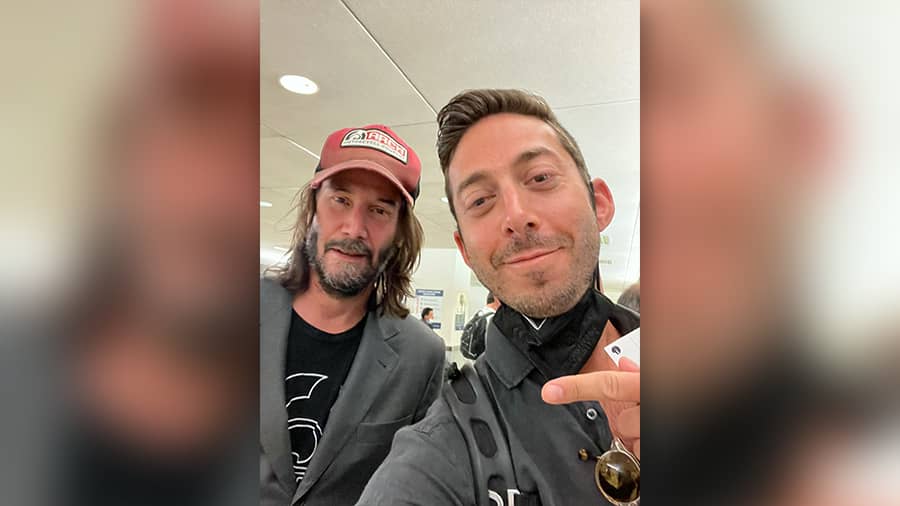 Andrew Kimmel with Keanu Reeves
@andrewkimmel/Twitter
---
Calcutta
|
Published 06.07.22, 01:14 PM
|
---
There are a number of celebrities who are adored for the connection they have with their fans, but few are known to consistently have humble and heartwarming interactions like The Matrix star Keanu Reeves.
One of Reeves' recent interactions with a fan was shared by television show producer Andrew Kimmel. Taking to Twitter, Kimmel, who's behind shows like Shark Tank, narrated the rapid-fire interview that a quick-thinking fan directed at the John Wick actor at an airport.
Keanu Reeves was on my flight from London to NYC today. A young boy asked for an autograph at baggage & then began to fire off a series of rapid-fire questions. Keanu happily responded to every single one… pic.twitter.com/T7m7PciL5C

— Andrew Kimmel (@andrewkimmel) July 4, 2022
The interaction reportedly took place after Reeves took a flight from London to New York City. Kimmel, who had been on the same flight as Reeves, recounted the incident that took place while the passengers were waiting for their luggage to arrive. 
Reeves was approached by the young fan, who Kimmel referred to as 'kid' on Twitter, for a picture and an autograph. After he obliged, the fan began asking Keanu a flurry of questions. 
Kid: Why were you in London?
KR (Keanu Reeves): Filming a documentary.
Kid: I saw online you were at the Grand Prix (pronouncing the x)
KR: Yes, the Grand Prix (in a French accent, without correcting him). F1! Race cars!
Kid: Do you drive?
KR: Not F1, but I like riding motorcycles.
Kid: Do you live in NY?
KR: I live in LA.
Kid: How long are you gonna be in New York?
KR: Four days! No... five. Five days!
Kid: Why are you in NY?
KR: Gonna see a Broadway show!
Kid: What broadway show?
KR: American Buffalo! Mamet!
Kid: Where are you staying in NY?
KR: Midtown! 
Kimmel noted that the fan had run out of questions to ask, so Reeves in turn began asking the fan some questions. Taking interest in the young fan, Reeves asked him: Why were you in Europe? What galleries did you go to in Paris? What was your favourite?
In his concluding remark, Kimmel noted that the world needed more celebrities like Reeves who was nice and kind to fans even after a long international flight.