Kangana Ranaut makes Manikarnika a one-woman show
The original 'queen' has just shown how it's meant to be done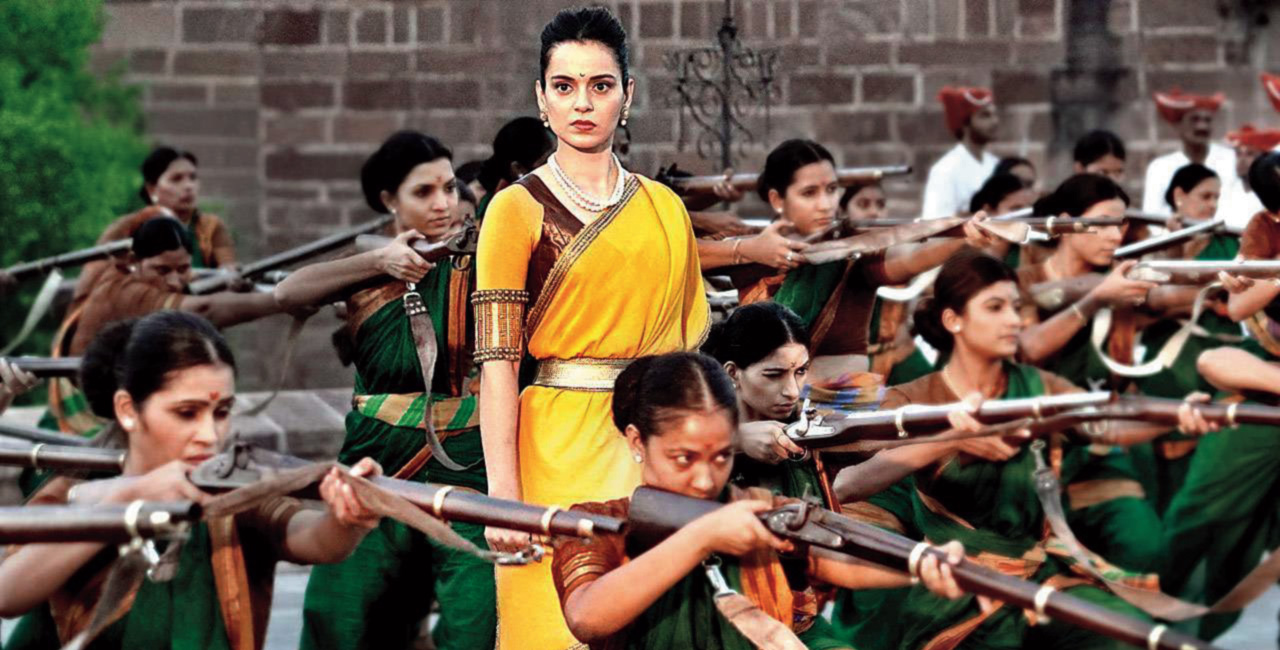 Kangana Ranaut in Manikarnika
A still from the film Manikarnika
---
Published 25.01.19, 03:02 PM
|
---
Manikarnika's iconoclastic journey towards becoming Rani Lakshmibai mirrors Kangana Ranaut treading the less-travelled path in Bollywood. The actress, who has shattered conventions both on screen and off it, has crafted a singular rise to the top, walking the talk in the way only she can. Like Lakshmibai, described by Sir Hugh Rose, the British general she valiantly fought against, as "a man among mutineers", Kangana has never needed a man to prop up her films.
So it was but natural that when she decided to take the plunge into direction, Kangana would make it a one-woman show. From the moment we first spot Manikarnika, her curly tresses billowing in the breeze as she smilingly takes aim at a tiger speeding towards her, to the final moments of the film where she slices through the British flag, blood-soaked and battered but never one to give up, Kangana owns every frame of Manikarnika.
Whether it's riding a horse with confidence, wielding a sword with grace and grit or mouthing rousing lines like "Jab beti khadi hoti hai toh vijay badi hoti hai", Kangana leads from the front, making Manikarnika a larger-than-life experience. Where she lacks in vision, she more than makes up in ambition and passion.
Fashioned as a patriotic paean to the valour of the legendary queen who went down fighting the British, Manikarnika touches upon Rani Lakshmibai as a wife and mother, but the focus is largely on her derring-do.
The disclaimer at the beginning states that the film "doesn't claim any historical authenticity" and the inspiration in tone and treatment comes largely from Subhadra Kumari Chauhan's iconic poem Khoob ladi mardani woh toh Jhansi wali rani thi.
While the first hour has bits and pieces of Manikarnika showing off her prowess with the sword and her agility when it comes to action —a Bahubali-styled elephant action sequence is done quite well — it mostly focuses on her new life as Rani Lakshmibai. Married to Gangadhar Rao (Jisshu Sengupta), the ruler of Jhansi, Manikarnika is rechristened Lakshmi but she finds herself increasingly questioning and then graduating to flouting the conventions of what's expected of a queen. She frequently takes off from the comforts of the palace to spend time with the common folk and refuses to bow down to the British even when her husband does.
Though Kangana is fiery and looks fabulous, the first half is a bit of a drag. It doesn't help that for a film that is largely a feminist tale, there are some parts in the first hour that are problematic. Like Gangadhar Rao wearing bangles under his royal finery because he feels "naamard" for not taking on the British.
Things kick into top gear in Half Two when Lakshmibai rises from a series of personal losses to become the queen of Jhansi. "Main Jhansi nahin doongi," she hollers with bloodshot eyes and the film gets some much-needed energy from the adrenaline-pumping combat scenes in which Kangana — fighting with passion and commandeering with power — doesn't allow you to take your eyes off her. She's a wonder in the action scenes, particularly when she leaps into the air with ninja-like agility.
The narrative is simplistic and linear, but the film keeps you hooked for the most part. A special mention for some standout scenes — Lakshmibai ascending the throne with teary but blazing eyes, the sequence where she trains the women of the land in sword fighting and shooting guns and finally that moment in the dark where she slices through scores of British soldiers in a series of swift motions.
But Manikarnika lacks nuance. Everything is heightened, sometimes to the point of exaggeration, and the nationalistic tone of the film — "Main rahoon ya naa rahoon, Bharat yeh rehna chahiye" goes a Shankar-Ehsaan-Loy number — means that words like "azaadi", "shaheed" and "matrubhumi se nishwarth prem" are repeated throughout the film. And while the battle scenes are filmed impactfully by Kiran Deohans and Gnana Shekar VS, the VFX is patchy.
With Kangana dominating every frame, the other characters are rendered sketchy and sometimes superfluous. TV actress Ankita Lokhande, making her debut, has precious little to do while veterans Danny Denzongpa, Kulbhushan Kharbanda and Suresh Oberoi flit in and out of the film. Jisshu does well in a small role, but his voice being dubbed by Sanjay Suri does take away from the performance. The British, like it happens in many a Bollywood film, are reduced to laughable caricatures.
In the end, Manikarnika is all about its heroine and we suggest you make a date with the film just for her. "Mujhe rani ban na nahin aayega," Manikarnika says somewhere in the film. Well, the original 'queen' has just shown how it's meant to be done.