Treat myself as a newcomer: Ankita Lokhande on Bolly debut with Manikarnika
Ten years ago, she became a household name playing Archana in the smash-hit TV show Pavitra Rishta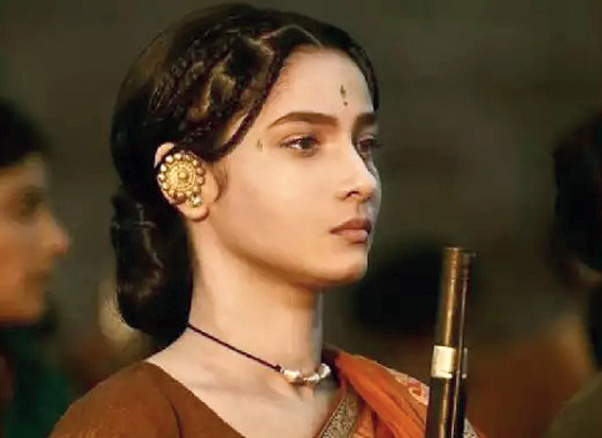 Ankita Lokhande as Jhalkari Bai in Manikarnika
A still from the film
---
Published 24.01.19, 10:51 PM
|
---
Ten years ago, she became a household name playing Archana in the smash-hit TV show Pavitra Rishta. The Ekta Kapoor-produced show wound up in 2014 and now five years later, Ankita Lokhande is all set to make her film debut with Manikarnika, in which she plays the feisty warrior Jhalkari Bai to Kangana Ranaut's Rani Lakshmibai. t2 caught up with Ankita for a chat on her big Bolly debut that releases today.
We are just hours away from the release of Manikarnika. What are the emotions like?
I am super excited and super nervous! It's my first film and, of course, the nerves are on the edge at the moment. I am feeling all kinds of things in my body! (Laughs) I think the excitement is more than the nervousness and I am really looking forward to getting a good response. People are really liking the look of my character Jhalkari Bai, that whole feel of a warrior, and I love it when I am being told that this is a strong woman who is an inspiration.
Were you aware of Jhalkari Bai before you were approached for the part?
Not really. Not at all! Nobody knows a lot about Jhalkari Bai. When I was offered the part, I did my research on her, I googled a lot. But I didn't get much information about her. Krish, who was my director initially, Mr Vijayendra Prasad (the film's writer) and Kangana (who's also co-directed the film) worked a lot on every character and helped me a lot in understanding her.
Since no one really knows much about Jhalkari Bai, it gave me the freedom to interpret her in my way. I brought a lot of myself into her — I feel I am mentally strong like her, I am resilient.
What kind of physical and mental prep went into playing her?
Mentally, I don't think there was much to prepare, but I did feel that I was making that journey with Jhalkari Bai. Emotionally, I tried to place myself in her shoes, and also I wanted to be careful that I didn't hurt any sentiments, because I know a lot of people in India worship her… she's the hero of the Dalit community.
Physically, I did it all — sword fighting to horse riding. I had to fire real guns! Yes, it was exhausting, but when I would get home after a tough day, I had the satisfaction that I had done something for myself as well as for the character. Jhalkari is an unsung hero and I want people to know about her, how she fought for the country's freedom.
In our cinema today, how important do you think it is to tell the story of strong women characters?
I think it's very important nowadays, given the kind of things that are happening in the country. We need to show that there were strong women in our history who fought as much as the men did for the country's freedom. Somehow, I feel the majority of people nowadays are forgetting our history. It's the right time to make such films.
What was Kangana like as a co-star and a director?
She's really good as a co-star and superb as a director. She was very hands-on as a director and everyone knows what a superlative actor she is. I am sure people will love the film that she's made.
While making Manikarnika, you've said that you are living your dream. Was becoming an actress a lifelong ambition?
Right from my childhood, I always wanted to become a heroine! (Laughs) I didn't have any other ambition, there was no career back-up plan. Today, I feel so happy and so proud of myself that I have a film — and such a big film — on release. I think I was born to be an actress.
Does the fact that you have been so popular on TV cause any pressure or are you starting on a clean slate?
I am starting on a very clean slate. I am treating myself as a newcomer, and I feel good about it. When I started Pavitra Rishta, I knew nothing and I learnt everything on the job. I am a newborn baby as far as Bollywood is concerned. I have no insecurities whatsoever because I am not going in as 'Ankita Lokhande'.
While doing this film, did you have to unlearn anything about the craft of acting?
Manikarnika was a huge learning experience. It was a new world for me, but I didn't have to unlearn anything. In fact, my experience really helped. I knew about camera angles, about taking my mark, but I kept learning constantly.