Kalank: Not KJo's calling
His father had advised Karan Johar against making a Partition-based film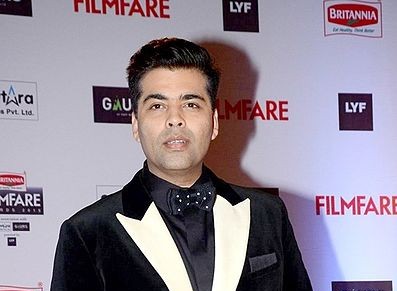 Karan Johar had initially planned to make Kalank his big casting coup with Ajay Devgn as the khandani, legitimate son and Shah Rukh Khan as the boy out there in Lahore's notorious Hira Mandi but shelved it temporarily
Wikipedia
---
Published 21.04.19, 04:51 AM
---
Sometimes, some things are just not meant to be. And I wish Karan Johar had understood that when his father advised him to set aside the pre-Partition drama that he'd always dreamt of making.
I still remember the day Karan narrated it to me with flourishes of his hand to show the visuals he had in mind, and breaking into a raga to show the kind of music he'd planned. As most people now know, he had planned to make this his big casting coup with Ajay Devgn as the khandani, legitimate son and Shah Rukh Khan as the boy out there in Lahore's notorious Hira Mandi. Both actors, who have never liked each other but had Kajol as a binding factor, knew what was brewing in his mind. He'd even zeroed in on Kajol and Rani as his main actresses and his story was slightly different then.
When Karan had narrated it, his father, Yash Johar, was in the cabin next door. He later advised Karan against making a Partition-based film and it was temporarily shelved. But an idea is like a worm that you've to get out of your system. Karan did that by handing his dream story and a jumbo budget to the director who made 2 States (2014) for him.
But 2 States was a breezy, contemporary subject, well-budgeted too. Kalank is outdated, overlong and over-budgeted at Rs 150 crore. If it's any consolation, it's less expensive than Thugs Of Hindostan, which cost Rs 250 crore. But response to the Sanjay Dutt-Madhuri-Sonakshi-Alia-Varun film has been just as tepid.
Of course, like it happened with Thugs, which on paper was a winner for Aamir and the producer, there will be figures put out to prove that by selling its satellite, music and digital rights for Rs 80 crore, Team Kalank needs to make only Rs 70 crore more to recover its investment. But two major points are whitewashed with this line of reasoning. One, the success of a film is not based solely on how much money it collects from various sources. How the theatrical audience has responded to it should matter uppermost in gauging the run of a film. On this front, whatever the money made, rejection by the audience is a loss of face or reputation for filmmakers as big as Karan and Aditya Chopra.
Two, is recovery of such a huge investment, that too after much huffing and puffing, acceptable in pure business terms? What about return on investment, as in interest and profit?
These are points filmmakers need to ponder. I'd blame Bahubali for the big-ticket failures as the unprecedented success of that film made movie-makers drool over elephantine budgets without looking at what craftsmanship went into it. It has to be hammered home again and again that a budget does not make a film. Only a saleable story does. And that does not change, whatever the era.
But how times have changed in the political arena. After the 2014 polls, we were sitting in the bar of a five-star hotel in Bengaluru. With only Shatrughan Sinha, who had won on a BJP ticket, and his great buddy, Karnataka daredevil and staunch Congress man Ambareesh. But when the latter died in November 2018, he was no longer in Siddaramiah's cabinet and Shatru had distanced himself from the BJP.
Today, Ambareesh's wife and actor, Sumalatha, is ironically fighting the Lok Sabha elections with BJP support. She recently WhatsApped me a poster of her late husband and Modi side by side — an unimaginable visual that night at the five-star bar.
On the other hand, Shatru's wife, Poonam, is taking on BJP's Rajnath Singh in Lucknow on a Samajwadi Party ticket.
Funnily, after all the switches in loyalties, star wives and family friends, Sumalatha and Poonam still find themselves on opposite sides of the political fence.
Footnote: With Congress also fielding a candidate from Lucknow, Shatru, a Congress man now, can no longer campaign for his wife. Such are the vagaries of the business of politics.
Bharathi S. Pradhan is a senior journalist and author