Dream MP
When nobody solved the problem of a group of pensioners, Hema used her clout and took them to the Prime Minister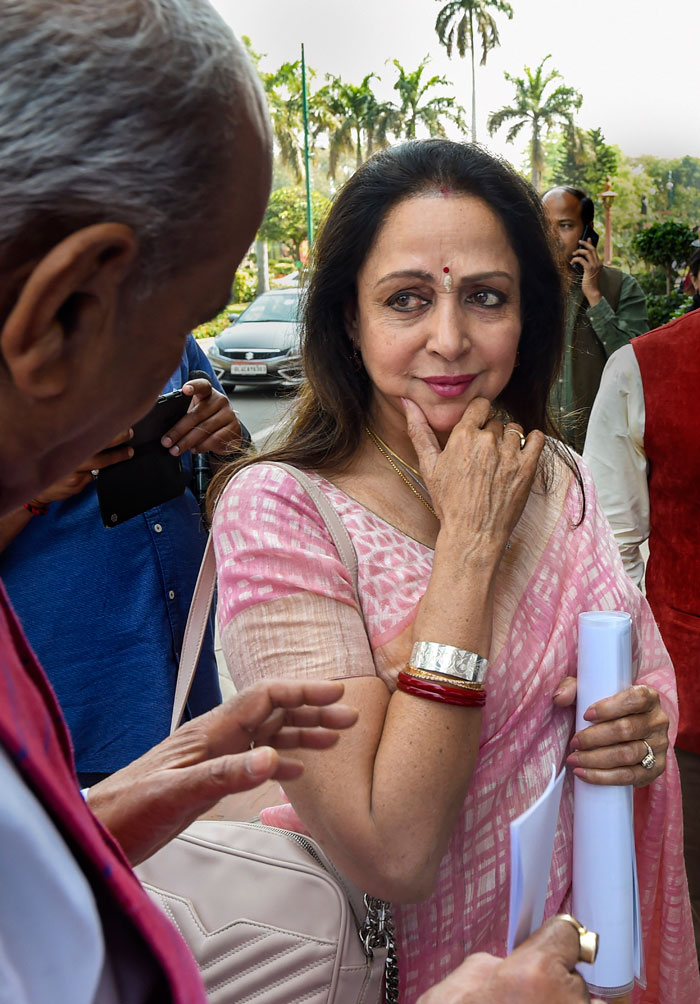 BJP MP Hema Malini at Parliament during the budget session earlier this month
PTI
---
Published 14.03.20, 07:13 PM
---
Once upon a time there was a beautiful actress who'd get so tense about holding a conversation with anybody that she preferred not to speak at all. "And people would think I was aloof (arrogant). My basic nature was to be reserved, it wasn't done on purpose. Initially, I would be tense, wonder what answers I should give if one asked me a question."
After 42 years in the limelight as an actress, two terms in the Rajya Sabha, and electoral victory twice over that has kept her in the Lok Sabha since 2014, the tension has eased. But Hema Malini is still beautiful, and still prefers the dignity of distance to the bonhomie of backslapping.
Which doesn't always work in politics where amplification of oneself and one's achievements is the recommended way of functioning.
A little while ago, a group of senior citizens from her constituency met Hema with a complication over their pension. They were getting a pittance when they should have been getting five or six times the amount. "I put them on to various ministries," Hema revealed. But when nobody solved their problem, she used her clout and took the pensioners to the Prime Minister early this month. "Fortunately, one of them was smart and could explain the situation very well to Modiji."
When the PM was lending an ear to them, Hema wondered if she'd done the right thing bringing them to such a busy man. But she broke into a lovely smile of relief when he complimented her for her compassion. "He said such a nice thing to me in front of all of them," she recounted, quite delighted.
It went unreported. Because Hema is like that; there isn't a pushy bone in her.
Last year, she was criticised for not going to her constituency after a hailstorm. But a few years ago, after a similar hailstorm ruined crops and caused rural distress, it was she who fixed up a meeting with Arun Jaitley (finance minister then) and got the farmers compensation. She, typically, didn't go out of her way to call the media and crow, or to complain.
It was last week during an informal chat in her sprawling Mumbai bungalow named Advitiya (meaning matchless, unique) that snatches from her political life were unwittingly discussed. But whichever aspect of her life you look at, hers was and is a unique success story.
A Mathuravasi as much as she is a Mumbaikar, Hema runs a mini empire in Advitiya, has built herself a house in Mathura, and has sculpted herself into a figure who commands respect.
Looking stunning and slim at 71, she is also an ecstatic grandmother of three, and a mother who beamed with pride over older daughter Esha's new book, Amma Mia. "Jaya Bachchan has very sweetly written the foreword," she acknowledged. "What I really like is that while Esha talks about food and other things (motherhood and babies) in it, her life story is also woven in. I've heard that Amma Mia has gone into a reprint and it's not even formally released," she exulted.
Esha is the doer who's always getting up and dusting herself, never getting desperate over an acting career that didn't go as expected. After the short film, Cakewalk, "She has done another called Dua. It's so beautiful, you'll cry when you see it," Hema commented.
She observed with satisfaction, "Esha is like Dharamji and me, very self-respecting. I also never had to go anywhere asking for anything. That way we're all blessed."
Hema likes the way Esha has grown into a person who handles family members very well. "She's like everybody's mother," she chuckled. "Even Dharamji is always coming to (talk to) Esha."
Esha has also settled down well in a joint family. "She gets along beautifully with everybody," Hema nodded, "but at the same time I've noticed that she keeps her distance, she doesn't fall over people."
She signed off with a twinkle in her eye, "Maybe she inherited that from me."
Bharathi S. Pradhan is a senior journalist and author