Gulabo Sitabo is a satire: Shoojit Sircar
The director chats with us on the decision to digitally premiere Gulabo Sitabo and the world of the film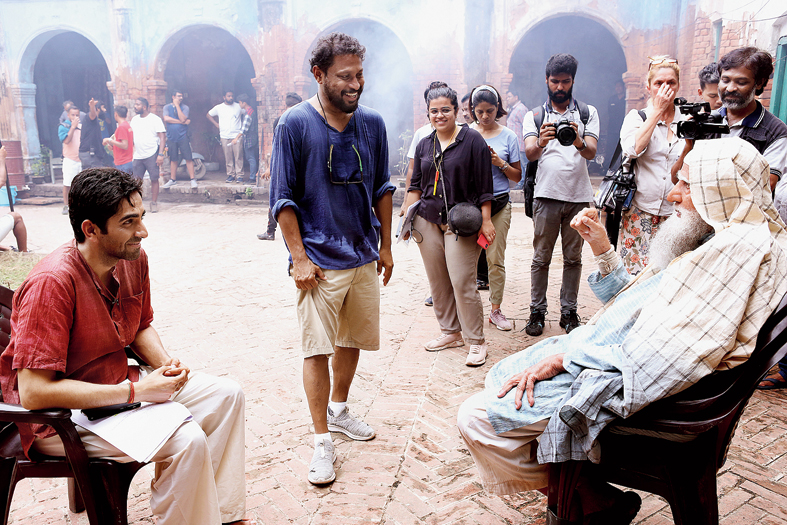 Three's company: Shoojit Sircar with Amitabh Bachchan and Ayushmann Khurrana on the sets of Gulabo Sitabo
---
Published 01.06.20, 08:46 PM
|
---
So many trees have gone down in this cyclone. That truly breaks my heart. There's been too much devastation in Bengal. I feel helpless," said Shoojit Sircar when we dialled him recently. The Salt Lake resident shoots his films all over the world but it's Calcutta that's home for him.
In what is something to look forward to in these strange times, Shoojit has a film — Gulabo Sitabo, starring Amitabh Bachchan and Ayushmann Khurrana — up for release. The satire, whose trailer is a #win, is of course the first big-ticket Bollywood film this season to bypass a theatrical release and stream on a digital platform (on Amazon Prime Video from June 12). We chatted with Shoojit on the genesis of Gulabo Sitabo, why he believes that 'quirky' and 'slice-of-life' — often used to describe his films — are simply 'marketing terms' and the vision in taking Gulabo Sitabo to a streaming platform.
First up, Gulabo Sitabo seems like a lot of fun. Can't wait!
A lot of people have told me that they have got a very warm feeling after watching the trailer. They are liking the fresh pair of Mr (Amitabh) Bachchan and Ayushmann (Khurrana). I am also getting tons of feedback on how Mr Bachchan is almost unrecognisable, which I am quite happy about... we really wanted to achieve that. Some people have also given me flat reactions like, 'No, it's not humorous enough'. So I told them, 'Then go and watch TikTok!' (Laughs).
The thing is that I haven't made a humorous film... I have made a satire. Humour is a very personal, subjective thing. I can tell you that I have made the film with a lot of warmth.
It's also being referred to as 'quirky' and 'slice-of-life', terms that are largely used to describe most of your films. Given the wide range of genres you've delved into, do these descriptions irk you at some level?
(Laughs) I think those are marketing lines, terms, jargon... a film is a film... it's a piece of art, an experience. You create a piece of art and tell a story. For me, Gulabo Sitabo is a satire... I wanted to do satire and I think it's turned out exactly how I wanted it to be. It's a satire on very simple people who are struggling with their lives every day. There are these two characters — Banke (played by Ayushmann) and Mirza (played by Bachchan) — and also many other characters. The trailer has revealed very little, the whole film is left.
In this film, I have explored a world which is an absolutely new and challenging world for me. I've not ventured into these characters and this space before. Satyajit Ray had shot a film (Shatranj Ke Khilari) there and I wanted to present Lucknow with a new visual feel. These challenges were very inspiring... I felt very motivated to make this film. Juhi (Chaturvedi, the film's writer) came up with the basic line of the story and then we started developing it.
Were Amitabh Bachchan and Ayushmann your first choices for Mirza and Banke? Given how much you have worked with them, you must have developed a shorthand with them by now...
Mr Bachchan was always on our radar, also because when we were writing the film, his age was just right for the character. We didn't know whether he would do it or not. He's worked a lot with us but that doesn't mean he would want to keep working with us in every film (laughs). But he was always there on our minds.
In fact, Ayushmann was not there in our heads at all. When we were writing it, I wasn't very sure what the age of the character was. We were constantly shuttling around when it came to discussing Banke's age. But one day, we suddenly thought, 'Why not Ayushmann?' We gave him a look —a normal down-to-earth boy — and then we bounced it off with him. For him, it was of course the character but I also feel that a big factor that made Ayushmann want to do the film was that he could work with Mr. Bachchan for the first time in his career. For both of them, I think, working together was an interesting proposition.
For me, Gulabo Sitabo is a satire... I wanted to do satire and I think it's turned out exactly how I wanted it to be. It's a satire on very simple people who are struggling with their lives every day
- Shoojit Sircar
What was the chemistry between them like?
The vision of the film needed the chemistry between these two people to be crackling. It took a little time... if you work with Mr Bachchan for the first time, it does take a little time to get past that aura and in the beginning, that hesitation was there with Ayushmann and then it became fine. Mr Bachchan also made him very comfortable. In fact, he's never intimidating, he's very easy. He may look like he isn't easy (laughs), but on set he's absolutely a director's actor, and also one of the most fascinating co-actors to work with. He also has tremendous respect for Ayushmann as an actor and a youth icon.
Vicky Donor to Piku, October to now Gulabo Sitabo, what works for the magical collaboration that you've built with Juhi Chaturvedi?
We come up with a lot of ideas. Most of the time, we don't know if an idea will translate into a film, but between the two of us, a lot of ideas are thrown about. We start developing them, and I think we are always almost in agreement whether that idea is developing into the kind of film that both of us want to make. One common factor that binds us is that neither of us has ever wanted to play to the gallery. I also always work with a bound script. In this film, a lot of help came from the fact that Juhi hails from Lucknow... she was familiar with the milieu, dialect and a lot of other things.
Your ability lies in gleaning uncommon films from the commonplace. Do you work under the pressure of making every film unconventional?
Not as such. If a subject isn't challenging enough or doesn't give me a new insight into life, then I wouldn't anyway touch it myself. I am thankful for the fact that the audience doesn't expect common, run-of-the-mill films from me. But the fact of the matter is that if the subject doesn't hit me hard enough, I will not do it. As I said, I had never touched upon satire before and that's a big reason why I am doing it with Gulabo Sitabo. See, it has to be challenging. I am not making my films for anything else... art should be powerful enough to compel you to say, 'Yes, I want to do it'.
October came from a very personal space and was both a painful and cathartic experience for you to make, as you had told us right after the film's release. Was Gulabo Sitabo a more liberating experience... were you more relaxed on set?
Oh no, this was as difficult as October. When you see the film, when you see this world... yes, we have taken its roots from normal, everyday life, but daily life has a whole lot of ups and downs... it's not easy. To capture the world from every department was tough. Avikda (Mukhopadhyay, cinematographer) has shot this film. When I discussed the subject with him, he came up with the idea, 'The way you are expressing the vision of the film, why don't we also shoot it like that... with a wide lens?' He also proposed we shoot the entire film with a single lens and I really liked the idea. I told him that everything on the screen, everything about every character... left, right, centre... should be visible... nothing should be hidden from the audience. This is a visual idea that I've explored in this film. Everything is visible in this film... nothing is hidden.
Gulabo Sitabo, is of course, the first big-ticket film to opt for a digital release in a world where movie theatres have shut indefinitely. You are being hailed as a visionary by some but your action is also being criticised by those who stand to lose if this practice becomes an alternative to the big-screen viewing experience. While some resistance was expected, were you surprised by the overtly antagonistic manner in which some exhibitors reacted?
Yes, it definitely surprised me a little. We did try to explain that this is not some kind of a deliberate attempt to take on movie theatres. The Producers Guild has also issued a written statement explaining the scenario to them. We are not the kind of film-makers who have lots of films in our bank. We make one film at a time, we distribute that film and then we move on to the next. If the lockdown hadn't happened, this film would have been in theatres by now.
But everyone knows that things are a little uncertain (regarding opening up of movie theatres) at the moment. We didn't want to hold on to this film for long because my crew was sitting. I had to move on. That's why I took this decision and I am quite happy I did so.
Do you see this trend as an alternative to the movie theatre experience or will its function be largely complementary?
Of course, they will co-exist. The word 'cinema' itself means that you have to go to the cinemas and watch it. I didn't take this decision to create any kind of differences... no, not at all. Cinema theatres will always be there. And the digital space is not a lockdown phenomenon, it's been coexisting with movie theatres for quite some time... we've had digital premieres of films even in normal times.
Don't you think this is actually the best time to digitally release your long-stuck film Shoebite?
Yes, everyone is asking me about this. And I actually have no idea...
I am as clueless as you are (laughs). I hope Disney listens to this and releases this film (starring Amitabh Bachchan). I really have no idea what's happening.
How do you see film-making panning out in the post-Covid world?
I hope a lot of things change. Human experiences have changed drastically. This pandemic and the subsequent lockdown has affected people psychologically... there are a lot of things to learn. There are many life-lessons we can take back from these three months. And these life-lessons will definitely affect film-making; if they don't, I have nothing to say... it's all bullshit then.