Flashback Friday: Khoon Bhari Maang
Rakesh Roshan's cult classic Khoon Bhari Maang completes 31 years this August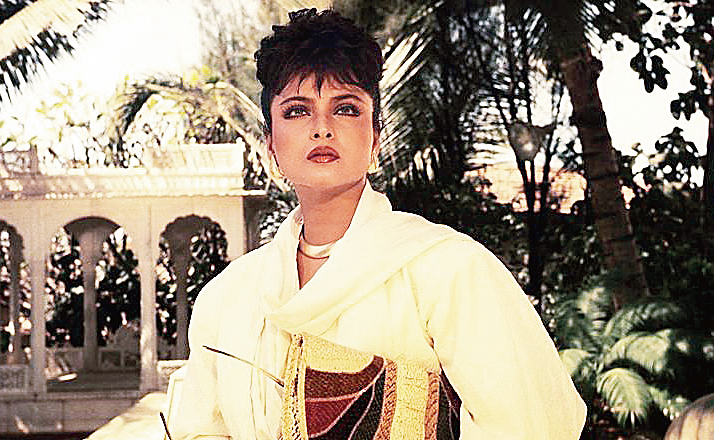 Rekha as Jyoti
(Still from film)
---
Calcutta
|
Published 29.08.19, 07:34 PM
|
---
Whisky mein soda ya pani milane se uska taste kharab ho jaata hai... whisky mein whisky milake peena chahiye!
So speaketh evil mama Hiralal (Kader Khan) in Rakesh Roshan's cult classic Khoon Bhari Maang, which completes 31 years this August.
The film is whisky on whisky, a terrific Rekha in a "double role". She starts off as a rich widow Aarti with rabbit teeth, a birthmark on her face the size of Australia (the film is inspired by the Aussie mini-series Return to Eden). Aarti has two kids, a horse and dog, faithful servants and memories of a kind husband (director Roshan in a cameo), but none can save her from impending evil. Her guardian Hiralal has murdered her rich dad; Hiralal's nephew Sanjay (Kabir Bedi), her new suitor wants her money; her gorgeous double-crossing BFF Nandini (Sonu Walia) encourages the match. Aarti never wonders why Hunky Sanjay wants her when Hottie Nandini is around, but hey, Sanjay's got Nandini where he wants her, in his arms and under his thumb.
During Aarti's first boat trip with new husband Sanjay, he serves her to a crocodile. Lucky for Aarti, the croc ain't hungry, it mauls her a bit to convince Sanjay that she's lunch. Aarti survives, sells her diamond studs and gets plastic surgery. The surgeon gives her a new face and throws in a new personality and false eyelashes for free.
Aarti 2.0 is Jyoti the Avenger. Hotter than Hottie, Jyoti finishes Nandini's modelling career and gets two besotted swains. Murderer Sanjay, antsy that he can't get Aarti's money as there's no body, perks up at Jyoti's oomph. The other man is fashion photographer JD, the good guy (Shatrughan Sinha). To cut a long story short, Aarti/Jyoti, with a little help from her menagerie, feeds her husband to the croc (fully hungry by now). It is assumed she will hitch up with JD.
Khoon Bhari Maang had big hair-dos, accessories the size of small planets, scary shoulder pads. But it also has an avenger who kills her husband in a tit-for-tat. Dodgy feminism, but better than sad women singing how their husbands were gods (see Naseeb Apna Apna). Director Roshan keeps the film pacy, his brother Rajesh gives it some of his best music. And there's Rekha and the croc, who understand each other perfectly.