'Everyone has a hero inside and SOS Kolkata will serve as inspiration' — Ena Saha
SOS Kolkata (produced by Jarek Entertainment — Ena's production house — and Pratyush Production) is the first Bengali film whose shoot started post-lockdown.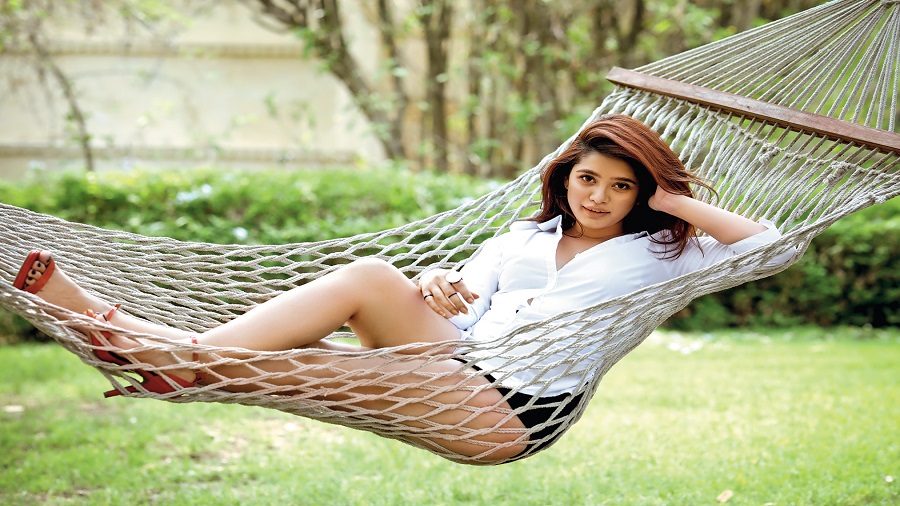 ---
---
With an acting career spanning 17 years, Ena Saha turns producer with the film SOS Kolkata, starring Mimi Chakraborty, Nusrat Jahan, Yash Dasgupta and Ena, who will face the camera for her first shot as an actress for the film directed by Anshuman Pratyush on July 14. The Telegraph chats with Ena...

SOS Kolkata (produced by Jarek Entertainment — Ena's production house — and Pratyush Production) is the first Bengali film whose shoot started post-lockdown.
How is it going so far?
Very, very good! Everything is running smoothly. I am working with Mimi didi for the second time (they had starred in the 2012 film Bojhena Shey Bojhena) and with Yashda and Nusrat didi for the first time. They are so nice to me all the time. I am super excited about my first production and to be working with everybody. I can't believe that this is actually happening.

Now that you are a producer, do you see people treating you differently on the sets?
They have always been sweet, kind and nice to me and it's the same now. Maybe a little bit more this time! Hahaha!

Why did you turn producer with SOS Kolkata?
I really wanted to start with a film that has a good story. I wanted to produce a film that is meaningful and entertaining as well. I am trying to deliver on both fronts.

When and how did you take this decision to turn producer?
I always had this dream of having my own production house... always wished for it. During lockdown I had some free time and I started thinking about it… and I felt it was the right time for the dream to come true. I spoke to my family members, and people who can help me out with this... I got in touch with Anshumanda. He came up with the story and I
loved it.

What will be your role as a producer?
My role as a producer will be about choosing the stories I love, following my heart and not interfering in the director's job.

Will you be producing certain kinds of films as a producer?
I want to produce all kinds of films. I want to reach out to everyone. We have a great cast for SOS Kolkata… the script is also a star.

Does your film have a message?
Our film is about how a common person becomes a hero… everyone has a hero inside and this film will serve as inspiration. It takes the right time to spark the hero in us.

How have you planned out the shoot during this pandemic?
We are shooting with all the precautions and following all safety measures and health protocols. We are wearing masks, gloves and maintaining social distancing. We are sanitising everything over and over again. This is the first Bengali film to start shooting post-lockdown and I really want this film shoot to be a success so that others get inspired
from it.

Would you like to see more young producers coming forward to produce films?
Yes, absolutely! They will bring in a fresh perspective and energy. They have to dream big, fix a target and organise and execute the project. I hope this film inspires more young producers to come forward. Youth has the power to bring about changes that matter.

Tell us about your character in the film?
I play Angel, a front desk manager who is very bubbly, sweet and very professional but then we get to see different shades in her as the story progresses. The film is about a suspected terrorist attack and it is about how the army, police and the common people come together to save lives and work against wrongdoings. We get to learn and unlearn a lot of things around us through this film.