Director Kaushik Ganguly on looking at love in the time of political unrest through Kaberi Antardhan
The suspense thriller starring Prosenjit Chatterjee, Srabanti Chatterjee, Churni Ganguly and Koushik Sen is running at cinemas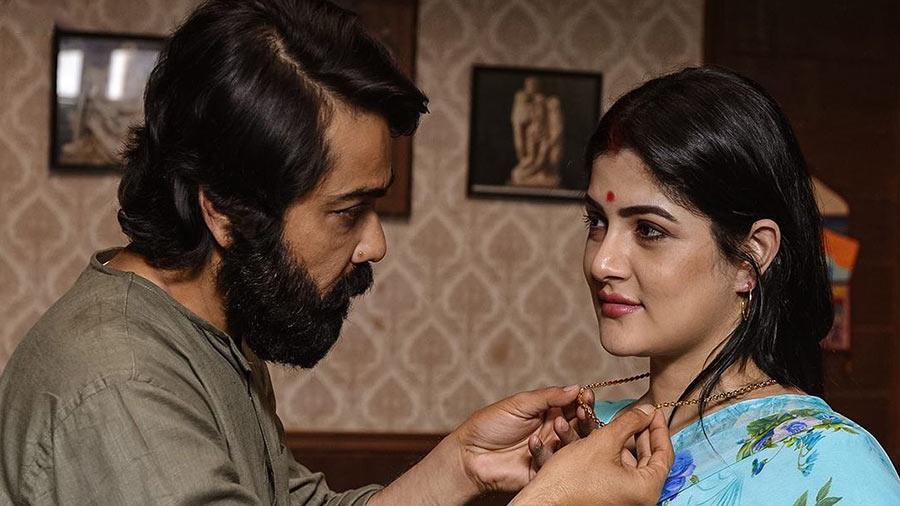 (L-R) Prosenjit Chatterjee and Srabanti Chatterjee in Kaberi Antardhan.
Instagram
---
Calcutta
|
Published 28.01.23, 03:17 PM
|
---
Set in the political backdrop of the Naxalite movement in North Bengal, Kaushik Ganguly's Kaberi Antardhan explores how love changes its texture in the time of political unrest. A chat with the filmmaker who also acts in the film starring Prosenjit Chatterjee, Srabanti Chatterjee, Churni Ganguly, Koushik Sen and Ambarish Bhattacharya.
Kaberir Antardhan unfolds against the backdrop of the Naxalite Movement in Bengal in the 1970s. How did the film come to be? 
Kaushik Ganguly: I always wanted to do a suspense thriller. I had subtly touched this genre in my film C/O Sir. I usually like to make films that are relationship stories but they don't usually turn into thrillers. This is why I wanted to make Kaberi Antardhan. 
The film is set during the 1950s when the Naxalbari movement started in North Bengal, where the youth were not only taking part in a revolution but were also falling in love. During that turbulent time, the interpretation of love and survival was disparate. When the political ambience becomes different, relationships too become different.  
Against the political backdrop of the 1950s, love becomes unsteady and intense. The tolerance level of love changes because of political unrest. The canvas of human relationships in this film is very unsteady. Kaberi Antardhan shows an uncanny and strange situation with an intense love story. It is not a political film. I did not get too deep into politics. But any film you make, it has to have a political backdrop. 
The film is set in a small town surrounded by tea gardens in the hills of North Bengal… 
We shot the film in Chalsa, in tea gardens, bungalows and the mountains. We have shot in different forests including Gorumara. I have been working in North Bengal for a very long time, I've shot many telefilms there. 
How did you recreate the Emergency era of the '70s?
Kaushik Ganguly: It was indeed very difficult. You have to be very sincere when you are creating an era. We had our limitations. There is a bus in the film. We had to find an old bus, restructure it and make the machine work. The poster advertisements on the streets were completely different. We had to find those. We even had to use an old landline telephone in the film. 
The lifestyle of the people was different. We had to create the costumes accordingly. The people in North Bengal had a different fashion sense from that of Kolkata. We tried to keep it authentic and stylised a little. 
The art director and costume designer had to recreate each and every thing very carefully and diligently. I avoided using hard colours. We tried to keep a pastel shade. We did not want the colour palette to take over the story. 
Tell us what thought went behind the casting of the film…
Kaushik Ganguly: I felt Prosenjit Chatterjee was very suitable for the character of Arghya Sen. He gave a lot of time to transform into the character; grew his beard and hair. Arghya Sen is an idealistic painter who has his own views of life. His character has leadership traits. 
Srabanti Chatterjee's character, Kaberi Bhattacharya, is a girl next door. I loved Srabanti in Buno Haansh and Goynar Baksho. She has the ability to go beyond her actress image and pull off a simple girl's role. Her face has the power to hold a different era. 
Nayantara, played by Churni Ganguly, is introverted. Churni herself is from North Bengal; she has lived in the hills for around 20 years. She knows that lifestyle very well. She follows the same lifestyle even now. She is my favourite actress and I definitely have a weakness. (Laughs) I feel nobody can replace Churni's dignity. 
I always have the characters in mind before I start writing the script. This is my way of working. I feel every actor has their own area and if we give something to them beyond their area, they will fail to perform. I keep in mind the actor's characteristics and then I start writing. Every actor behaves differently. Their way of speaking and approaches are different from each other. There is a dog in the film. What challenges did that pose on the set?
Kaushik Ganguly: We don't often see animals in films. In Kaberi Antardhan, the dog plays an important character. She's a very-well trained dog and has done an amazing job. She was like a junior artist. She was very lovable to us. We have to complete films within 19-20 days. Shooting an animal is difficult. We need to shoot according to his mood. She would make us understand if she didn't want to shoot. We would have done some other scenes instead. But after her mood used to become fine she performed the scenes instantly. She was just like a kid. We loved her very much!
How do you switch roles when you are directing and also acting in your film?
Kaushik Ganguly: I am the one who has created the character I play. I don't have to make my actor-self understand what I want as a director. I don't face any problem directing when I'm acting. My directorial team is very strong. When I am performing as an actor, I am very aware of my position and angles. The rest is taken care of by my team. I trust them if they say the shot is perfect. I don't check my shots on the monitor, not even when I am acting in other directors' films. Actor Kaushik Ganguly never disturbs the director Kaushik Ganguly.
Background score is a crucial element in all your films. Tell us about the music of Kaberi Antardhan and your association with Prabuddha Banerjee.
Kaushik Ganguly: Through the music, I wanted to hold and capture the moment and era of the film with dignity. Let the soundscape be unknown. To me, music is an effect and not just melody.
Prabuddha Banerjee has done many successful films with me. He has his own point of view. He has a thought process. We discuss the background score of a film in detail. He has the capability to understand what exactly I want and creates that accordingly.
You are set to make your debut in Hindi films with Manohar Pandey, which has Raghubir Yadav, Supriya Pathak and Saurabh Shukla. What is it about?
Kaushik Ganguly: The story is a romantic drama set against the backdrop of the Covid pandemic. It was such a fantastic experience to work with all of these actors. They are my good friends. I knew that whenever I would want to make a film with them, they would be ready to work with us. We shot the film in the pandemic. The post-production is left.
What are your upcoming projects?
Kaushik Ganguly: Ardhangini starring Jaya Ahsan and Churni Ganguly will release soon.