Deep Phoenix celebrates his birthday with different personalities in a new song
Deep Phoenix (of Whale in the Pond) and the release of his original single, Sky Upon Your Ceiling, on August 19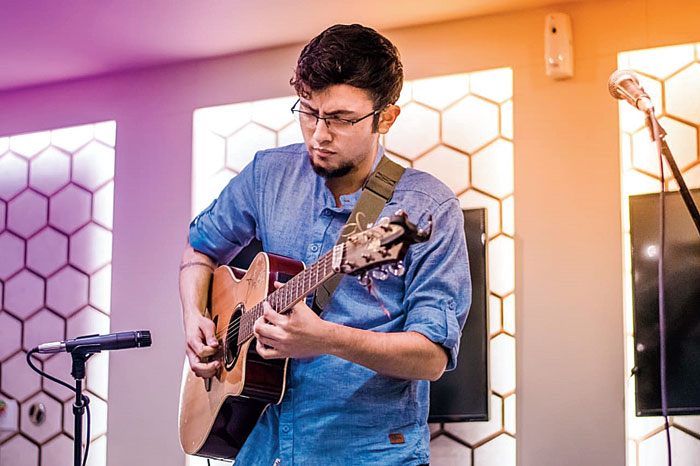 ---
---
What's the best thing you can gift yourself on your birthday? For Deep Phoenix (of Whale in the Pond), it was the release of his original single, Sky Upon Your Ceiling, on August 19.
The video to the single shows the 26-year-old sitting at the window in his room, playing fingerstyle guitar. The chords and notes that start off slow and delicate, continue for almost seven and a half minutes and by the end of the video, Deep is joined by, well, another Deep! Two of his "personalities" — from this point on — add a new layer at each bar of the song, till the last few seconds where all of them stop together, and we're back to the man.
"The video has me, sitting in my bedroom, looking at the rain. By the time the video ends, I show my different personalities, because when I play this song live, I play it on a loop pedal. My other videos are quite DIY, which I make with my friends. There's a lot of stop-motion animation and split screening. But since this video is so long, I didn't do much magic, because no one watches such long videos!" the singer-guitarist has told The Telegraph.
The song, which was mixed and mastered by Shireen Ghosh (also a member of Whale in the Pond), is one melody but Deep maybe changes a chord or a set of notes every time he plays it. But how did this song come to him? "When I moved to my new apartment (which is shown in the video), this is the song that I had written on the first night. And although I love my room and my apartment it would never be like home. Similarly, in the song although I'm going over the same melody, it doesn't sound the same every time. By the end, I add more layers to the song because it doesn't make sense to keep going round and round, in a loop. The night when I wrote the song, I saw the clear night sky from that window, which is something I didn't have in my old house. I told my friend Paloma (Majumder) about it and she suggested that I name it Sky Upon Your Ceiling," said Deep.
Seven and a half minutes is quite long as far as a music video goes, but more than visuals it is the audio that appeals to listeners. Deep even tried to cut the video short to five minutes. "But the piece is a whole. If I removed a part, it would have been like removing a moment of my life from the song. I hope people watch it till the end. It's not one of those commercial songs; it's a loopy song you can play in the background."
On his last birthday, Deep had also released an album called Things Will Get Better which had six singles, all composed in fingerstyle guitar. He is working towards putting out an album which will have fingerstyle guitar along with other instruments and a new release of Sky Upon Your Ceiling with orchestral backing vocals. What about Whale in the Pond? They're about to release their upcoming EP, The Night's End.