Bullseye for Viineet Kumar
Viineet Kumar plays Taapsee Pannu and Bhumi Pednekar's coach in Saand Ki Aankh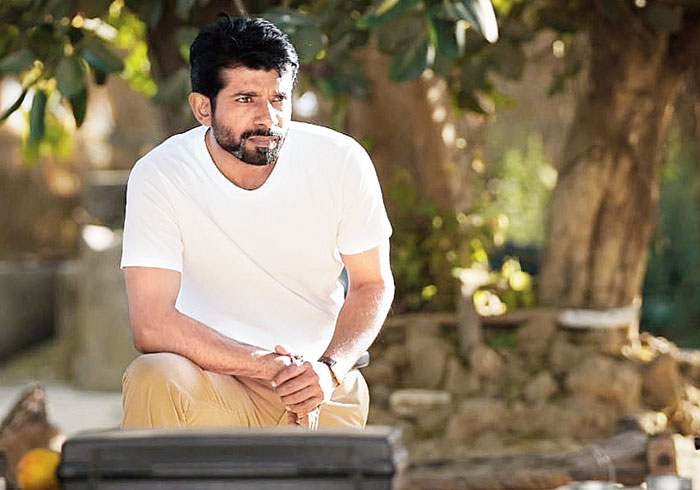 "I play Dr Yashpal. Just like a bow and arrow cannot be separated from one another, a coach and a player have the same relationship," says Viineet
The Telegraph
---
Published 06.11.19, 08:27 AM
|
---
Since making a splash in Anurag Kashyap's Mukkabaaz last year, Viineet Kumar plays Taapsee Pannu and Bhumi Pednekar's coach in Saand Ki Aankh. The Telegraph caught up with Viineet to know about his time on the film currently playing in theatres and more…
Tell us more about your role.
I play Dr Yashpal. Just like a bow and arrow cannot be separated from one another, a coach and a player have the same relationship. In this film, Dr Yashpal is not just a coach. He used to live in the same village. He sees the outside world but wants to contribute to his village. He comes back and sees that there's a lot of talent like the youth force... they have bullets but they're using it for some other reason. He thinks of giving these resources and energy a correct path. He knew the Dadis before leaving the village and accidentally finds out that they are good at shooting, they just don't know it yet. For a long time they've been doing the same chores as every other village woman and they never even realised their own talent.
Did you learn shooting as part of your preparation?
Yes, I don't go anywhere without preparation. If you watch Bard of Blood (on Netflix) you'd realise that one can't speak Pashto overnight. There was also a lot of layering in that character. Earlier too, be it in Gangs of Wasseypur or Bombay Talkies, you'd notice the same. This is my work. The Dadis are from a place called Baghpat and the day I decided I'm doing this film, I called up my Jatt friends and said, 'From today, we are only going to speak in your language'. I told them to share whatever's in their heart with me, it'll help me as an actor and help them to lighten their burden. That's how I started the process. I did not have any reference point for this character from any of my earlier works.
How were Taapsee and Bhumi to work with?
Bohot badhiya (Very good). It felt very nice working with them. They are both very hardworking and talented. It was also very good working with Tushar (Hiranandani, the director), he is very clear about his craft and what he wants. It was something nice, something interesting. I got this role with an audition. Instead of one scene, I had given an audition for four scenes and Tushar called me after the audition and said, 'I have tears in my eyes.'
Anurag Kashyap is a co-producer of Saand Ki Aankh and you've worked with him in multiple projects like Mukkabaaz and Gangs of Wasseypur. Is working with him your comfort zone?
Wherever I work, I get repeated by them. I don't know the reason behind it. I just know that I do my work with a lot of honesty and try to live up to the promises I make. I did Bard of Blood with Red Chillies Entertainment and Netflix and within 20 days I got a call to do their next show. I had not worked with Drishyam Films before, but now I've two films with them - Aadhaar (releasing on December 6) and Tryst With Destiny next year. I've finished my work on both. That's not called comfort zone. Yes, I've done more work with Anurag sir but before too, even if I have got called for one scene, I always get a call from the same production house for three scenes. Then the next time, it becomes five scenes. Wherever I have worked before, I have got repeated most of the time.
What is the best memory you have of working with Anurag Kashyap?
Every time, as an actor I get to learn something new. He brings in a new treatment with every character, every story, every actor. I have been an assistant director before. So, I don't leave the set, I stay there even if it's not my shot. I observe everything. It helps me as an actor. Anurag sir understands his actors and explains to them what they need. The fact that I don't leave the set helps me in learning, seeing and hearing a lot of things.
How was it being part of a Netflix original in Bard of Blood?
I was looking to work in something interesting on an OTT platform. My character of Veer Singh is really layered, he is an undercover agent in Afghanistan and is an opium addict. The agency has forgotten him but he is still working because he loves his country so much. At the same time, his father is suffering from a disease, so he wants to come back home. He lives in Afghanistan alongside the Taliban, so he speaks Pashto, eats their food and leads their lifestyle. But his heart is purely Indian and I loved that character. There was no reason for me to say no to this.
You received a lot of appreciation for Mukkabaaz, but does box-office results ever affect you?
Somewhere box office is important but one should also see what the budget of the film is. Common men just see that a film has earned Rs 200 crore but they should also see that it gets released in 4,000 screens. If a small film gets released in 400 or 500 screens that itself is a big deal. A big film runs more in one day than a small film runs in a week, so it's obvious there will be a difference in numbers. My film earned way more than its production value. And I'm happy critics and journalists liked the film.
What's the biggest lesson Bollywood has taught you?
Don't get into other people's business, just do your own work. That's why I'm busy doing my own work and have completed six projects. The first release was Bard of Blood, followed by five more releases - Saand Ki Aankh, Aadhaar, Tryst With Destiny, Gunjan Saxena: The Kargil Girl and Betaal for Netflix. I have that balance where I am working and experimenting.
What do you like watching on Netflix?
I have watched Narcos thrice. I also liked Roma, Stranger Things, Sacred Games and Breaking Bad.