War: A testosterone fest powered by Hrithik and Tiger
War is basically action interspersed with some story and dialogues. It is best enjoyed with a willing suspension of disbelief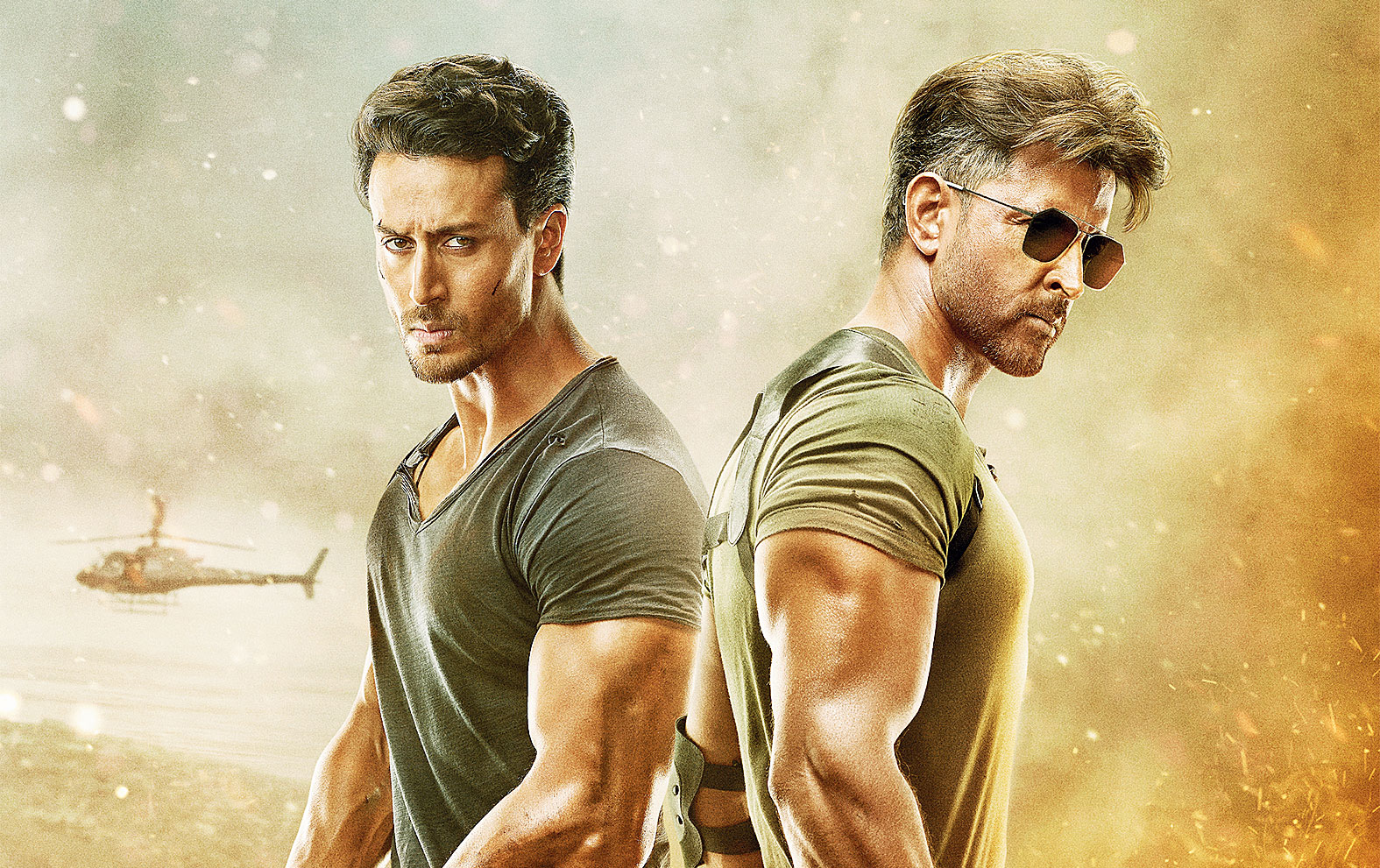 Tiger Shroff and Hrithik Roshan
(Movie poster)
---
Published 03.10.19, 02:45 PM
|
---
Twenty-odd minutes into War, a helicopter touches down on the tarmac in front of a nondescript building.
A bunch of men — all secret agents — file out, but everyone's eyes on the ground are trained on the door of the helicopter. Super agent Kabir peeks out and then saunters towards the building. The piercing green-eyed gaze comes into camera focus first, followed by his perfectly tanned visage and sharp jaw. His sinewy abs and slo-mo walk don't allow you to tear your eyes away from him. More than a hint of grey peppers his temples and the wrinkles around the eyes and mouth only add to the charm and persona. Even at 45, Hrithik Roshan has the ability to make almost everyone in a dark theatre — men, women, kids, you name it — let out a collective gasp of awe, approval and admiration.
War, the big Bollywood release this festive season, is a testosterone fest, a popcorn entertainer that's built around its leading men. Hrithik leads from the front, delivering on all counts — acting to action, body beautiful to emotional heft, with an earnest Tiger Shroff playing the perfect foil to him. Action is the name of the game here, with War upgrading the Dhoom template when it comes to blowing up bridges, crashing cars or pummelling people to pulp, but definitely dialling down the intelligence and intrigue.
Swag and (within acceptable standards) smugness come together in equal measure in War. Add to that slickness and style, but very little in terms of story or substance. Traditionally, action films from here and there are too fast and too furious to have a credible storyline. When you sign up for a film like this, you know what you are in for — a no-holds barred, paisa-vasool time at the cinemas — and War, despite hinging on too flimsy a plot and with no freshness in trope, theme or treatment, has enough to ensure bang for your buck.
Operating in a hyper-real world where secret agents bring down an army of enemies single-handedly without as much as getting a strand of hair out of place, War cuts to the chase immediately. Hrithik's Kabir has gone rogue and the onus of taking him down rests on his one-time protege Khalid, played by Tiger. That gives the film the ticket to embark on a cross-continental trip — Malta to Marrakesh, Portugal to Portofino — with Kabir and Khalid engaging, both in the past and present, in one jaw-dropping action set piece after another.
As many as four action directors, from Bolly and Holly, have worked on War and in every scene, we get to see where all that money has been spent. The set pieces — many of them a nod to everything from Mission: Impossible to Fast and Furious to even Top Gun — play out in air, water, road and ice, with the action being of a standard rarely seen in a Bollywood film before. Take for instance Tiger's entry scene filmed in Valletta. It's roughly a two-and-a-half minute fist-to-fist fight carried out in almost one swift motion and without even the hint of a background score. You hear the bones breaking and the jaws cracking.
Or that M:I 3-inspired car ambush that starts off with Hrithik making a Tom Cruise-styled entry on a bike, moves on to a chase from the Portuguese countryside to the city and culminates in a demolition derby kind of face-off. Or that scintillatingly filmed Fallout-like sequence that takes place in an aircraft flying and dodging snow-capped mountain peaks. The film even has Mission: Impossible-styled opening credits, but lacks a memorable OST to go with it. Benjamin Jasper shoots War spectacularly, capturing the picturesque locations as compellingly as the pulsating action.
Every frame of War is built to showcase Hrithik and Tiger, individually and collectively. Tiger's wide-eyed attitude whenever he is around Hrithik extends from real to reel. The initial equation between Kabir and Khalid is aggressive and antagonistic, but that slowly gives way to brotherhood… and even a kind of bromance. So much so that when a female subordinate tells Kabir on her wedding day that she's ready to elope with him even then, Khalid shyly smiles and tells her, "Get in line".
There are even some light moments thrown in between the two. Jai jai Shivshankar is a treat, if utterly misplaced in the film, its only function being to showcase the dancing skills of the two best movers in the industry. Somewhere in Half Two — where things get horribly loose and it's up to the action scenes, which come in one after another, to barely give the viewer any time to process the loopholes in the plot — there is a synchronised gun battle featuring Hrithik and Tiger which, if played to some music, could easily pass off as a dance performance in slow motion.
War is basically action interspersed with some story and dialogues, with the spy tropes being as old as the genre itself — dual lives, double identities, 007-like gadgets and gizmos and plot twists inspired by everything from James Bond to Face/Off.
A major problem with the film is that the women are strictly functional and painted in broad strokes. Vaani Kapoor sizzles in Ghungroo, but has scenes you could count on the fingers of one hand, and you would still have some fingers left. Soni Razdan gets even lesser screen time. Only Anupriya Goenka, playing an analyst, has some semblance of a role.
All said and done, a film like War is best enjoyed with a willing suspension of disbelief. Director Siddharth Anand — who makes this film a vast improvement over his similarly themed Bang Bang — ends with more than a promise of a sequel. We are up for the ride. Maybe, just maybe, with more of a story the next time around?