I feel blessed that I have got an identity so early on in my career: Tiger Shroff
The actor aces 'War's' high-octane action sequences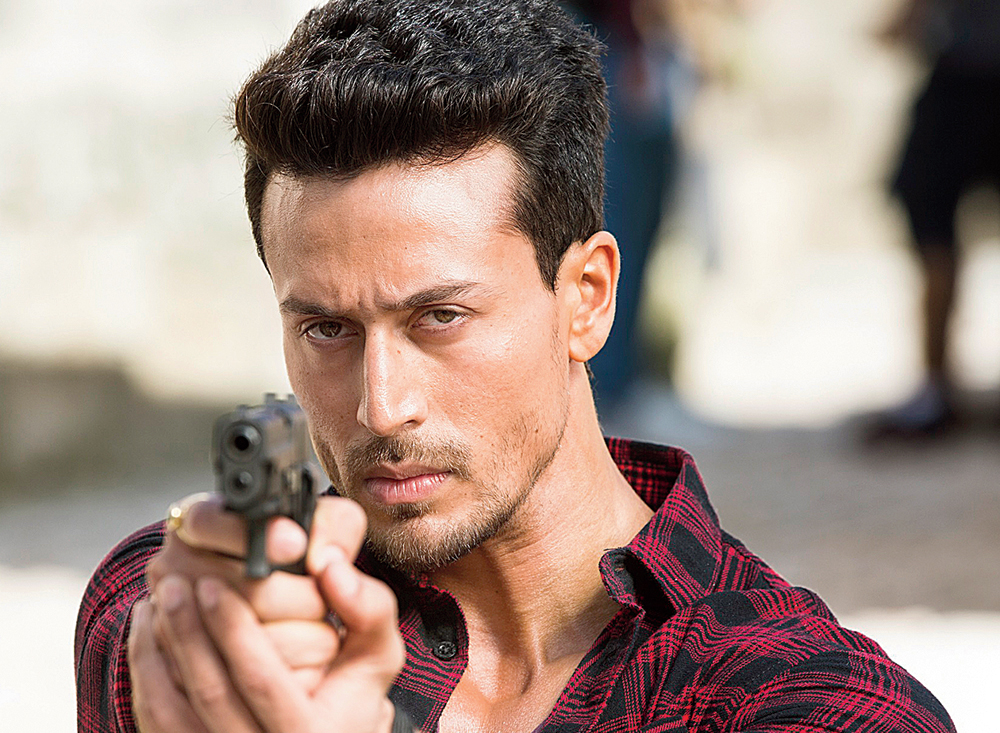 Tiger Shroff as Khalid in 'War', releasing on October 2
(A still from the movie)
---
Published 30.09.19, 10:35 AM
|
---
This Wednesday, Tiger Shroff locks horns with Hrithik Roshan in the action spectacle War that pits them as secret agents on opposite sides of the moral divide. In the run-up to release, The Telegraph caught up with Tiger on being Khalid in the Siddharth Anand directorial, acing the film's high-octane action sequences and playing out the real-life mentor-mentee equation with Hrithik on the sets of War.
War is one of the biggest films you have been a part of. With less than a week to go for release, what's uppermost on your mind — excitement, nervousness or a mix of both?
I haven't seen anything of the film and so I am nervous as to what to expect. At the same time, I am excited because there's been a lot of love and appreciation that's come in for the film already. So yes, a little bit of both (smiles).
War pits your Khalid against Hrithik Roshan's Kabir in a game of one-upmanship, but the root of their friction lies in a mentor-mentee relationship gone sour. We all know that Hrithik has been a major inspiration to you both as an actor and a dancer. Did the mentor-mentee equation spill over on set as well?
It was definitely a mentor-mentee relationship, for sure. There was also a great friendship that we shared while on set. There was so much to learn from him and from the experience he comes in with. I was absolutely in awe of the way he worked and his approach to his craft and to every sequence. There were a lot of lessons learned. Sometimes, I was even lucky enough to be directed by him in a couple of shots. Every time I was stuck somewhere, I had the liberty and the comfort to ask him, 'Sir, how do you think I should take this line?' or 'Can you show me how to do this?' He would gladly oblige, ya. He was always so helpful.
Is there anything about him you learnt on the sets of War that you hadn't known earlier?
There were a lot of times on set where we had conversations that were outside of work. You know, just stories about him and his life. It was fun getting to know each other. We expressed a lot of things to each other. It was wonderful to get to know him closely.
The Telegraph was in the audience at the 2015 IIFA Awards in Kuala Lumpur when you and Hrithik brought the house down with those few minutes that you danced on stage together. In War, we get to see you matching steps in Jai jai Shivshankar that has already become a rage. Was it surreal dancing with someone who has played a role in inspiring your love for dance?
It was a dream come true. The reason I started dancing had a lot to do with him. And yes, it was surreal doing that song with him. I couldn't have asked for more, you know. It was fun but also very, very challenging matching steps with him. I was always nervous. I wanted to do my best and not let him down. He's at such a high level as far as his dance is concerned… even I wanted to be up there with him.
Khalid seems to be very upright, a man who believes in doing the right thing and is wholly dedicated to his job. These are qualities that have also been variously used to describe you and your attitude towards your craft. Is there anything of Khalid in Tiger?
There is a little bit of me in him, definitely. I try to be as honest to my work as possible. Similarly, Khalid is very honest to his job, his people and his country, to his teammates. He's seen a lot quite early in his life and that's shaped him into the person he is. He's the only one taking care of his mother, so he's responsible as well. He has high regards for his teacher — in this case, Kabir (played by Hrithik) — and I also hold my hero Hrithik in the highest esteem. So ya, the onscreen-off screen dynamic is pretty similar.
Hrithik had recently told The Telegraph how he had to push the limits more than ever before to acquire the physicality to play his super agent Kabir. Did you have to do anything of that sort?
Absolutely! Here I was working on this huge action film and doing action scenes in tandem with a giant in the film industry — Hrithik Roshan. It was imperative that I had to be at my best at all times, whether it was physically, mentally or emotionally. Every scene was a challenge and I had to do them standing in front of a man who is so complete. That was the biggest challenge, actually.
Physically, I didn't have to change much of my fitness regimen. There is a different style of action that's being expressed on screen in this film… it's something I haven't done before. Luckily, I got a lot of workshops for that.
There is a buffet, a variety of action in the film. It was very challenging because each action sequence is very different from the other. The locations were challenging to shoot at… we did action on land, air, water, ice, you name it. The set pieces were mounted very ambitiously… whether it was a bike scene or driving a car on ice. Before every action sequence, there was a fair amount of time to prep.
Growing up, who have been your favourite action stars?
I would say Sylvester Stallone and Jackie Chan.
Your father Jackie Shroff has done a fair amount of two-hero films and very successfully so. Was there any advice from him going into this film and does he give you any advice in general?
Not really. His words are always very simple. He just says, 'Be honest. Be true to the character you are playing. Be sincere. And you will pass' (smiles).
Very early in your career, you have carved a unique niche for yourself as an action star who dances well. This has translated into big box-office gains in the form of Baaghi 2, which was a Rs 100-crore-plus hit powered single-handedly by you. Over the next few years, will the focus be on capitalising on this niche or breaking it with every film?
There is so much competition these days. So how does one stand out? I am blessed to be doing what I am doing. I feel blessed that I have got an identity so early on in my career, especially among such talented peers. I am really, really happy in my space, man (smiles).