Taapsee Pannu talks about Saand Ki Aankh, and more
'Bhumi and I were the only two who were ready to take this big risk'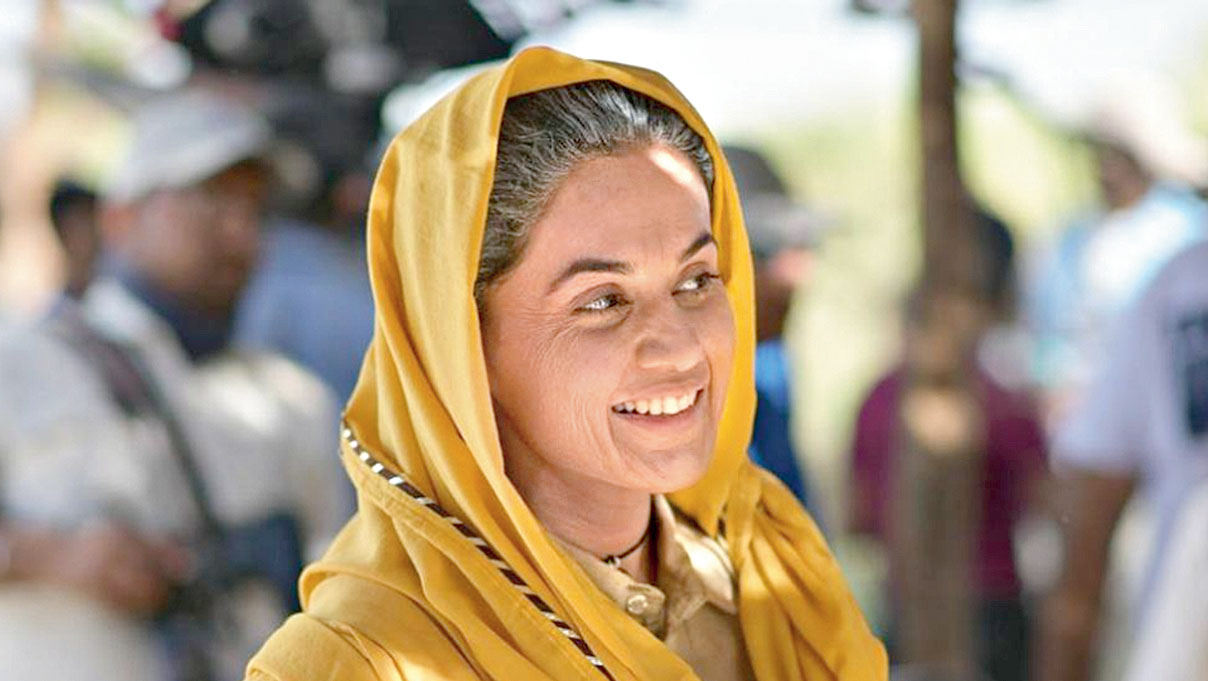 ---
---
Taapsee Pannu is hoping that Saand Ki Aankh caps off what's been an incredible year at the movies, in style. The actress has already delivered hits with Badla, Game Over and Mission Mangal. "I am hoping for a bumper Diwali," she says with a big smile as she piles her plate with khichdi and aloo gobi. It's lunchtime and promotions of the Tusshar Hiranandani film based on the lives of sharpshooters Chandro and Prakashi Tomar are on in full swing, so Taapsee has no choice but to multitask. So, while she polished off her lunch, Taapsee spoke about why this role made her think of her mother, the casting controversy the film's embroiled in and why she thinks Kangana Ranaut's sister Rangoli 'loves' her.
Is it true that you went after this film?
Yes. This film didn't come to me. I heard there was a script with Reliance and I called up Shibasish Sarkar (group CEO) and said I wanted to hear it. They asked me to come and meet Tushar (Hiranandani, the film's director) and see if it works for both of us. He showed me the picture of these two daadis, and said this is what the film is. I wanted to hear the script and decide whether it was worth putting in the insane amount of effort this was going to take.
I was shooting for Chalti hai kya 9 se 12 for Judwaa 2 in Film City and came back at 9pm to hear a live narration with 12 people, live music and singing. The producers, director, music director, dialogue writer, lyricist... everyone was sitting there. It was a two-and-a-half-hour narration and I had tears in my eyes and said I was doing it. We didn't decide then which part I was doing because it would depend on who the other person being cast would be. My only condition was that I and whoever else would be cast, needed to be given enough time to prepare, because you can't just land up on the set and do this role. I had reserved four-five months for this film, of which only 50 days were for shooting... before that was prep. I told them to ensure that whoever else was being cast had the time. They agreed and then we went on the hunt for months.
In the second year is when they found Bhumi (Pednekar)... and finally there were two of us. The only two who were ready to do this, the only two who were ready to take this big risk. I'm so happy she decided to do this because she came in all ready to take the risk, and give it the time and effort. Both of us dived into the deep end of the pool together, holding hands and exchanging lovey-dovey notes about how special this was going to be. We were in it together and we knew we'd either be mocked or we'd be loved for years to come, but it was a story worth taking the risk for.
What made you think that this story was worth the effort?
When I heard the script, there were multiple moments when I had tears in my eyes. I kept thinking of my mother while I was listening to the story. I kept thinking of the fact that she's also never lived for herself and ensured that I don't have a life like hers. Like most Indian women of that generation, before marriage, it was her father who decided everything, including her partner. And then it's the partner leading the way and deciding things for her, and then it was her kids she lived for. My mother is 60 now, the age I'm portraying on screen, and she has no idea what her hobbies are. She's always been a housewife but now she's jobless because both my sister and I have left home. My dad's retired but he keeps himself busy with the balance sheets he makes for us, but mom has no job to do. She doesn't even have anyone to cook for. I forced her to learn computer, learn some English, go travel... but it's not like she enjoys it fully because she has no idea what to do, or whether it's her calling or not. I wanted to do this for her, and for all the other women out there who'd either identify these characters with their mothers or themselves... to get the message across that it's never too late to start living for yourselves.
If there's one thing actors hate, it's ageing. What was it like to see yourself after those two-three hours of make-up?
For the first few days, it hit really hard because there's a 60-year-old staring back at you. It isn't the nicest feeling when you're 30. But I anyway try not to look into the mirror or the monitors when I'm at work because I feel if I did that, I'd begin concentrating more on the way I look. I let my make-up artist take the call. If I've prepared myself and am in the zone before taking a shot, looking in the mirror might just make me snap out of it. That's why I don't do it very much. In this film, I tried not to do it at all.
You're clearly someone who's not afraid to pick characters or films that push you out of your comfort zone. Is there something you would not do on screen?
(Pauses) So far, I've never said 'never'. But I don't think I'd be very comfortable going nude on screen. Imagining it right now, I don't think I'd be able to do it. I have nothing against it, but I need to be comfortable doing things on screen. I'm comfortable wearing a bikini, I was excited to wear one in Judwaa (2). Nudity in front of a camera, though, makes me uncomfortable .
I read the tweet you put out addressing the controversy about casting Bhumi and you to play older characters. But there's this whole question of inclusivity, which, of course, comes from Hollywood, where Asians should be played by Asians and physically-challenged characters by physically-challenged actors. The same questions were asked when Priyanka Chopra played Mary Kom. At some level, this is a legitimate question...
I'm an actor — you can't question me for doing a part that is not me in real life. By that logic, I should only play 30-year-old Sardarnis born and brought up in Delhi. And then, if anyone who's not a Sardarni plays a Sardarni, you just wait for my tweet! Like I said in that tweet, how dare Ayushmann (Khurrana) play a gay man? He's a father of two, I assume he's straight. Where's the talk about inclusivity there? Why? Because he's an actor.
We aren't encroaching on anyone else's work. Aren't our 60-year-old actors getting roles? They are. If you're not satisfied with the work you're getting, then it's your problem. It's not like they're not getting work, they are working. I'm working with two of them — Ratna Pathak Shah and Tanvi Azmi — in my film Thappad. But if you're going to look at my film and say that's the role I wanted to do, then 'Thank you, my trailer was really good'.
How's the shoot for Thappad going?
We are almost done. Anubhav Sinha is quick, I finished Mulk in 27 days... my part was just 16 days. He's on some bullet train speed right now. It's been awesome. It might look like it's a women-based story, so it would come easy to me but I'm playing someone totally opposite to myself — docile and non-confrontational. It's a regular, conventional, old-school Indian woman. There are actually eight women in the film in total, and there are two who would be my conventional casting but I'm not playing those, I'm playing someone completely opposite. Both Anubhav Sir and I were aware that we're dealing with fire, because we're trying to rip off that firebrand image that I have. That's the challenge we have — to get that image out of people's minds when they watch Amrita. That's what I'm dealing with and I'm not used to portraying those roles. When people watch, they'll realise that it did take a lot of effort to be that docile.
What's the rest of the year looking like?
After Saand Ki Aankh releases, I need to finish my Tamil film as well — I do one film in the south every year. We're on the second schedule of that, it's an espionage thriller. Then, I'll get into Anurag Kashyap's next, which is a sci-fi thriller. Again, that's a concept that India will see for the first time. After that, I have Rashmi Rocket, which is a sprinter's story from Kutch. And then I've said yes to six-seven more films, which will happen as and when they happen. But I'm doing all of them (laughs).
Why doesn't Kangana Ranaut's sister Rangoli Chandel like you?
(Laughs) She likes me. Don't you see the amount of attention she gives me? (Rangoli had referred to Taapsee as a "sasti copy" of Kangana, sparking off a war of words, on Twitter, between the two). How can you say she doesn't like me, don't you see how much I matter in her life? I would never give this much time and attention to anyone who doesn't matter, right? I matter so much, I'm honoured. She loves me.
Have you ever met Kangana?
I've briefly said 'Hello' to her during the screening of Pink, that's about it.
So you have no idea what's happened?
No. I think I'm just pretty good at my work. That's what has happened (laughs).