Bhumi Pednekar on the mindset and make-up that went into playing a 60-year-old sharpshooter in Saand Ki Aankh
'My character, Chandro, is a thinker. She's very intelligent and not an impulsive person...'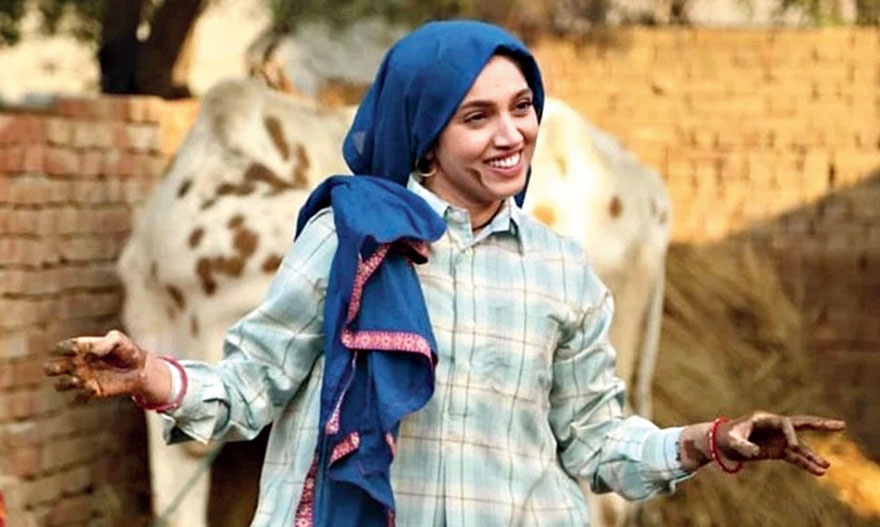 ---
---
For the last two years, Bhumi Pednekar has been talking about being ready to switch gears. And that's finally happening for the 30-year-old this year. Abhishek Chaubey's neo-western Sonchiriya might not have found its audience earlier this year but Bhumi has five other films — Saand Ki Aankh, Bala, Pati Patni Aur Woh, Bhoot — Part One: The Haunted Ship and Dolly Kitty Aur Woh Chamakte Sitaare — releasing in the next six months. If that's not enough, she's going to start shooting for Karan Johar's historical opus Takht beginning of next year.
"It's been quite hectic since 2018 when I started filming Sonchiriya," she says when I ask her about her gruelling schedule, adding, "I've only been shooting and all my films are releasing now, because they were such films. I'm just very sure that I want every year of mine to be like this one, where I'm just working and shooting, because nothing else gives me happiness now".We met the actress in a sea-facing suite at the Sun 'n' Sand Hotel in Juhu, Mumbai, at the promotion of Saand Ki Aankh, one of the three Diwali 2019 releases.
Saand Ki Aankh is based on the lives of two sisters-in-law from Baghpat district in Uttar Pradesh who hold the record for being the world's oldest women sharpshooters. Bhumi plays 87-year-old Chandro Tomar aka 'Shooter Daadi', while Taapsee Pannu plays her younger sister-in-law Prakashi Tomar who is called 'Revolver Daadi'. Bhumi spoke to us about her bond with Taapsee, why she doesn't want to do 'regular' roles and the health scare that made her realise that she's been pushing herself too hard.
Was there anything specific that caught your eye about Chandro Tomar's character that made you want to play her on screen?
Just the fact that she was so full of life. She's crossed every hurdle in her life with a smile on her face and with such positivity. At an age when people usually retire, these women took up guns and went out into this big, bad world. And these are women who never got out of the four walls of their home. To be able to leave your comfort zone without the support of your family and only with your daughters... with the biggest motivation being a better life, and then to achieve what they have, is a big thing. That's what caught my eye. People need to know what the Tomar sisters have done. It's not just about them achieving what they did at the age of 65, it is where they come from and their background. This isn't a film about the sport as much as it is about the spirit of life.
Did you know Taapsee at all before this?
No. And now we're great friends.
What does it take to go from being strangers to be able to portray that kind of chemistry on screen?
We were both so devoted to our characters — and our characters are soul sisters and best friends — we automatically had this comfort. Just as we got to know each other, we found that our value systems are very similar, our journey hasn't been the same but similar. We're like chalk and cheese, but we both have a moral compass that we abide by, and that's what did it. Chemistry, I feel, is just about two actors doing their job really well and respecting each other.
This is your first biopic. What did you find most challenging in this attempt to bring a real person to screen?
Getting the body language and dialect right and imbibing as much life experience of the daadis just by speaking to them. We've lived 20 per cent of what they've lived.... To be able to get that feeling of motherhood and being a grandmother — when you're with them, everything feels perfect.
Generally, people in that age group are full of life and positivity, they have the spirit to live. To be able to get that was tougher. Cracking the body language was difficult.
My character, Chandro, is a thinker. She's very intelligent and not an impulsive person. There's a certain way she talks, she has a sense of humour. She has one-liners. Imbibing her way of thinking and then finding a way of showcasing that was hard. Of course, sitting in a chair for four hours every day while layers and layers of latex is added to your skin is not easy. My day would start at 3.30 in the morning and finish at 11 at night. The location was an hour away.
In your debut film Dum Laga Ke Haisha, you played someone who's overweight and in this one, you have a gazillion wrinkles. In your November film Bala, you're a lot darker. Actors are thought to be vain. Do you have no apprehensions?
I think my face is my money ticket —it's just that it's changing with every film. How awesome is that? I don't think people will get bored of seeing me very soon. Yes, as an actor, your body and your face are your bread and butter. But times have changed today... people want to see different characters. I do feel that anybody that's achieved legendary status in the field, be it abroad or here, have been the ones that have done something that's not regular. You should challenge yourself and I want to keep changing with every role. I want to be different.
Sonchiriya is a film that you put in a lot of effort into. It's your first film that didn't work at the box office. How do you deal with it?
It broke my heart. The only silver lining is that it's a film that's really been loved. I don't know a single person who's watched the film and not said that it's not on the top of their list of movies. The reason I did the film was I wanted to work with (director) Abhishek Chaubey and wanted to portray this character. My reasons for doing the film were pure and honest and I achieved what I wanted out of the film. I never do a film thinking it'll do Rs 100 crore. Looking at my film choices, you'll see that I don't understand the commerce of it. If I get the reciprocation from an audience, I'm still at peace. But it's still heartbreaking because there's an entire section of people who only judge a film by its commercial success. When you hear them speak badly about a film just because it didn't make box-office numbers, especially for a film that's as good as Sonchiriya, that's the bit that breaks your heart.
You've been shooting back to back. What about taking a break?
(Pauses) I guess that's important, because you do burn out. Especially, when you put in a lot of effort into every film. This is what I've realised and this year has been a great learning. One wants to be filming constantly and one wants to be doing those many films, but it can't be the way the last two years have been. I had two major health scares this year, and it was because I was under immense pressure. I realised if anything goes wrong with my health, all this passion and madness is useless because I won't be able to do even one film, let alone five. Yes, I want to be working but maybe instead of doing seven films, I'll do two or three. I'll space it out and do more justice to all my roles. I've realised that I don't pick up regular material... all my films require a lot of work. It drains you emotionally and physically and I just don't want to burn out.
Is there a self-care routine that you follow?
There is now, because what happened to me starting March to August was very scary. My body was reacting in ways that shocked me. Thankfully, I didn't go through a serious illness. Like in Saand Ki Aankh, I burnt my face because the make-up and heat made my skin react. Being the kind of actor I am, I brushed it off saying it's an allergy and kept shooting. By the fifth day, my skin was peeling off and I realised that this was my mistake. This is my bread and butter.
If I can't preserve my health, I'd actually be affecting a lot more people and a lot more business than I can imagine. It's been difficult because I've been shooting these really tough films, and shooting in the summer in UP where it's 50 degrees. For Bala, I'm playing a dark-coloured girl and the make-up was such. She's nowhere close to my skin complexion and to maintain that, I couldn't touch my face. It would be itchy and I would be sweating, the make-up would keep splitting and there were 10 people touching my face constantly. There were chemicals on me for hours because that make-up is very specialised.
Before that, I was in prosthetics for Saand Ki Aankh and my body finally started reacting in ways I've never experienced before. That gave me a scare. I went for tests and everything was fine, but I kept wondering why it was like this. It was just mental and physical exhaustion. Now that I've got a little time, I slept. From sleeping four hours for two years, I took a week off after Bala and just slept and recovered. I started meditating and took a spiritual path.