Gujarati filmmaker Mikhil Musale makes his Bollywood debut with Friday film Made in China
The film revolves around a struggling Gujarati entrepreneur who starts marketing a Chinese cure for erectile dysfunction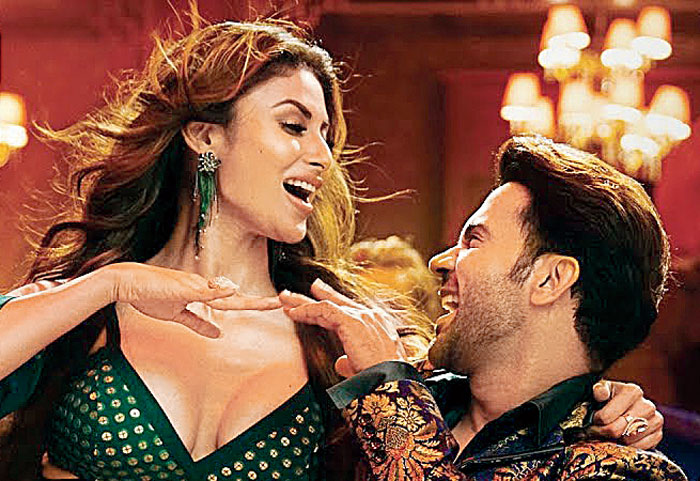 Rajkummar Rao and Mouni Roy in Made in China
Still from the movie
---
Published 22.10.19, 01:53 PM
|
---
Mikhil Musale's last film — Wrong Side Raju — won him a National Award for the Best Gujarati Film. He makes his Bolly debut with Friday film Made in China, starring Rajkummar Rao, Mouni Roy and Boman Irani. The film revolves around a struggling Gujarati entrepreneur who starts marketing a Chinese cure for erectile dysfunction. The Telegraph chats.
You've made films in Gujarati including the National Award-winning Wrong Side Raju. But I hear you always wanted this story to be your first Hindi film...
Yes. My co-writer came up with this idea in 2015 about a Gujarati businessman from an orthodox family who goes to China and brings an idea to India, and becomes a millionaire. Raj (Rajkummar Rao) is playing the character of a struggling businessman in the film and I'm a struggling filmmaker, so the idea just stayed with me. Before I could make a film in Hindi, I decided to prove my credentials with a Gujarati film. After Wrong Side... I began getting a lot of film offers but they weren't the kinds of films I wanted to call my first Hindi film. So, I decided to go back to this story and make the film I want to make.
How much did the success of Wrong Side Raju and the National Award help you make this film?
I think it's more external than internal. People began to believe my credentials and that I can probably make films. It was existing validation over a first-timer trying to get validation while making a film. I think it only works till there, otherwise every film comes with its own set of challenges and you have to perform based on what you've promised to the producer and the actors. You have to make the kind of film you've pitched to them, and can't bank on your previous achievements.
The film's protagonist finds a medicine for increasing sex drive. We've had a few films in the past that have dealt with sexual issues. Has it become easier to sell these stories to the audience because there's been a Vicky Donor or a Shubh Mangal Saavdhan before this?
We're not the first ones to talk about this and there has been other content around this subject. In a way, though, addressing the sexual issue is more than an under-layer that's intertwined with our film's primary story of entrepreneurship. Our perspective on the subject is based on research done with both proper sexologists and the uncertified ones too. What we found was that more than ignorance, there's a lot of confusion too. People have half-baked knowledge and that's even more dangerous than having no knowledge. We had to talk about the subject in a way where people can buy it. I don't think people these days like to be told something, you have to show it in a way that's entertaining yet insightful.
Was making a Hindi film any different from making a Gujarati one?
I was also associated with two other Gujarati films before. I used to make small ad films and was running a small production house there. I kept asking myself what actual difference was there in the process, but strangely it's very similar. The only difference was that the canvas was much bigger, and the behind-the-camera action is also much larger. From a crew of 50 odd people, now there are almost 300 people. And it's not so much the box office but bigger, well known actors mean there is pressure of living up to their expectations.
Gujarat, as a background, is not a place we see very often in Hindi films. And when we do, it's always a caricature. Was that something you were conscious about?
I've lived all my life in Ahmedabad and done three Gujarati films, and the scariest feeling for me was not getting it right. The only rule we followed was not trying too hard. No Gujarati talks the way they show in films and on television. Enough of that, it's been done. We kept away from stereotypes and just tried to keep it very real. North Indian films with Haryanvi or Kanpur dialects come more naturally to Hindi cinema because their language is a version of Hindi. When you try to bring a Bengali or Gujarati texture to a Hindi film, that's when the problems happen. You have to know how Gujaratis speak Hindi rather than bringing Gujarati into Hindi; there's a very thin line. We've done that and tried to give it a very authentic texture.
In fact, there's a particular part of Ahmedabad that Raghu's character belongs to, called Paldi. It lies between the old and new parts of the city, and has a strong community of Mehta families. They're all trustees of a temple, which makes them very orthodox and they have a certain dialect. We did work on that and all my writers and the other three actors are Gujarati. I am worried that my relatives might recognise shades of themselves in the different characters because I have drawn a lot from people around me.
What was it like to direct an actor of Rajkummar's calibre for your debut Hindi film?
He's a very credible actor and you have to reverse — prepare yourself to ensure you're offering him a character that's strong enough for him to be excited about. I strongly believe he can play any character in this world if you have the clarity to explain to him what you want. As far as prep was concerned, he met local people, went through the dialect. There was the external process of how he'd look — getting a unibrow and having a pot belly. That's what most Gujarati men look like, and those things were easy to crack. He also preps himself internally to get into the skin of the character. He designs every character through his own observations and does this all by himself. It makes the director's job so easy because he comes so prepared on set. At the same time, he's not the type to show the director that he's worked so hard — it looks like it comes naturally to him. As a director, all you have to do is shoot scenes, because he's so ready with his lines and is so collaborative with the other actors as well.