Bolly's new face: Karan Kapadia
The latest debutant on the block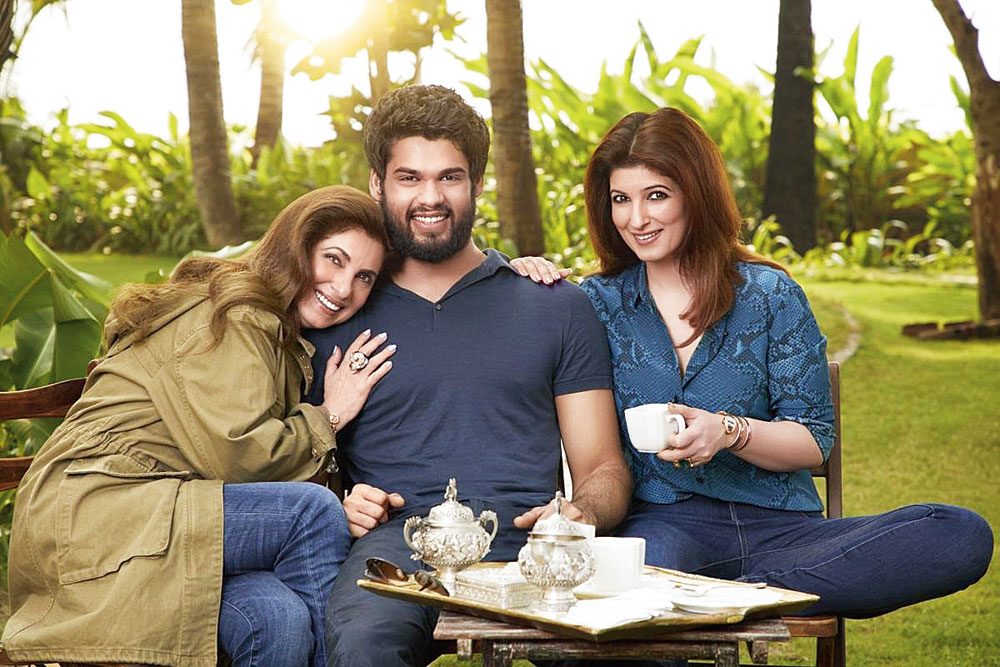 Karan Kapadia with aunt Dimple Kapadia and cousin Twinkle Khanna
Agencies
---
Published 05.05.19, 11:30 AM
|
---
Dimple Kapadia's nephew Karan is the newest star kid on Bollywood's horizon. Though the strapping 25-year-old insists that his debut film Blank is anything but a 'launch'. "I play a suicide bomber who suffers from memory loss. It's taken me nine years to get my first film and a few years for this film to get on the floors. There's nobody from my family mentioned in the crew list, nobody was there for the trailer launch," Karan says during a recent interview. His mother, the late actor Simple Kapadia, was a costume designer on some of Sunny Deol's films. And in Blank, now playing in cinemas, Karan has got the opportunity to work alongside the veteran actor.
You've talked about how stage fright and anxiety pushed you towards acting. How?
I always wanted to act. I was obviously fascinated by what everybody in my family was doing. I did a short film with my friend when I was 15, and I found I was able to express myself a lot more while performing and acting. I felt something I had not felt before, it was like I overcame some sort of barrier. The more I kept doing it, the better it kept feeling because I felt I was getting better at it. It's also when I realised that this was what I wanted to do long-term, because that feeling I get every time I perform is just incredible.
Was there ever another profession that you wanted to explore?
If I wasn't doing something in films, I would have liked to do something in sports journalism. I have a huge passion for sport, football in particular. I'm not much of a reader but the only things I do read are articles related to football, the history of the sport and things like that. I try and get as much knowledge as I can. I'm clearly not good enough to play the sport, so writing about it would have been great because I have to enjoy what I'm doing for a living.
Who in your family did you first tell that you wanted to be an actor?
The first people I told were my aunt (Dimple) and my sister, Twinkle (Khanna). I just sat them down and told them this is what I want to do. Because I was such a shy kid and an introvert, they didn't see it coming. They didn't know I had any such aspirations. So they were understandably surprised. They asked me if I was sure, and that it would be really, really hard because there's a 50-50 chance of making it. And I remember wondering at that time why they weren't being supportive. In hindsight, I realise that they were just preparing me for the harsh realities of the business. My aunt is my biggest fan — even if I do a rubbish short film, she'll love it. So, I never show her anything because I never get a clear idea of whether I've done a good job or not! (Laughs)
After telling your aunt and sister, did you start training?
I did. There's no set path to becoming an actor and I didn't know how to go about it. So, I assisted on a film first — Rahul Dholakia's Society, which never released. After that, I did a couple of acting courses. I went to Barry John for a bit when I was 16, and then I did Jeff Goldberg's acting course a few years later while I was in my 20s. But personally, I learnt a lot more from practical experience, doing short films and assisting than I did from any acting class. It's a personal thing, because I've never applied anything I learnt in any acting class in my work. And I always feel that unless it's a one-on-one course, it doesn't work because different things work for different people.
In a recent interview, you said you've got a break and you're not being launched, which I guess is your way of addressing the inevitable nepotism question. But you have Akshay Kumar doing a song, Sunny Deol's in the film, there are actors like Amitabh Bachchan talking about the film on Twitter. That's a privilege that actors from outside the industry don't get.
The flipside to this is that I signed this film way back in 2016 when there wasn't even a studio on board, let alone Sunny sir. He came on board an entire year later. I would be doing the film regardless of his being part of it. I'd like to believe that he did it first and foremost for the script, because it's something different —it's an unusual story of a suicide bomber who loses his memory. Obviously, he does have this relationship with me but it's got nothing to do with nepotism.
But he knew your mother and knows your family!
That's true. My mother was his costume designer for 15 years, so she would take me to sets when there was nobody to look after me. That's how I ended up meeting him and having this relationship. I'm sure it had some part to play but more than anything, I'd like to think it was the story that stood out for him. As for the song with Akshay, it wasn't decided till two weeks before we shot it. He agreed to do it only after he saw rushes of the film; it was his way of wishing 'good luck' to me.
I also understand why people say the things they do. I've always been written about as Dimple's nephew or Twinkle's cousin or Akshay's brother-in-law. At the end of the day, your work needs to be good and consistent. People don't call Ranbir Kapoor Chintu Uncle's (Rishi Kapoor) son any more. I hope my work changes that.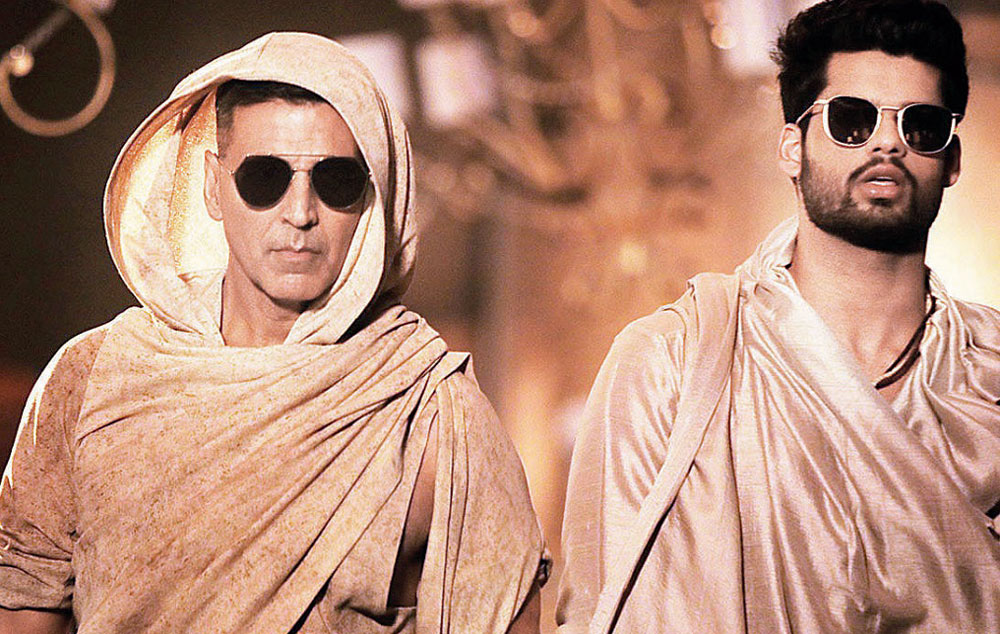 What are your earliest memories of being on a film set?
My mom, as a single parent, would take me to sets during exams. Most of my memories from then are of studying in the vanity van with my mom. I'd go from studying geography, about red soil, and step out on to this elaborate set with dancers and a whole action sequence that's going to happen. It was just insane, stepping into a different world.
What kind of equation do you share with Akshay?
I've known him since he started dating my sister when I was eight years old. Our relationship has obviously matured and it's a lot different now. He was the first real male influence that I had in my family... I was raised by women. I was a fan even before he married my sister but once he was in the family, you obviously stop looking at him as Akshay Kumar. We share a very friendly sort of equation. He's very passionate about sport and that's something we bond over.
Akshay's son Aarav seems to be interested in movies as well, right?
I don't know. He's definitely creatively inclined and does a lot of things. He acts, he raps.... Right now, he's designing a clothing line, and he's written a book. He's by far the most creative person in the family. But I don't think he's thinking about films too much. He's just 16, studying in England, doing his own thing and having fun. I think he'll take a call at some point about what he's really passionate about.