A Blank check
Despite its thriller premise, Blank fires blanks on all counts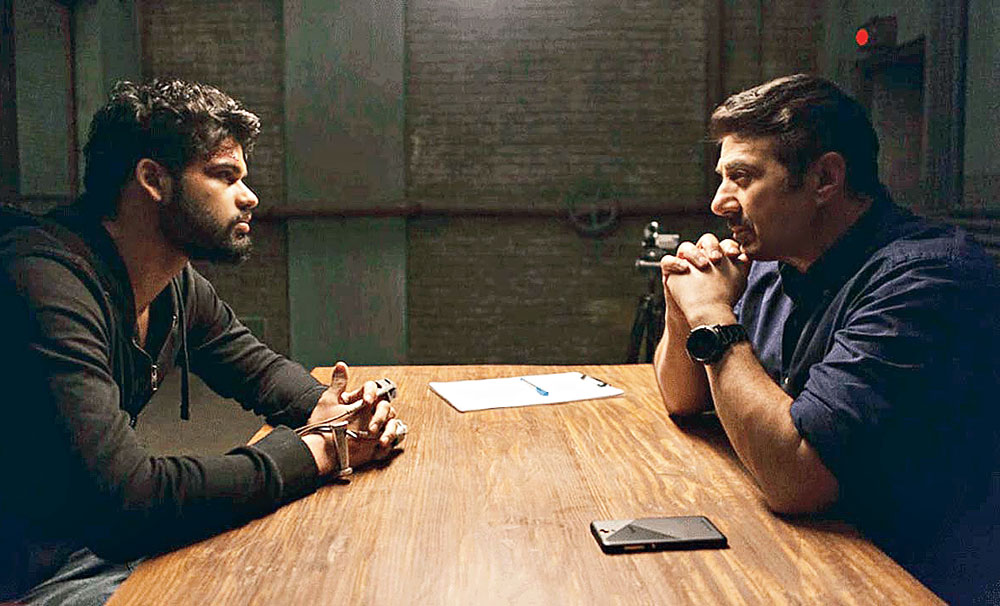 Blank, despite being sporadically intriguing, doesn't come good on its promise of edge-of-the-seat entertainment
Source: A still from the film
---
Published 03.05.19, 01:26 PM
|
---
Bollywood is improving day by day. Now, they are telling us the review of the movie in the title itself. First Zero and now Kalank."
Kalank may have tanked at the box office from the get-go, but this tweet had long legs on social media and quickly went viral. Blank, this Friday's Bolly release, may well be added to the list — Blank fires blanks on all counts. And that includes the perpetually lost expression on its leading man and debutant Karan Kapadia's face.
Karan, son of yesteryear actress Simple Kapadia and more famously Dimple Kapadia's nephew and Twinkle Khanna's cousin, scores when it comes to throwing punches. But his emoting skills leave a lot to be desired. He does well, though, in picking a debut film off the beaten track. But Blank, despite being sporadically intriguing, doesn't come good on its promise of edge-of-the-seat entertainment and feels far longer than its 111-minute running time.
Despite the disclaimer at the beginning that "terror has no religion", Blank spends its entire screen time reinforcing stereotypes, including Islamophobia. Words like "mazhab" and "qaum", "jihad" and "jannat" are thrown around liberally and the plot is too generic to make an impression. The mounting may be slick, but the twists and turns are predictable in a film that wants to earn its stripes as a thriller.
Blank starts off interestingly enough but is unable to sustain the intrigue. A young man (Hanif, played by Kapadia) meets with an accident and lands up in hospital. Doctors discover a bomb embedded — not strapped — in his chest.
Anti-terrorist squad chief Diwan (Sunny Deol) springs into action and uncovers a plot to blow up the city of Mumbai with as many as 24 bombs, with Hanif — who claims the accident has left him with memory loss — believed to be the 'human trigger'. The rest of the film plays out in the form of a cat-and-mouse game between the two, but the proceedings are too simplistic. In fact, in some parts, Blank comes off as a CID episode. Well, inspired by Daya, there's even a cop here who kicks open doors!
With Sunny consistently in Gadar mode — he screams and shouts even in moments that warrant no screaming and shouting — everything about Blank is loud, including the grating background score. The action scenes, however, are well shot, the highlights being a fistfight in a hospital and a Zero Dark Thirty-styled annihilation of the terrorists in a dark underground bunker. But the flimsy plot comes together rather messily in the end, with the antagonist's reason for taking up terror appearing unconvincing.
If action is your thing, then Blank could be of interest. But then, a rewatch of Avengers: Endgame may well suit that purpose. And then some more.