Batman: Ek Chakravyuh brings the caped crusader to a new audience via Spotify
Batman Unburied, is a psychological thriller featuring Amit Sadh as Batman, Sharib Hashmi as The Riddler and Shweta Tripathi Sharma as Barbara Gordon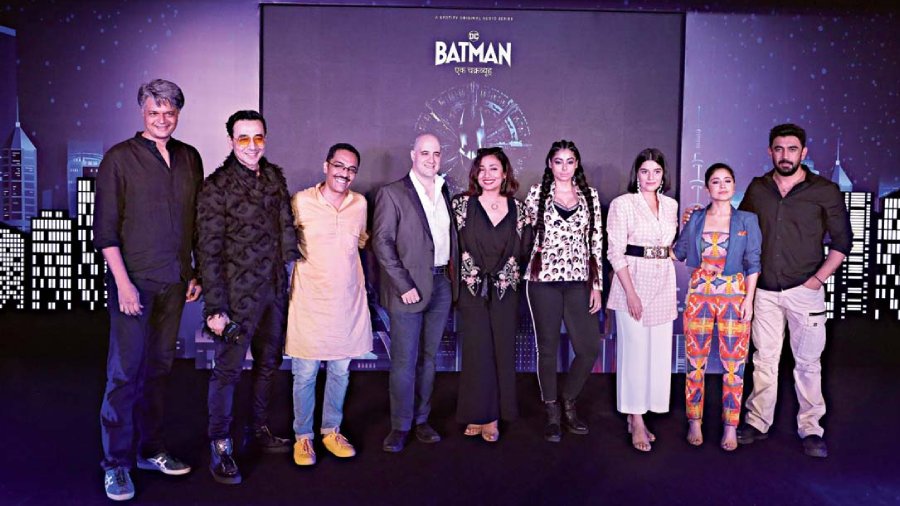 Batman Ek Chakravyuh cast with Dhruvank Vaidya (extreme left) of Spotify
---
Published 30.05.22, 01:51 AM
|
---
On television in the 1960s, Batman was playful. In much of the 1980s, he was somewhat rakish in Hollywood films. Under Christopher Nolan's direction, he became this brooding superhero. The caped crusader is now the soul of an edge-of-the-seat podcast on Spotify — Batman: Ek Chakravyuh, which makes listeners deep dive into the mind of the character.
The Hindi adaptation of the audio streaming platform's global audio series, Batman Unburied, is a psychological thriller featuring Amit Sadh as Batman, Sharib Hashmi as The Riddler and Shweta Tripathi Sharma as Barbara Gordon. And it's as thrilling as watching the Batmobile race through Gotham City. Bringing David S. Goyer's creation (Batman Unburied) to life in India is Mantra Mugdh, the director of the audio series. "In India, we have been doing a lot of stories on fiction podcast. We want to keep raising the bar of the kind of stories we do. When the Batman project came up globally, we said we want to do this in Hindi. Batman as a character is iconic and has a huge resonance in India as well. As we have seen in Hollywood film releases, earlier they used to just release films in English, and then they started releasing films in multiple Indian languages. Similarly, we wanted to bring Batman to a wider public in India, so let's do it in Hindi. We have not only translated but also adapted it for India. We have made minor changes to the story and made it more contextual to India. The core story and characters remain the same," says Dhruvank Vaidya, head of podcasts — India, Spotify.
The podcast is packed with twists and turns with several classic Batman super-villains spicing up the storyline. When audiences meet Bruce Wayne, he is a forensic pathologist, working in Gotham Hospital and tasked with examining the victims of The Harvester, a gruesome serial killer preying on Gotham City's citizens. "Podcast can be a blind man's television. You take an empty canvas and create these wonderful images in the minds of listeners. Batman as a project has been fabulous. Amit and Shweta and I have enjoyed the process. They invested themselves completely on the project. We have lived with these characters and so it was great to bring them alive," says Mantra.
For Shweta, it offers an opportunity to take audiences into a world through a different medium. "People know who Batman is and people know who Barbara is. It was a challenge for me and I literally went into it as a student. Mantra explained the whole world to us. No matter which universe you belong to, if you have the emotional connect, the audience will be able to relate to it. It was a very exciting journey for me," says Shweta.
As for Amit, he has been a huge fan of the Batman universe. "The mic can hear you think," he says with a laugh. "The irony is that violence is justified in Batman when it's for a good cause. It almost felt like Batman is Robin Hood but with a cape. I think one of the things that has stuck with me watching Batman is the high standards he has kept for himself, his principals and how he upholds them. That has stuck with me other than the great performances."
One also needs to remember that many listeners know Batman from the films rather than comic books. So most of us are looking for an out-of-the-box experience listening to the podcast. "How many Jokers we have had and each one took it to a new level. From Jack Nicholson to Heath Ledger to Jared Leto to Joaquin Phoenix, all of these people have added something new. Then there is Jim Carrey playing Riddler, Arnold Schwarzenegger playing Mr Freeze, Uma Thurman playing Poison Ivy. The TV series was so different —'Now back to the Batcave,' we heard. What Nolan has done has brought in a level of darkness, a brooding quality in Batman," says Mantra.
Shweta is quick to point out: "Our superheroes make mistakes and they have regrets. That's why I love Batman. He is always evolving. And I think this is important as a superhero and an artiste."
Podcast is, of course, a very personal medium. And the team has done a brilliant job in keeping listeners engaged. "Listeners feel you are talking to them unlike the visual medium where you know there is a disconnect. You can watch the other person. This person is talking to you into your ears. There is a lot of places where Bruce is talking to himself and Bruce is having conversations with himself. Amit almost whispers in such places. He knows how to use the microphone well," says Mantra.
In case you are game for Batman during breaks, you know the app to find him on — Spotify. Let's hear you whisper Bruce Wayne.