Ayushmann Khurrana shines in Article 15
This movie is a searing look at the ugly underbelly of class-driven politics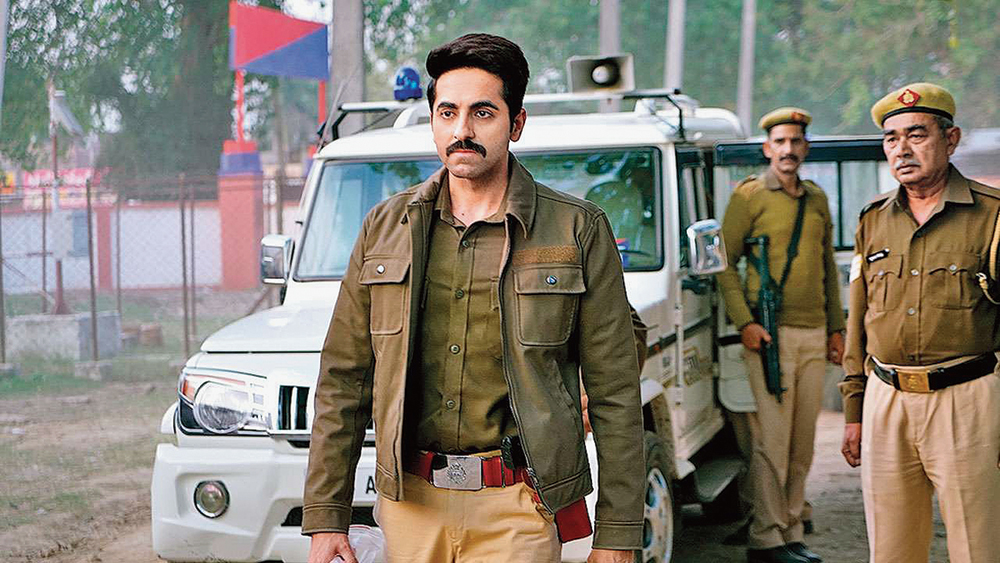 ---
---
How many roads must a man walk down before you call him a man?
Bob Dylan's voice in his seminal protest song rends the uneasy calm of the Indian hinterland in Article 15. On the surface, the film is fashioned as a gripping police procedural that focuses on the investigation of the suspicious deaths of two young girls in backward India. But Article 15 digs far deeper to examine the ugly underbelly of class-driven politics and functions more as a gutsy expose of caste discrimination.
Just minutes before Dylan, the poignant yet powerful lyrics of a popular Indian folk song, that gut-wrenchingly talks about discrimination, open the film. The choice of these two songs within minutes of each other highlights both the schism and the similarity of the times we live in. A time where truth is stranger than fiction and where our mindset — and not just the system — is the bad guy. A world that is divided into them and us, us and them. They who clean our sewers, wash our utensils and mend our shoes. They whose water we don't drink, they whose hands we don't touch even by way of a handshake, they whose shadows must not be seen on the land whose sun we walk under. The film's upper caste players refer to them repeatedly as "yeh log". How did we come to this? Or rather, how did we not leave this behind in the 72 years since we gained independence? Where do we go from here? More importantly, how do we leave behind a better world for our children? The answer, my friend, is blowin' in the wind.
Article 15 pulls no punches and hits where it hurts. It talks about our superficial understanding of caste and its ramifications, coming as we do from a background of privilege. It looks at the horrific side of the politics of class and caste through the eyes of someone who is just like us. Ayan Ranjan (Ayushmann Khurrana) is a "woke" St Stephens graduate who's returned from Europe to fulfil his dad's dream of serving in the Indian civil services. Ayan find himself in small-town Laalgaon — which he refers to as "the wild, wild West" — and is immediately plonked in the middle of a ghastly crime. Two Dalit girls are found hanging from a tree with a third missing. While his cop colleagues brush it off as a case of honour killing, Ayan suspects there's more than what meets the eye when he discovers that the two had been manhandled by their influential, upper-caste employer when they had demanded that their wages be increased by a mere three rupees. "Aaj kal teen rupaye mein kya milta hai?" a disturbed Ayan asks his girlfriend Aditi (Isha Talwar), a journalist dedicated to the cause of gender equality. Aditi is both Ayan's confidante and conscience-keeper and we get a lot of insight into Ayan's thoughts and subsequent actions through the phone conversations between the two. At one point, when a frustrated Ayan wants to know whether the country wants a hero to drag itself out of its abysmal mess, Aditi calmly tells him, "We don't need a hero. We just need people who need to stop waiting for a hero".
Article 15 — named after the article in the Indian Constitution that prohibits discrimination on the basis of religion, race, caste, sex or place of birth — triumphs both as a cautionary tale and an urgent call to action. Director Anubhav Sinha — who gave us the equally searing Mulk last year —makes the film work both as a compelling investigative drama as well as a scathing look at vote-bank politics and caste-driven agenda. Though Article 15 claims that it is largely fiction, this is a portrait of present-day India, touching upon everything from the Badaun hangings to the Una flogging horror.
Sinha, working from a script he's co-written with Gaurav Solanki, gives us a different India, but it's an India that's closer to us than we think. "Didn't our mothers keep the servant's plate separate from ours?" Aditi asks Ayan at one point, with the film hitting home on more than one occasion.
"Art should comfort the disturbed and disturb the comfortable," artist-activist Banksy had once famously said, and Sinha asks all the bitter questions but never sugarcoats them. He presents the filth that's not only present in the swamp in the Dalit-dominated parts of the village where the so-called upper caste will not venture, but also in their minds.
His powerful storytelling is aided ably by Ewan Mulligan's moody and visceral camerawork, with much of the film's action taking place in total darkness or foggy daybreak. The background music — raw and pulsating — matches the mood of its frames. Particularly effective is the way in which Article 15 uses Vande mataram. It's done as many as three times and all in telling instances that drive home the message succinctly.
At the heart of Article 15 are its players and the film picks its actors well. Playing cops on opposite sides of the moral, as well as caste, divide, veterans Manoj Pahwa and Kumud Mishra are at their blazing best, with the face-offs between the two — including that telling slap, more symbolic than physical, at the end — being a highlight. Sayani Gupta, playing an oppressed Dalit woman called Gaura, brings the horror of her everyday life alive through her eyes while the ever-dependable Mohd Zeeshan Ayyub shines in a short but powerful part.
The action in Article 15 is largely driven through Ayushmann's Ayan and the actor impresses — yet again — with a deeply internalised performance. Whether he's reprimanding his subordinates, single-mindedly working to bring the criminals to justice or being vulnerable before a system he's tired of fighting, Ayushmann — now easily the gold standard when it comes to choosing the right scripts — lets it show on his face, but never makes his part showy. Is this young actor the best we have in Gen Y today? The answer, my friend, is blowin' in the wind.