Ayushmann calls Shubh Mangal Zyada Saavdhan 'a good first step'
The actor is ready with Shubh Mangal Zyada Saavdhan, a romantic comedy on same-sex love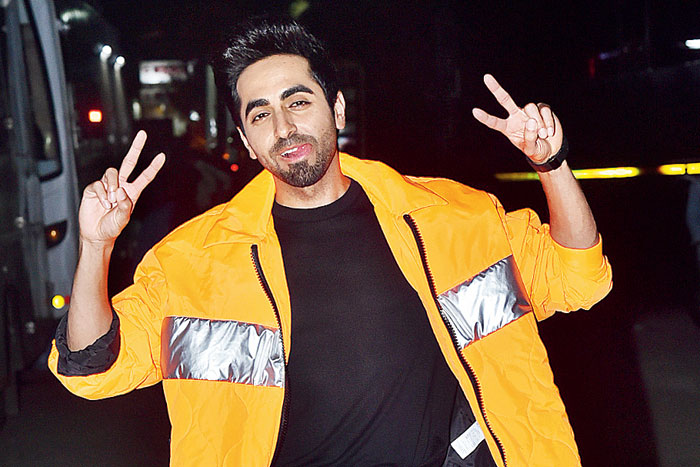 ---
---
Actor Ayushmann Khurrana has the Midas touch, whichever script he touches, turns into gold at the box office. Probably that's why he has had seven hits in a row, no mean feat to achieve. After Dream Girl and Bala, he is ready with Shubh Mangal Zyada Saavdhan, a romantic comedy on same-sex love. Before the film's release on February 21, The Telegraph caught up with Ayushmann for an exclusive chat.
You have seven hits in a row and this might be your eighth. Does this purple patch make you happy or anxious?
It gives me the confidence to be more of a risk taker. It gives you courage and makes you more ballsy as an actor to take more risks and be more courageous. There's no pressure as such, I'm not hitting any commercial benchmarks... whatever appeals to me, I just go for it.
Premature balding, sperm donation, erectile dysfunction and now love between same-sex couples. Is it a conscious choice to always pick subjects that are apparently taboo in society?
It just gives a different intrigue in people's minds, I think. It just creates something that really interests the audience at the trailer level because it's a unique concept, each and every one of them - be it erectile dysfunction, body shaming, sperm donor or homosexuality. I look for novelty more than anything else.
So it's a conscious decision?
A 100 per cent. It has to be novel, has to be like a first attempt in Hindi cinema. It just gives impetus to the audience to spend more money for tickets. You have got free entertainment these days, the OTT platforms are a big competition.
While playing a queer person, how did you maintain the balance of not making it look farcical or caricature-ish like how it has been portrayed in Bollywood so far?
No, my character is slightly OTT (over-the-top) in the film. I'm the one who's flamboyant in the film, he's (Jitendra Kumar) who's more subtle. I've played victim quite a number of times but this time I'm not the victim, I'm an instigator. I'm instigating him to fight with his family. So, my character is OTT and flamboyant. He's not effeminate but it comes and goes, there are slight gestures. But he (Jitendra) is subtle, so it's like yin and yang.
Everyone's talking about the lip-lock between Jitendra and you in the trailer. Give us a glimpse of what happened during the shoot that day.
You know, he (Jitendra) asked me if I've ever kissed a guy and I said yes. He was surprised. There was this Truth & Dare task in Roadies (Ayushmann was a contestant on the youth reality show's second season) and I went for it. As an actor, you should be prepared for anything I think. (Laughs) It just happened, I think. It (the kiss) comes at a very organic moment in the film. It's not forced, it was required to normalise it.
The film is being touted as the first mainstream gay love story in Bollywood. Do you think it'd finally start a much-needed dialogue?
It's a good first step. It is commercial, it is popcorn entertainment, it has to reach out to the lowest common denominators, in the small cities, the penetration has to be high. The texture of the film is like that. It'd start the dialogue for sure but we still have a long way to go. It's not a Brokeback Mountain or Call Me by Your Name. It is a commercial Hindi film.
Have people ever come up to you and said that your films have changed their lives?
It is quite overwhelming, it is very surreal when I get to meet these people. For example, for erectile dysfunction, people were really under-confident. Guys were telling me, 'Thank you so much, I can openly talk to my spouse and doctor about it.' Even for Badhaai Ho, people were like, 'This is my story but now it's legit!' Like my best friend, his father is 90-year-old right now and his eldest brother is my father's age (laughs). So, I have seen that happen in close quarters.
What happened in Benaras while shooting with such an interesting ensemble cast?
You know, this cast is amazing! I'm not the only hero in the film, each and every character is the hero. It's me, Jitu, Neenaji, Gajraj Rao, Manu Rishi Chadha... everybody is the hero of the film. Just like Badhaai Ho, where daadi (Surekha Sikri) was the real hero of the film. This film is like that and I love being a part of an ensemble film because there's less pressure on you. You just have to shoot for 8-hours a day, not more than that - you can workout, you can rest, you can read, you can go out sightseeing. It was a lot of fun. We went to a lot of cafes, jammed with the local bands... I did a lot of stuff.
You're a star now, yet because of the way you are as a person and the films that you choose that are set in the smaller town milieu — these make you a very relatable actor to the common people. Your thoughts...
It's difficult to stay in touch with the common people when you have attained a certain stature, you become slightly unapproachable by default. But I make it a point that I'm in touch with reality. Wherever I go in small cities, I talk to the local people around me — the paanwala, the guy on the street, the local coordinator or my driver. Every city I make friends so that ghar ka khaana mil jaye! I don't eat bahar ka khana because if I fall sick, the schedule will go topsy-turvy. So, I make local friends, I talk to them. Zyada se zyada kya karna padega? You'd have to take pictures with them and that's okay. But I need to talk to them, I need to interact with them, need to know their problems, their language, their issues. Maybe the driver will tell me he fought with his wife or his TikTok followers have gone down (laughs). It's all about observation, nothing else.
Have you applied those real-life observations while portraying any character in your films?
Of course, every single time! All those words I used in Bala were taken from local people I met in Kanpur. I used to take notes like I used to ask them, 'Kya bola tune abhi?' and use it later.
How did your family react after watching the (Shubh...) trailer ?
Tahira toh of course is super proud, my parents are also very proud. Of course there will be some family friends who'll be a little sceptical about it because you have people of every thought. But that's fine because this film is for those people. They are the target audience - the homophobes, the Boomer generation (laughs).
Do you think handling this subject via comedy was the right way of giving this message?
Yes, a hundred percent it is the right approach. If you make a serious film out of this it becomes a festival film. Then you're preaching to the converted, the audience is already with the community. You need to focus on those people who'll come to watch the film only for entertainment and through entertainment you'll give the message.
How is shooting with Amitabh Bachchan for Gulabo Sitabo going?
The shoot is done, it's releasing in two months on April 17. It was great yaar, he's such a mega star. He's relevant because he's a learner, he's with the time. He's an institution, I learnt a lot from him. He does his homework really well, you have to keep up with him.
What are the kind of films that you want to do now?
I'm looking for an action thriller. I need to just break the genre of slice-of-life and just do an action thriller. It has to be a contemporary and real action thriller.