Audience's take on Pathaan experience
Review by audiences who were meagerly waiting for SRK's return on big screen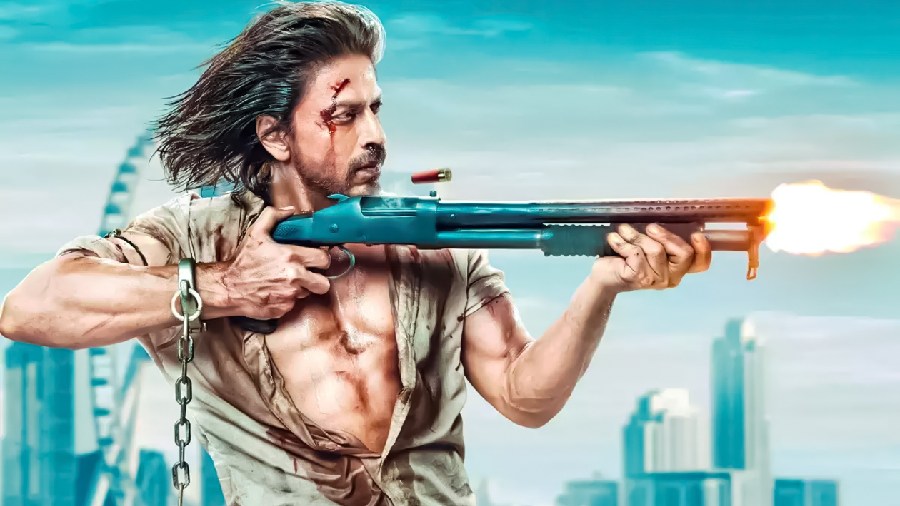 A moment from Pathaan
The Telegraph
---
Published 04.02.23, 03:11 PM
|
---
Pathaan is an absolute treat. The powerful duo of Deepika Padukone and Shah Rukh Khan, along with John Abraham made the movie solid and slick. Deepika's action scenes gave me goosebumps. 'Age is just a number' —  this statement is again proven by SRK. John Abraham has also given a powerful performance. Top-notch action in this film matches Hollywood standards. Hats off to the VFX team.
The storyline and screenplay are tremendous too. The story is simple, yet unpredictable. Also, a strong background score has made this movie a blockbuster. Every scene has stunning music. There is no controversial scene and it's a family entertainment movie. So definitely I liked Pathaan.
Olivia Dhar
I really liked the movie, for, I feel once in a while we need a masala movie like this to just enjoy and not think much about. And as someone who loves action as well as spy movies, though some scenes were a bit far-fetched and some dialogues a bit cringy, it was a good movie and I had fun watching it. I am not an SRK fan, but man... He looked soooooo hot in the movie with the hair flowing down his face, tanned abs and his beard made him look rugged and sexy. Deepika did not have just an arm candy role and I loved that. I enjoyed the fight scene where John and SRK were riding bikes on the ice and Deepika was skating. And the film tried to make both Pathaan and Jim human. I liked that too. One actor who also deserved applause is Dimple Kapadia. I want more films from the Pathaan universe.
Rishika Dutta
Before the release of Pathaan, in an exclusive video release by Yash Raj Flims, Shah Rukh Khan tweeted "I came to the film industry 32 years ago to be an action hero but I missed the boat because the film industry made me a romantic hero! So PATHAAN, for me, is my dream come true..." Such a confession itself justifies the great box-office success of the movie which was shown as early as 6am!
I definitely liked the movie, which gave equal importance to the hero and heroine. They both did their job well, pleasing and entertaining the audience. Of course, they were greatly supported by the movie's villain, played by John Abraham. Director Siddharth Anand is also to be praised for his excellent job. The cameo from superstar Salman Khan was the icing on the cake.
After the wane of Covid-19, people were super eager for an action-packed entertaining movie to quench their thirst for entertainment and this movie fit the bill perfectly. The on-screen chemistry between SRK and Deepika is, to me, out of the world.
Bhola Nath Das
The craze for watching movies in theatres is back with the smashingly directed outstanding stylish thriller Pathaan. Not for a second did I blink my eyes as the overpowering visuals and rock-solid action sequences kept me engaged. It was a treat to watch veterans Dimple Kapadia and Ashutosh Rana. John is menacingly stunning. His mischievous, seductive appearance elevated the roguish atmosphere. Deepika is sizzling hot and ever graceful. I am almost hooked to the Besharam rang song for those exotic dance moves and for the beautiful rendition by Shilpa Rao.
King Khan is back with a deafening loud noise this time. For the first time, his magnificent presence did not look intimidating. His sincerity and honesty towards his craft and his innumerable fans were clearly visible and heartily appreciated. His eyes did the talking in almost all frames. The surprise encounter of Pathaan with Tiger raised the decibels inside the auditorium with never-ending wolf whistles. Honestly, after a very long time, we have been gifted with such a wholesome package. Team Pathaan, Thank you from the bottom of my heart.
Saurav Gupta
Welcome back, King of Romance. Indeed, Pathaan is just not a movie but rather an emotion for SRK fans, a complete package of entertainment, full of action, romance and music to rock the dance floor. The actors have given their best-ever performance together, with John as Jim reminding us of Dhoom. Indeed a must-watch, with the surprise character Bhaijaan adding an extra topping.
Shanti Krishnan
Watching it in a fully packed single-screen cinema hall in Calcutta on Republic Day morning was an entertaining and thrilling experience. I hugely enjoyed every second of this Siddharth Anand-directed spy thriller, which has a fascinating story.
Superstar Shah Rukh Khan's brilliant act obviously is the first and foremost reason behind it. In his full-fledged action-hero avatar, he just won my heart. The top-notch action sequences were no doubt the second reason why I loved the film so much. I also loved John Abraham's solid act as Jim. John not only just acted well but also did some really breathtaking and jaw-dropping stunts. Deepika Padukone also played her role nicely. The music was catchy. It's actually a full paisa vasool film.
Sourish Misra