Atanu Ghosh pens a director's note on 'Aaro Ek Prithibi'
The director narrates the tales of four people on the verge of being homeless in London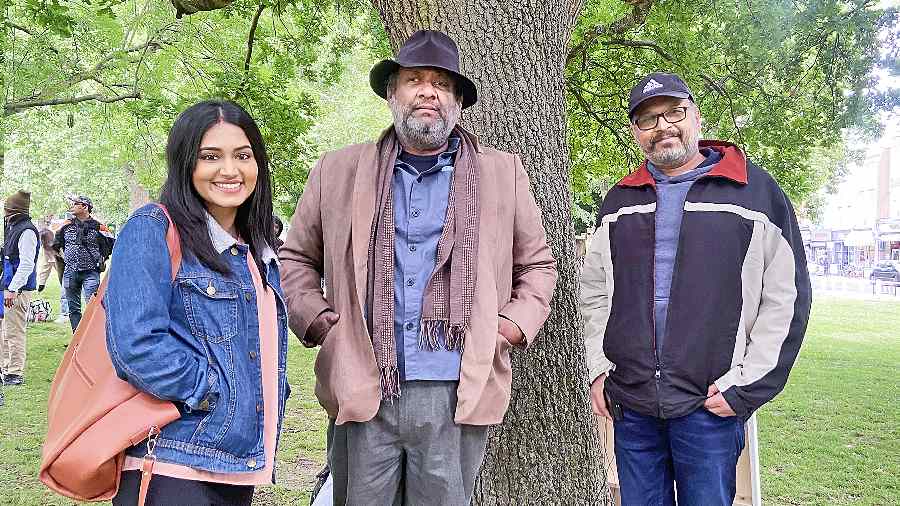 Tasnia Farin, Kaushik Ganguly and Atanu Ghosh
The Telegraph Picture
---
Published 17.01.23, 12:21 PM
|
---
It was the same routine that Shyamsundarbabu followed for years. Around five o'clock every afternoon, he would walk through the familiar route, leaving his small, eight-feet-wide lane and moving onto the busy North Calcutta street famous for its jewellery and watch shops. Retired supervisor of a government concern, he would walk down the footpath, amidst the bustling traffic, and reach the Metro Station. He would then turn back towards his house, always stopping for a cup of hot tea at Chinur do-kaan on the way. One day, he didn't return. His two daughters, one married and the other in her final year of studies, searched for him all night, finding no trace of him. Sixty-two-year-old Shyamsundarbabuwas never found. Seven years later, as the younger daughter picked up the land phone late one night, it was from one of her cousins who lived in Seoul, South Korea. His voice quivered with shock: "Just now, I saw uncle near the station! He looked haggard and sick. I had to park the car as I was driving. When I got there, he was not there. But I saw him for sure. No doubt about that. Tell me what to do!"
Throughout the next seven days, the cousin and his wife struggled through the most nerve-wracking experience of their lives trying to find a man lost first in Calcutta and then in Seoul. Even before I heard this true story, I had already been told many strange tales of people living dangerously on foreign lands. It is generally believed that people migrate to foreign countries for a better life. However, there are some intriguing reasons as well. One exemplary case is Shyamsundarbabu, who at the age of 62, decided to embark on a new life in a distant land, choosing to live amidst uncertainty and insecurity.
whether by destiny or choice, is the central theme of Aaro Ek Prithibi (Yet Another World), which releases on February 3. The story starts with 27-year-old Pratiksha (Tasnia Farin) reaching London three months after her wedding. Hailing from a small town close to Calcutta, Pratiksha has been through quite a lot of trials and tribulations since she was 11. Quiet and introverted by nature, she faced the challenges of life as gently and gracefully as ever. It was only when she was badly bruised that she would cry out to her father, the man she loved most. Since her childhood, Pratiksha nurtured a longstanding dream that finally entered its last lap towards fulfilment with her journey to a distant country, an entirely different world. But destiny had something else in store for her and she eventually entered a vortex of lies, danger and deceit.
It was indeed coincidental that Eskay Movies wanted me to do a film preferably in London just London at the time I had been engrossed in reading a deeply moving, insightful and human book, Four Feet Under by Tamsen Courtney. The author spoke to 30 street dewellers in London, who narrate their strengths and weaknesses, dreams and regrets with humour and startling honesty. Their most memorable stories revolve around the unbelievably strange ways in which they became homeless in the grand old city. This aspect piqued my interest — the unique mode of crisis that they faced before losing their way. Using this book as primary reference material, I focused my research on migrants living in London, learning more and more about them. Ultimately, I developed a plot based on fact and imagination involving four characters: Pratiksha, Srikanto, Ayesha and Aritro, whose lives overlap in the midst of a deep-rooted crisis. Pratiksha is a trained physiotherapist, Srikanto is a street violinist, Ayesha is a student counsellor and Aritro is a computer engineer. However, that is their primary identity. Each of them has deep-rooted secrets and desires that lend more complex layers to their personality.
The open street is probably the most dangerous place in this world," Srikanto (Kaushik Ganguly) tells Pratiksha in a scene of Aaro Ek Prithibi. "When you're on the street, you can be killed by one of those psychos who wander around freely at night." Actually, when you do not have a roof over your head in an unfamiliar city, even some of the indoors can be deadly. During my research phase, I heard a scary story from one of my friends. It was about a young Indian woman who didn't have a place to stay in Memphis, Tennessee, after she had just landed in the city one late evening.
Things did not work out as she had planned and the person expected to receive her at the airport did not turn up. She had never been to that city before, and had no friends or acquaintances there. After taking a cab from the airport, the cab driver suggested she stay at a nearby motel. And the night she spent there was quite a nightmare with horrifying things happening all through and drunken revellers creating a nuisance outside, some of them even banging at the door of her room. It was such an awful night that even today when she recalls it she is in a state of shock and trauma.
In the process of scouting locations in and around London or auditioning actors of various ethnicities and explaining the core idea of the film to them, many people began sharing their own struggle and existence stories of being on the verge of homelessness for various reasons. Their experiences made the concept of exploring such shock and helplessness quite credible for us. It was common to hear about people being duped or cheated. In this era of the worldwide web, we are all too familiar with various kinds of fraudulent schemes and lures. A dire necessity, one unguarded moment, or a momentary temptation can leave you broke on the streets in today's world. Migrants, who are mostly alone in an alien country, are among their most sought-after targets. 
Most of these true stories found a place in the script, which I kept revising trying to put in as much authenticity as possible. But the primary focus for me is the celebration of the human spirit. Even in the midst of trying conditions, Pratiksha, Srikanto, Ayesha and Aritro do not drown themselves in despair and hopelessness. They are desperately holding on to any last straw for survival, keeping hope, courage and determination alive. Ayesha still enjoys dancing her heart out every Friday. Aritro searches fervently for opportunities that can bring stability to his life. Srikanto honestly agrees with Hemingway that "a man can be destroyed, but not defeated!" Pratiksha, however, is undeniably experiencing her most difficult time. With uncertainty and risk looming large, she walks endlessly, heads to the public toilets, and meets so many migrants from around the world. These people have left their homes and come to London in search of a better life. Each of them has a different perspective on their migrant existence. Akram, a young Uzbek, is nervous about helping Pratiksha — "Please don't mention my name. If my visa is revoked, I have no place to go." However, Jose from Ethiopia is more helpful and jovial. "Yes, I miss home. But you know, there's a character in the television series Downtown Abbey, Mrs Hughes, who says, 'There's no shame in feeling homesick. It only means you come from a happy home.'"
For many firsts, the shooting of Aaro Ek Prithibi would remain unforgettable. As my foreign shooting debut, I worked with no less than 12 actors of various ethnicities, including Chinese, British, Arab, Korean, American, African, and so on. Also, using synchronised sound technology and continuously improvising scenes with four outstanding performers was a delight. The most poignant moments were listening to the touching stories of people who were involved in the shooting. Everyone got so involved in this story-telling activity!
One of my favourite tales is that of a former principal of a Calcutta college who landed in London to visit his son after retirement. He took a cab driven by a Bengali chauffeur, much to his delight. Dropping him outside the son's house, the driver came right in front and introduced himself: "Do you remember me, sir? Thirteen years ago, you expelled me from your college for teasing a girl student, who happened to be your niece. In a fit of extreme agitation, you wrote such a defamatory transfer certificate that I could not get admission to any other college. My relative lives here, and he told me to come over. Here I am, driving people to their homes, and today I had the privilege of dropping you off at your destination, sir!" That's life, and the quest to discover its strange hues and shades continues unabated, forever!