Almost Pyaar with DJ Mohabbat to Faraaz: Here's all you need to know about the films releasing in theatres this Friday
Shashi Kapoor's grandson, Zahaan Kapoor, makes his big screen debut with Hansal Mehta's hostage thriller Faraaz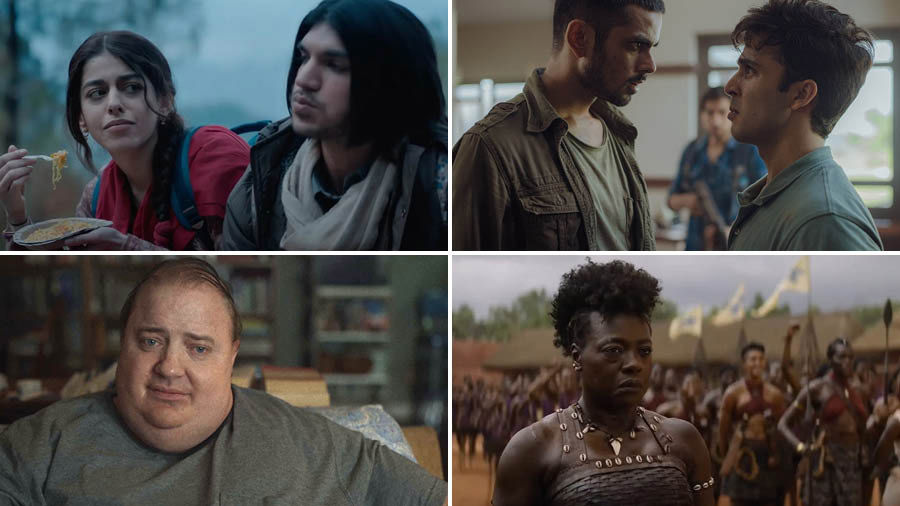 Almost Pyaar with DJ Mohabbat; Faraaz; The Whale; The Woman King
IMDb
---
Calcutta
|
Published 02.02.23, 04:01 PM
|
---
Even as the box office reels under the unprecedented Pathaan storm, a slew of new releases are going to hit the cinemas on February 3. These include a modern take on romance, a hostage thriller, an inspiring story of a doctor's dedication, a moving drama about an obese man, the heroic tale of a legendary fighting tribe, a new detective mystery and the theatrical version of the concerts of an internationally renowned band.
Almost Pyaar with DJ Mohabbat (Hindi)
Directed by: Anurag Kashyap
Cast: Alaya F, Karan Mehta, Vicky Kaushal
Touted as an ode to modern love, Almost Pyaar with DJ Mohabbat is a tale of romance revolving around two parallel love stories — one set in London and the other in India. Alaya F and Karan Mehta play both the couples and their tales of unrequited love are linked together by the music of DJ Mohabbat (Vicky Kaushal). In the love story set in Dalhousie, Yakub (Karan) has feelings for Amrita (Alaya) but her family does not approve of their relationship. Amrita is a big fan of DJ Mohabbat and is keen on uncovering his identity. Yakub volunteers to help her in this pursuit. Meanwhile, Sameer (Karan) is a DJ in London who meets Ayesha (Alaya F) at a club. The trailer of the film suggests that only love can lead to a true revolution.
DaMaN (Hindi dubbed)
Directed by: Vishal Mourya and Debi Prasad Lenka
Cast: Babushaan Mohanty and Dipanwit Dashmohapatra
DaMaN (abbreviated from Durgama Anchalare Malaria Nirakarana) is a tale of a young doctor's perseverance and dedication as he fights to raise awareness about Malaria in a rural area of Odisha with no basic facilities. Set in 2015, DaMaN revolves around Sid, a young doctor who completed his MBBS and has been posted in an inaccessible village of Malkangiri district in Odisha. Sid soon finds out that the villagers suffer frommalaria and makes it his mission to educate them about the deadly disease.
Faraaz (Hindi)
Directed by: Hansal Mehta
Cast: Zahan Kapoor, Aditya Rawal, Juhi Babbar, Palak Lalwani, Aamir Ali, Abhirami Bose
Shashi Kapoor's grandson, Zahaan Kapoor, makes his big screen debut with this hostage thriller based on the real-life terrorist attack that rocked Dhaka in 2016. Faraaz unfolds over the course of one night and also features Paresh Rawal's son Aditya. A group of young terrorists attack a cafe in Dhaka and take the customers and staff hostage. As Dhaka police strategise about rescuing them, Faraaz (Zahaan) stands up to the terrorists and tries to help the hostages escape.
Michael (Hindi dubbed)
Directed by: Ranjit Jeyakodi 
Cast: Vijay Sethupathi, Sundeep Kishan, Varalaxmi Sarathkumar, Gautham Vasudev Menon
Michael is an eponymous action thriller that revolves around a young man, Michael (Sundeep Kishan), whose girlfriend (Divyansha Kaushik) is killed by a powerful gang. An enraged Michael is determined to exact revenge from the gang. How he infiltrates the gang and fulfils his mission forms the crux of the film.
The Whale (English)
Directed by: Darren Aronofsky
Cast: Brendan Fraser, Sadie Sink, Ty Simpkins, Hong Chau, Samantha Morton, Sathya Sridharan
The Whale tells the story of Charlie (Brendan Fraser), a reclusive, obese man who lives alone in Idaho. He knows about the severe life-risk associated with his obesity but refuses to visit the hospital. A tragic death in the past pushed Charlie on the path of self-destruction and he is desperate to reconnect with his estranged daughter for a chance at redemption. 
The Woman King (English)
Directed by: Gina Prince-Bythewood
Cast: Viola Davis, Thuso Mbedu, Lashana Lynch, Hero Fiennes Tiffin, John Boyega, Sheila Atim, Jordan Bolger, Jayme Lawson
The Woman King is based on real historical events involving the Agojie tribe — a group of fighters who were sworn to protect their Kingdom of Dahomey, one of the most powerful African states in the 1800s. When a foreign enemy threatens to destroy their way of life, the Agojie trains a new generation of recruits to face the new challenge.
Knock At The Cabin (English)
Directed by: M. Night Shyamalan
Cast: Dave Bautista, Rupert Grint, Jonathan Groff, Ben Aldridge, Abby Quinn, Nikki Amuka-Bird
A young girl and her parents are taken hostage by armed strangers while they were vacationing at a remote cabin in the woods. Confused, scared and with limited access to the outside world, the family must decide what they believe before all is lost.
Aaro Ek Prithibi (Bengali)
Directed by: Atanu Ghosh
Cast: Kaushik Ganguly, Saheb Bhattacharya, Anindita Bose, Tasnia Farin
A young bride called Pratiksha arrives in London three months after her marriage and finds herself trapped in a web of lies. She must do everything in her capacity to get out of this mess or risk her life in the process.
Revolver Rohoshyo (Bengali)
Directed by: Anjan Dutt
Cast: Suprobhat Das, Anjan Dutt, Tnusree Chakraborty, Sujan Mukherjee, Chandan Sen and Sudipa Basu
Based on the novel Danny Detective INC, written by Anjan Dutt, Revolver Rohoshyo follows crime reporter Subrata Sharma, who loses his job and takes up temporary work as a secretary in a rundown detective agency called Danny Detective INC. Appointed to find a missing girl, Subrata gets entangled in dangerous situations while solving the mystery and uncovers a larger conspiracy.
BTS: Yet To Come in Cinemas (Korean)
Directed by: Oh Yoon-Dong
Cast: Jung Kook, J-Hope, Jimin, RM, Suga, Jin
BTS: Yet To Come in Cinemas is a cinematic cut of the widely acclaimed BTS Busan online concert broadcasts, which have been re-edited for the big screen. It features hit songs of the band, including Butter, IDOL and Dynamite. The first concert performance of the group's latest song, Run BTS, is an added bonus.