Akshaye Khanna: Thin as a reed
Akshaye Khanna likes to keep it a little under the required weight because he then looks fine on screen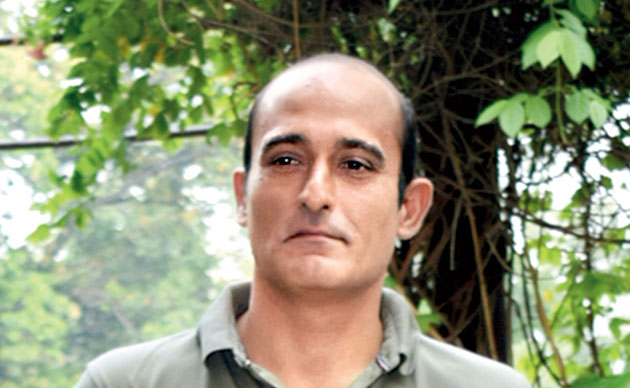 Akshaye Khanna
(Fotocorp)
---
Published 07.12.19, 06:16 PM
|
---
The cleft in Vinod Khanna's chin would have deepened and a beatific smile would have lit up his face if he'd been watching this scene from above.
Son Akshaye Khanna (thin as a reed) was very much the man in charge when two celebrity kids got aired for the first time. It was the trailer launch of Sab Kushal Mangal in which Padmini Kolhapure's son, Priyank Sharma, and Bhojpuri actor-cum-BJP MP Ravi Kishen's daughter, Riva, have been teamed together.
Akshaye, who also stars in the film wearing a prominent wig, said, "We made this film like a family." Akshaye isn't normally the filmic sort who claims familial bonds at the drop of a hat. But it was family for him as the producer (Nitin Manmohan) was his father's friend. With Vinod's makeup man, Subodh, also around to take care of Akshaye's makeup, nostalgia dripped all afternoon.
"I work out like crazy," said the really slim actor to me a little later, explaining that he likes to keep it a little under the required weight because he then looks fine on screen. The screen has a way of making one look heavier than what one is off-camera. So being underweight makes him look just right.
Ajay Devgn, another pencil-slim actor, launched the trailer of his January release, Tanhaji: The Unsung Warrior, quite differently from everybody else. For one, a denim-and-tee sporting Ajay was there before time, so the question of a wait was ruled out. Two, the trailer was being played on a loop, so you could walk in and catch it anytime. Three, you went in and did just that, there were no speeches, no mandatory Q&A, nothing. But what Ajay did do was to invite a spectrum of directors, some he had worked with and some he hadn't teamed with. By his side all the while was his Singham and Golmaal director, Rohit Shetty, another from the gym-toned stable.
The sweep of Tanhaji reminded me of a Sanjay Leela Bhansali film. And coincidentally, it was Bhansali (with whom Ajay did that fine film Hum Dil De Chuke Sanam) who walked up the elevator with me. Ajay escorted each director into the auditorium, sat with him and watched the trailer ad nauseam. He stayed with Bhansali while Aanand Rai (with whom Ajay hasn't worked) came in for the next round and Imtiaz Ali (also not yet on Ajay's list) was on his way for the one after. A pleasant departure from routine trailer launches.
Akshaye's theory was spot on. Ajay in person is as thin as a collegian but as Tanaji Malusare, the Maratha warrior, he looked ready for battle.
One cannot talk of slim actors and not mention the Dev Anand of the 21st century — Anil Kapoor, who has also earned the tag of evergreen star. At the "Let's celebrate the life of Shaukat Kaifi" tea-time meet that Shabana Azmi organised for her mother who had passed away in her feisty 90s, every film and theatre personality walked in.
Aamir Khan came with his posse of police escorts — he's had security around him since Lagaan. Anil Kapoor, who is the only actor (apart from Amitabh Bachchan) to make a solo entry everywhere entered quietly with wife, Sunita. A little later, he slipped out, picked up two bottles of mineral water from the well-laid tables outside, came back and handed one to Sunita. It was what any normal husband would do. But actors don't do what normal people do — they have lackeys doing it for them all the time. In recent years, with even Amitabh never stepping out without his security ring, Anil remains the only top actor who moves around without hangers-on or beefy escorts who make him stand out as different from the crowd.
Incidentally, it was rather surprising to find the normally friendly and easygoing Farah Khan scold a bunch of kids who stood outside the venue and clicked pictures of the celebrities. "How would you like it if someone died in your family and people took pictures," she admonished them. But Farah. This was "Celebrate the life of Shaukat", not a teary condolence meet or a funeral. There is a difference.      
Bharathi S. Pradhan is a senior journalist and author