After films, Abundantia Entertainment is now focusing on the digital space, including a show with Akshay Kumar
The audience, especially the paying audience, will tune in to watch stories that intellectually stimulate them in an entertaining manner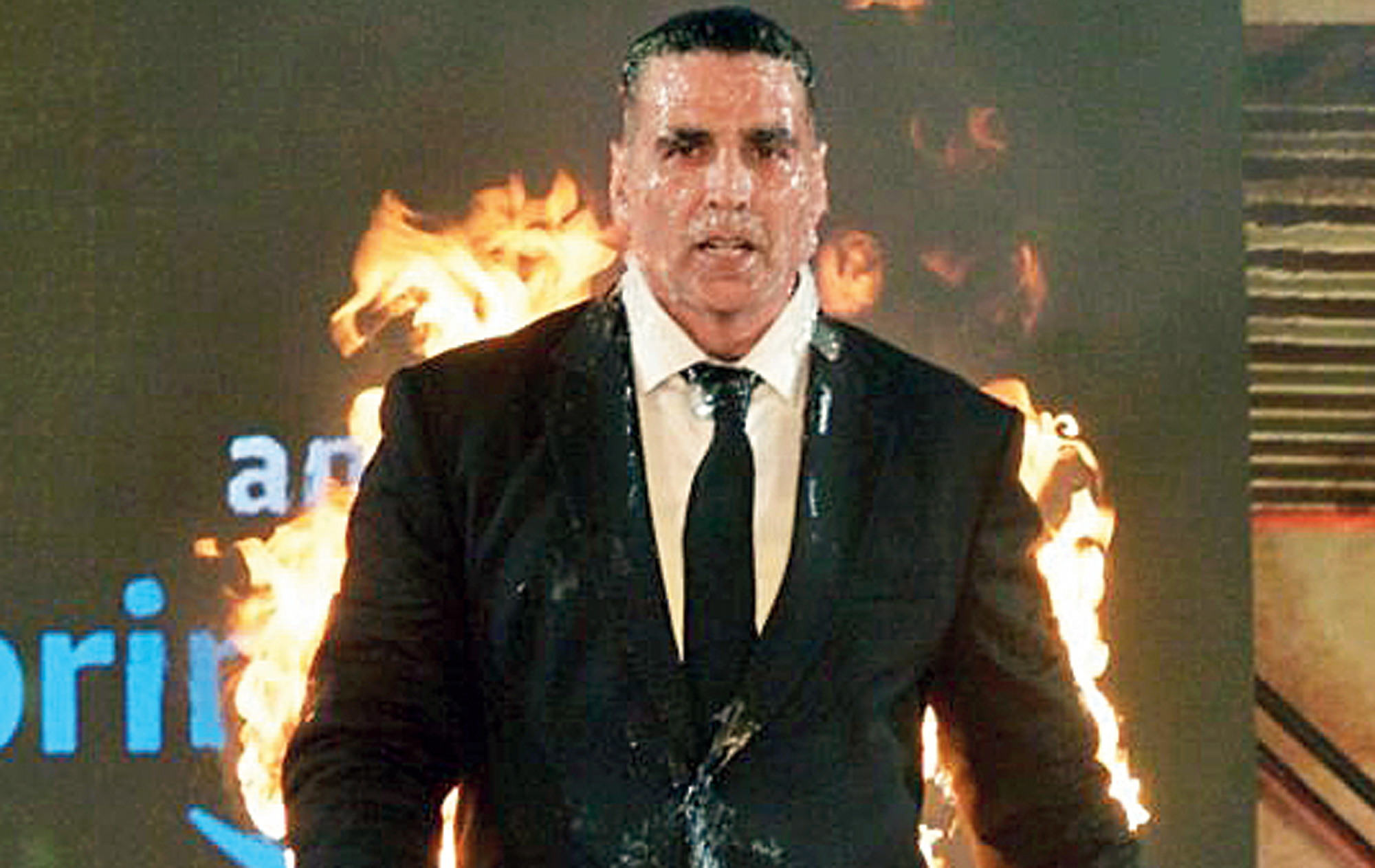 Akshay Kumar at the launch of The End in Mumbai last month
The Telegraph picture
---
Published 24.04.19, 03:02 PM
|
---
Akshay Kumar makes his digital debut with The End, an action-thriller series. The End comes from the stable of Abundantia Entertainment, that gave us the smash-hit R. Madhavan series Breathe last year. t2 chatted with Abundantia Entertainment's CEO Vikram Malhotra on the company's foray into the digital space after producing successful films like Airlift and Toilet: Ek Prem Katha.
What can you tell us about The End and your foray into the digital space, starting with the success of Breathe?
The journey for Abundantia Entertainment in the digital space began more than three years ago. The first show was, of course, Breathe. The first season was a huge hit and shooting for the second season (with Abhishek Bachchan in the lead) is about 70 per cent done. We are a content creator that talks to a young, progressive audience and we could clearly see that even though there were no local streaming platforms then, India was moving towards having an audience that would consume a lot of content digitally. So we expanded our bandwidth and our talent bank in the streaming world as early as 2015.
As we did more work and met with some audience acclaim, we started understanding the digital ecosystem a little more. We have realised that audience reaction to digital content is seamless — hits come in from any market and from any country. Nearly 40 per cent of Breathe's viewership is from international markets. That led us to think that why don't we come up with a show for the world that's based out of India; a show that's universal in its appeal and in the emotion that it delivers. It should be a uniquely Indian story, made in India but fashioned for the world. That was the genesis of The End.
We brought on Akshay Kumar who has always experimented with newer genres and for the last five-six years, has been in the prime of his career, just in terms of the different stories he's been telling as an actor.
You've also recently launched two new verticals — 'Psych' which will bring in content in the horror space and 'Filters' which will concentrate on the booming global young adults segment...
We are rapidly seeing the emergence of a market that depicts the same sensibility and the same attitude towards creative content. That's spurred us to have a genre-focused strategy. We've picked up two genre segments that we feel we have the sensibility to align with and which are also booming. Psych will create horror and paranormal stories and Filters will focus on Young Adults. These verticals have been created for the audience and by the audience.
How do you view the lack of censorship in the digital space?
Any content that is created to take advantage of lack of censorship on this medium will not work. The audience, especially the paying audience, will tune in to watch stories that intellectually stimulate them in an entertaining manner. No form of titillation for the sake of titillation, whether it's violence, sex or language, can be sustained on this medium. That's because the audience that invests money and energy in this medium is very different from those seeking cheap thrills.
As far as censorship is concerned, I think streaming platforms and content creators are already taking steps of a self-regulatory nature.
What's the way forward for you in terms of film production?
Feature films continue to be a dominant part of our business. There are some exciting titles that we have been developing over the last two years. This year, we have the biopic of P. Gopichand, former badminton champ and now India's star badminton coach. We have the Hindi remake of Begin Again (the Holly original starred Mark Ruffalo and Keira Knightley) which is being helmed by Shashanka Ghosh. We hope to bring in the same evocative take on relationships as the original did. There is a film based on two events set against the backdrop of the Indo-China war and tells an epic story of human achievement. We have directors like Nishikant Kamat and Aarif Shaikh who have signed up with us. We are also remaking the Malayalam cult hit Angamaly Diaries in Hindi.
What's your core strength as a production company?
One, we like empowering our creators. Two, we like to keep in touch with and bring to the table current trends in terms of content. We have a certain understanding of the audience that we blend with an understanding of the creative side of the business. Financial capital is replicable and is not an advantage in today's world; intellectual capital and relationship capital are. That's what we focus on.
Finally, what kind of content do you like streaming?
I am a huge fan of thrillers and I consume a lot of that from new and old. I also love drama and I loved Succession and The Marvelous Mrs. Maisel recently.