Ritu Kumar on designing the costumes for No Fathers in Kashmir
The film set in Kashmir is a coming-of-age tale about two teenagers searching for their missing fathers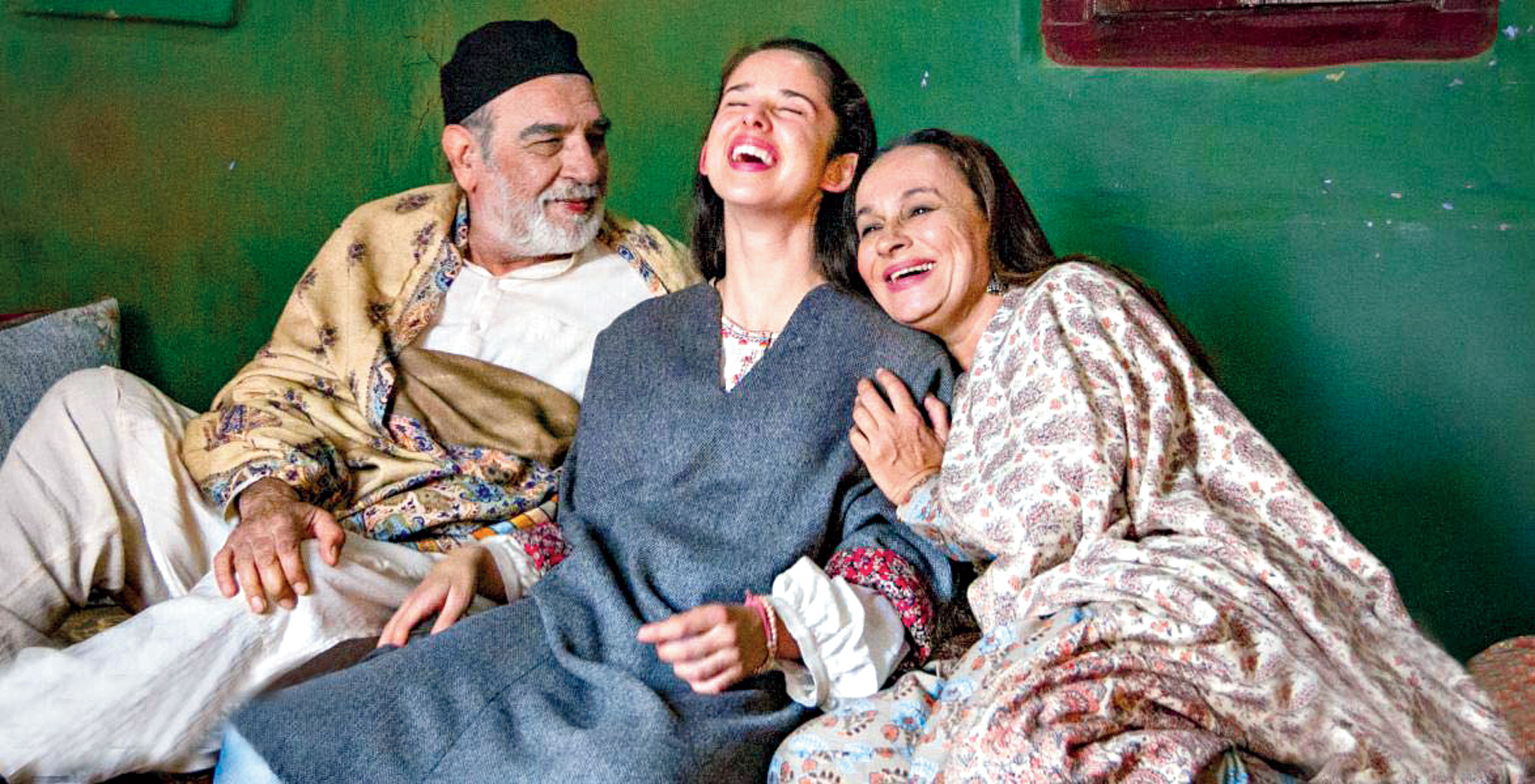 ---
Published 24.04.19, 03:13 PM
|
---
Ace fashion designer Ritu Kumar has designed costumes for her son, film-maker Ashvin Kumar's latest film No Fathers in Kashmir. The film set in Kashmir is a coming-of-age tale about two teenagers searching for their missing fathers. t2 caught up for a chat with Ritu at Hyatt Regency Kolkata.
What kind of research went into creating the costumes for No Fathers In Kashmir?
The best jamawar shawls were actually produced in the 17th and 18th century and later on they were copied by the British in the 19th century. I wanted to use the original ones, so I went to the Victoria and Albert museum in London, to the Benaras Hindu University that has a big collection and the National Museum in Delhi. I sent them a letter stating what I needed and that it had to be authentic, I cannot use copies of the original shawls. Kani shawls used to be worn by the men and women like blankets, they were huge and they would wrap themselves completely in it. People didn't know knitting and there were no sweaters in Kashmir, they knew weaving. Kani shawls used to be hand-woven with almost 80 colours… in India that is the only handcraft that completely died and we couldn't revive it again. In the film, you actually get to see the aesthetics of what Kashmir was all about.
You have Kashmiri roots and you used to visit the valley as a child. Did those experiences help you?
I think somewhere at the back of my mind there were some very clear memories of when I was a kid and how people used to dress at that time. Kashmir is a very isolated part of this country, it's like frozen in time. The interaction with the Indian mainland was very low. They used to make these fabulous shawls and export them to Bengal and to the northern states where it used to be cold. They were hardly exposed to chemical dyes or what was happening in the rest of India… so their fashion and what they wore was more or less put down in stone and hasn't changed. Almost everybody wears a phiran and there's a lot of layering of clothes. The women wear salwar and kurta and then they wear a small shirt and then on top of that goes the phiran which is a shapeless garment almost like an overcoat. It's the same pattern for both men and women, only the sizes differ. The traditional embroidery on it used to be done with a hooked needle and coincidentally, while Ashvin was making this film, I had gone to Kashmir for a project with SEVA NGO where we tried to rehabilitate women who had no source of income by teaching them the embroidery. Embroidery in Kashmir used to be a man's craft, women never did it… it used to be commercial and they'd supply to the Mughal kingdom and all over the world. Nobody else could make it, it was very intense an art. The shawls that the grandfather wears in the film (Kulbhushan Kharbanda) has a balance, the motifs are beautiful, the colours are so in keeping with Kashmir.
Tell us about the costumes of the protagonists, teenagers Zara Webb (Noor) and Shivam Raina (Majid)?
Noor has gone to see her grandparents in the village in Kashmir and it's equally cold there, so I have put her in jeans and Doc Martin shoes. On top of that, she wears a phiran, her grandmother must have given something that belonged to her.
You have done costumes for Ashvin's previous films too...
Yes, for Little Terrorist (2005). When I do costumes for a film, you have to get totally into the character you're designing for and the place… I don't design for one character, I have to design for the whole film. For this film, I did all the furnishing and wall hangings and those designs came from Uzbekistan. His first film Road to Ladakh (2003) was shot in the desert and I needed to study what was happening at the Thar desert — what the men wore and what the women wore were very distinctive clothing.
How different is it when you're designing for your own label as opposed to a film?
Oh, a completely different experience. These are literally like period costumes, in the sense that they are stitched differently, cut differently and you have to do a lot of study. One of the most difficult things about No Fathers in Kashmir was that I could find a lot of reference of what the men wore but hardly any women were ever photographed in Kashmir. It was very tough to find out that reference, especially for the bridal scene in the film. It was quite a challenge, I had to locate an old photographer who had pictures.
Tell us about your next collection...
My winter collection has a lot to do with ikat because I did a lot of study about the ikat from Central Asia when I was doing this film. After the film was done, we made a big collection of ikat.