A chat with Dana Eden and Daniel Syrkin on the second season of Tehran
Getting Glenn Close to learn Farsi and depicting a lesser-known side to Iran, here's why filming the series has been a surreal experience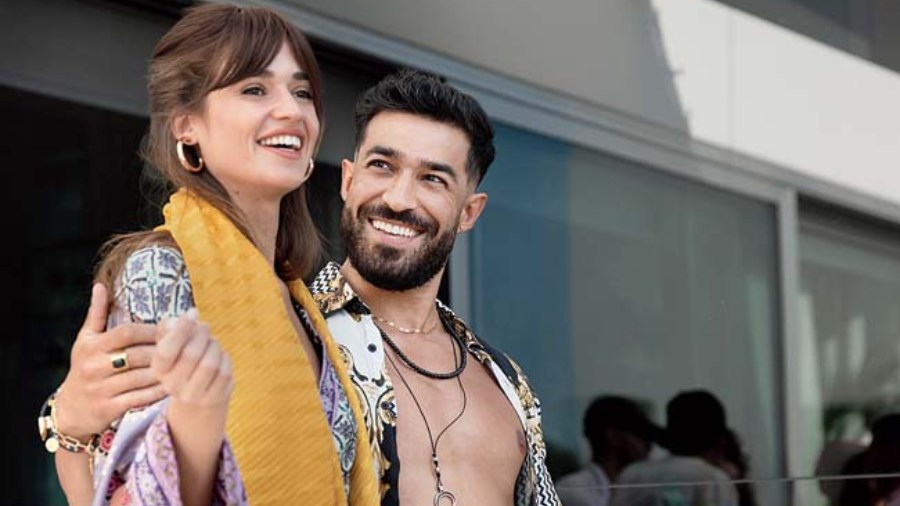 Niv Sultan and Sia Alipour in Tehran, now streaming on Apple TV+. Pictures: Apple
---
Published 19.05.22, 12:51 AM
|
---
After watching the first season of Tehran in 2020, many thought Homeland was a so-so thriller. The Apple TV+ series found viewers following Iranian-born, Israeli-raised spy Tamar Rabinyan (played by Niv Sultan) on a deep-cover mission involving an attack on Iran's nuclear programme.
Thrills get bumped up a few notches in the second season in which Tamar, who is still trapped in Iran, finds help in a British woman who goes by the name Marjan Montazemi, who has been living in the country for decades and works as a psychiatrist. Played by Glenn Close, Marjan actually works for the Mossad.
There is still a hacker angle involved but with each episode, the pace picks up exponentially with chase scenes appearing every few minutes. Added to this, there is depiction of the lives of the young Iranian elite.
We had a chance to interact with one of the show's creators — Dana Eden — and director, Daniel Syrkin, over a late-night video call. Here's what they had to say.
In what way does the second season of Tehran stand out?
Dana Eden: I think this spy story is different because for Israelis it derives from reality. And we wanted, through this story, to know a little bit more about Iranian people. And we were really surprised to learn new things about the culture of Iran, about the people of Iran. I think it was something really emotional for us. And we were really emotionally involved in creating this story. That makes a difference. What made you choose Glenn Close to play the role of Marjan Montazemi, a Mossad agent in Iran?
Daniel Syrkin: We wrote a role for a Western woman living in Iran for many years and the illusion created by the regime makes her turn to the Mossad. When we started talking, discussing this role with Apple, we realised that we might get Glenn Close. Of course, once her name came up, we never thought of going back. I saw Glenn on the set in Athens dressed like an Iranian woman and I couldn't believe my eyes.
Was it easy to make her agree to learn Farsi for the show?
Daniel: The character of Marjan had to speak Farsi because she has been living in Iran for a few decades. We were delighted to discover that Glenn wanted to speak as much Farsi as possible. She took on the big task of learning the text. She learned some basic Farsi three times a week for two months, trying to sound as convincing as possible. On the set we had a woman who was a refugee and was Glenn's personal assistant; she helped Glenn learn her lines. Just to see this connection of a Hollywood legend and a young woman who had left Iran to find a better life elsewhere, working together, was something amazing.
Do you believe that a show can bridge the gap between Israel and Iran?
Dana: It actually happened on the set. We had a lot of Iranians working on this project; a lot of them live in Athens, and it was really moving to work with them and to find that they are really like Israelis; we found a common language. We worked together with a lot of love and passion. If it can happen on set, I hope it transfers to the screen because we tried to portray Iranians not in a stereotypical way. Yes, we really hope that this show will be something bigger… that it bridges the gap between two nations.
The show won the Best Drama prize at the International Emmy Awards last year. What does it mean for you and also the second season?
Daniel: It was just amazing acknowledgement for us. It also meant bringing something that won't disappoint fans (in the second season). I think the key lies with the character of Tamar. In the first season, she was this nervous spy; she was actually more of a hacker than a field operative, a hacker who found herself in the harsh situation of being in enemy country. In this season, Tamar gains confidence and finds herself as an undercover. We also decided to show more aspects of Iranian society and the young elite. These are people who may have got their education in the West. Then we realised that many of the sons and daughters of the Iranian elite lead a very different life in their summer houses, on beaches and private swimming pools. Tamar infiltrates the ranks of those young people. She finds that there's a lot common between them and the place where she comes from, yet they're miles apart. This time Tamar is stronger. We really tried to humanise all of the characters, to give them big conflicts and big questions about identity. The first thing that we do when we write scripts... look at the characters and make them layered and interesting. When there are enough layers, there will be no good or bad
- Dana Eden
What do you consider are the biggest misconceptions about these countries?
Daniel: Learning about women in Iran was very interesting… there's a duality factor at play. I think that they are the most oppressed, yet they are very strong and educated. Also, there is a section of spoilt, privileged elite.
What makes the show most interesting is that viewers are unable to take sides. Was it difficult to keep this element alive in the second season?
Dana: I think it's always a challenge to bring complexity into the characters. But it's a must-have if you want to make a good show, and we really tried to humanise all of the characters, to give them big conflicts and big questions about identity. The first thing that we do when we write scripts… look at the characters and make them layered and interesting. When there are enough layers, there will be no good or bad. I think we managed to do it in the first season. This happens again, and in a bigger way in the second season.
Do you think that the landscape of television is changing? This started as an Israeli show but now it's on a global streaming platform, becoming an international show.
Dana: We were very fortunate. I think as television becomes more and more international, we're getting exposed to a lot of international shows. In our case, the fact that Apple got into the show… so we could explore different sides to Tehran and have strived to make it better. Also, we got to learn so much about people watching the show globally.
How has the series been received in Iran?
Daniel: The first season was leaked in Iran. And many people watched it. To our surprise and happiness, it was received really well. It even reportedly found space in the official newspaper, of course, criticising us. I think that even knowing that they are watching us is great. They get to see that we are not villainising them. We keep getting messages via social network, asking us when the next season is coming. It's always a bit surreal.
Second season of Tehran is currently streaming on Apple TV+