6 roles where Deepika Padukone became the so-relatable urban girl who won't be pushed over
Deepika Padukone, who debuted in Bollywood with Farah Khan's Om Shanti Om in 2007, celebrates her 37th birthday today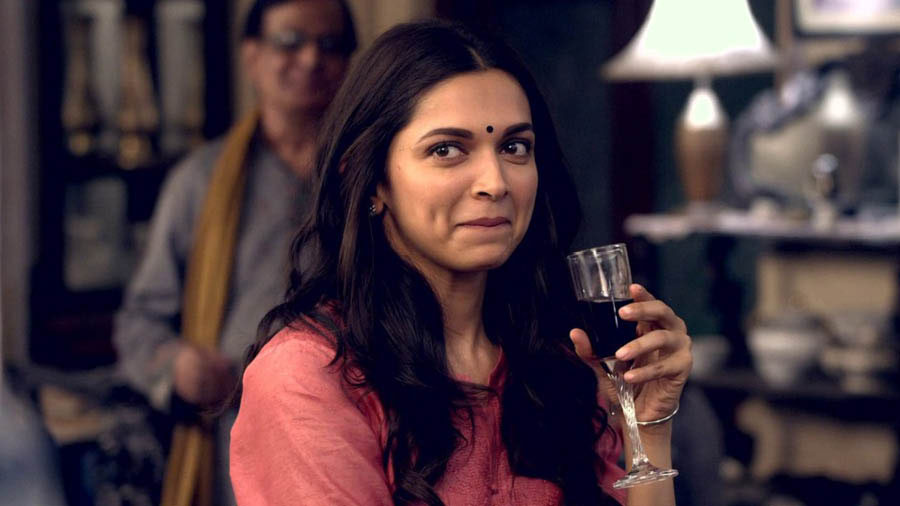 Deepika Padukone in Piku
IMDb
---
Calcutta
|
Published 05.01.23, 10:58 AM
|
---
In a career spanning 15 years, Deepika Padukone has played characters as diverse as a young entrepreneur willing to risk it all to a woman running away from home to escape being married off. Yet, it is her turn as the girl-next-door with aspirations and struggles that are real and relatable that Deepika has made the deepest mark on us. On her 37th birthday, we look at six roles where Deepika has breathed life into the independent, city girl taking life's challenges on the chin.
Piku in Piku 
A successful professional and single woman who lives life on her terms but will prioritise the needs of her parent — as Piku in Shoojit Sircar's 2015 film Piku, Deepika reminded us of the sensitive balancing act that a lot of women have to do as caregivers. In this heart-warming father-daughter tale, Piku's father Bhaskor (played by Amitabh Bachchan) defines his architect daughter as a 'financially, emotionally and sexually independent, non-virgin woman', and Deepika brought her natural charm and ease to the part. And her long hair-kurta palazzo look was as much a win as her sari and bun with bindi. 
Meera in Love Aaj Kal 
In Imtiaz Ali's 2009 ballad of love spanning generations, Deepika's character Meera strikes a chord right at the beginning of the movie as someone who will not give up her career to follow her man to another continent. It is only after they are separated that boh Meera and her ex Jai (Saif Ali Khan) discover that their feelings for each other run deep. Deepika lit up the screen with her lovely smile and quips, and won hearts for the way Meera handles the pain of Jai choosing his job in San Francisco over her. 
Veronica in Cocktail 
Homi Adajania's emotional drama Cocktail (2012) had Deepika as a rich, spoilt girl with no cares in the world but with a heart of gold. Deepika's Veronica allows her boyfriend Gautam (Saif Ali Khan) and her new friend Meera (Diana Penty) to move in with her. Though she has a no-strings-attached relationship with Gautam, Veronica realises her feelings for him when Gautam falls in love with Meera. But she hides it and sacrifices her love for the sake of friendship. Deepika sizzles as the carefree and wild Veronica, while striking up a genuine girl bond with Meera.
Tara in Tamasha 
Imtiaz Ali gave the love story of millennials in the form of Tamasha (2015), starring Deepika as Tara and Ranbir Kapoor as Ved. The two meet and fall in love on a vacation in Corsica but decide to not go ahead with a relationship or reveal their identities to each other. Tara struggles with her feelings after returning to her regular work life in Kolkata. When their paths cross later in life, Tara discovers a changed man in Ved, one who has lost his zest and spark. This was not the man she had fallen in love with and Tara pushes Ved away, which acts as a wake-up call for Ved in finding his inspiration and what he really wants to do with his life. The celebrated Deepika-Ranbir screen chemistry showed its deeper, darker side in this story that resonated with us for its theme of marrying passion and purpose. 
Naina in Yeh Jawani Hai Deewani 
She's a nerd focused on becoming a doctor. Naina doesn't have any friends, nor any life beyond her books. Such a character feels stirrings of love in her heart for the first time when she runs into the wacky, impulsive Kabir (Ranbir Kapoor) on a trek to Manali. In Naina, Ayan Mukerji's blockbuster romantic drama in 2013 gave us a Deepika we had not known before. Naina keeps her love for Kabir to herself and her feelings are ignited and reinforced every time they meet over the years, while transforming from an under-confident college girl to a self-assured woman who can be glamorous and geeky, and bold and soft in equal measure. Deepika's explosive chemistry with Ranbir was the cherry on the cake of this love story that many of us have watched many times over.  
Aaliya in Break Ke Baad 
In Danish Aslam's 2010 film Break Ke Baad, Deepika became Aaliya, a happy-go-lucky girl who wants to explore the world, become an actor, and lead a life without the baggage of responsibilities. She is not your typical romcom heroine. Aaliya is not ready to settle down even after a decade-long friendship with Abhay (Imran Khan). So, when Abhay follows her all the way to Australia, she feels stifled by his presence and chooses to break up with him. And when Abhay announces his marriage, Aaliya discovers her true soulmate in him. As someone who was fairly new to acting at the time, Deepika nailed her part as an outgoing person with ambitions for whom a romantic relationship is not the only thing that defines them.