1997 vs 2017. Salman Khan vs Varun Dhawan. Judwaa vs Judwaa 2. A t2 report card
As a teenager, I loved Judwaa when I first watched it 20 years ago. The film had all the elements of a Manmohan Desai classic — twin formula, lost and found, mistaken identities… — told with a David Dhawan touch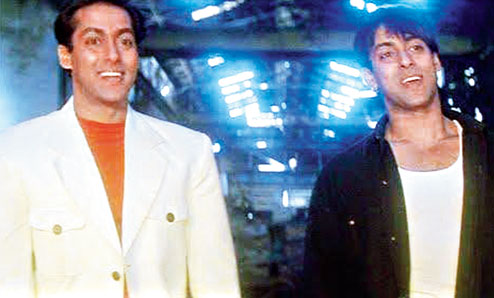 ---
Published 03.10.17, 12:00 AM
|
---
As a teenager, I loved Judwaa when I first watched it 20 years ago. The film had all the elements of a Manmohan Desai classic — twin formula, lost and found, mistaken identities… — told with a David Dhawan touch (read: loud, louder, loudest) and that it had Salman Khan — not one, but two to boot — sealed the deal for me. On Saturday, I watched Judwaa again, and the following morning trooped in to catch a show of Judwaa 2. Judwaa, unfortunately, hasn't aged well, and Judwaa 2, despite being a near copy-paste of the original, just doesn't have the magic and madness of the original. Here's what worked for us and what didn't.
Salman Khan vs Varun Dhawan: Varun Dhawan, mentored by Salman for many years before he took the big Bolly leap with Student of the Year five years ago, steps into the superstar's shoes to play the twins separated at birth — Prem the meek do-gooder and Raja the tapori who lets his fists do all the talking. While Varun has quite a presence and keeps your eyes glued to the screen every time he's on it, the young Dhawan lacks the charisma and charm that Salman brought to the original. As Raja, Varun dances like a dream and is superb in the action scenes, but Salman's Raja had an effortless tapori-ness that made him fun and endearing at the same time. And it doesn't help that VD tries to ape SK, even as he spouts his lines SRK-style… yes, Shah Rukh Khan's "Meri Ammi jaan kehti thi…" is a running gag through the film.
The theme and the template:
Though Part II faithfully follows the template of Part I through its 150-minute running time, Dhawan Sr has tweaked some of it. While the first film had the villain Ratan (Deepak Shirke), escaping police custody and making off with the newborn son of the cop (Malhotra, played by Dalip Tahil) and then being gunned down, Judwaa 2 has Zakir Hussain's Charles as the bad man who is handed over to the police by a businessman (Malhotra, played by Sachin Khedekar) after he's caught smuggling diamonds. Charles goes to jail for 14 years, but not before stealing Malhotra's newborn, one half of his twin sons.
If Judwaa played out in Mumbai, Judwaa 2 is set entirely in London, with a grown-up Prem and his best buddy Nandu (Rajpal Yadav takes over from Shakti Kapoor, complete with the lisp) landing up there to escape the wrath of Charles's son Alex (Vivan Bhatena). There are more instances of mistaken identities involving the twins in Judwaa 2 than Judwaa — some of them are ROFL like the ones in the bathtub and when Prem gets high on milk because Raja is guzzling down alcohol, but most others will have you rolling your eyes.
What we sorely missed in Judwaa 2? The first meeting between the twins isn't as much fun. Remember how Salman and Salman chance upon each other while taking a leak and go 'Aila?'
The girls: Despite having done some films together, Karisma Kapoor had fresh chemistry with Salman in Judwaa. Jacqueline Fernandez steps into Karisma's stilettos to play Alishka and though she looks like a million bucks, the expressions are limited and so is the chemistry with Varun's Raja. Taapsee Pannu's Samaira, who plays Rambha's role from the original, fares better, but both the characters are underwritten, suffer from sexist overtones and are strictly ornamental. And then, of course, is the embarrassing butt thwack from the original that the girls even here are subjected to. Come on guys, this is 2017!

The side players: There was something about a Kader Khan-Anupam Kher-Shakti Kapoor combo in a David Dhawan film that spelt magic. Judwaa had a fun subplot, with Anupam Kher and Satish Shah playing two cops constantly at loggerheads who brought on many laughs, but this film does away with those characters altogether. Also left out (with good reason) is the character of Raja's adopted sister. While Kader Khan and Shakti Kapoor are not part of this film, Kher steps in to play Alishka's dad, Kader Khan's role in the original!
The lines: "Tera mooh baatein karta hua achhha nahin lagta hai ... Fevicol daal uske andar," to "Yeh achanak Star TV se Doordarshan kaise ho gayi?" — Judwaa had some fun lines we LOL-ed at. Judwaa 2, with lines penned by Sajid-Farhad, plays to the gallery every second of its running time. Sample: "Door se dekha toh moongphali… paas aaya toh Bahubali!" to "Jo main bolta hoon woh main karta hoon ... jo main nahin bolta woh main WhatsApp karta hoon!"
The songs: Some Judwaa foot-tappers have made their way to the new film — Chalti hai kya 9 se 12 has its moments, but Oonchi hai building is a #fail. Oh, how I missed the Judwaa chartbusters like Duniya mein aaye ho, Tera aana tera jaana and East or west India is the best . Yes, even in Anu Malik's voice!
The cameo: Part II scores over Part I in only one big way — that Salman Khan cameo (or rather, twi-meo) towards the end, especially when the man goes Tan tana tan tan tan tara in the way only he can. 'Judwaa 3' with the original, please!
Priyanka Roy