Seen off online
Areeb Uddin Ahmed, a final-year student of Aligarh Muslim University, on the absence of closure that accompanies the awarding of a virtual degree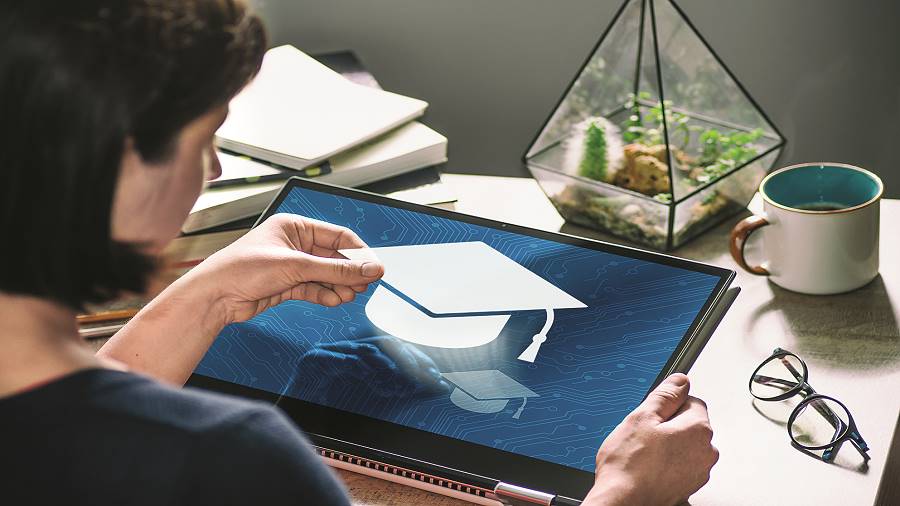 ---
---
Graduation is a special occasion for every student, not only because it marks the completion of an educational course, but also because it is a moment to cherish the memories you have made in college.
When I stepped into law school after finishing my Plus Two, it felt like I was destined to be here. The last five years have been a memorable experience. Between learning laws and applying some, we grew up. I might have learned the ABC of education in school but it was my college that gave me a platform to think, debate and execute.
Through this painful pandemic period, technology has definitely been a saviour — from online exams to virtual vivas — but it was unable to calm the chaotic emotions we, the final-year students, were going through. On the day of our last viva, the examination hall, the hostel corridors and the teachers were all that we could think of. Emotions were hitting home because that would be the last time we would all be attending the final viva  as batchmates.
The last time we were all physically together was when we completed our final-year internship in February. I remember how everyone got emotional when we were getting our class photograph clicked in front of the Supreme Court.
Our paths have now diverged as each one of us will move on in different directions in pursuit of our dreams but we will all remember that the pandemic robbed us of the opportunity to celebrate and acknowledge our graduation.

I still remember my first day in college — when I questioned myself on whether I would be able to survive the five years. And here I am questioning myself again — about how time flies and I did not realise when five years passed by.
For many students and their families, graduation is like a festival. It is a day of honour for the whole family. When we realised that we would not be able to live this once-in-a-lifetime kind of dream, we decided to celebrate it through a virtual meeting.
We decided on a date and time and had an online meet. As we chatted about our favourite memories over the years, it felt like a conversation in the canteen.
My batchmate, Mohd Kumail Haider, mentioned how he would miss the vibes of Amusu (Aligarh Muslim University Students Union) elections and playing late-evening soccer matches. Another batchmate, Neelima Singh, spoke of how she would miss visiting Albergo, the dhaba near the campus where every batch used to meet each semester for a happy lunch.
One of our batchmates compiled a video of all our precious moments and events that had taken place in these five years. It felt like a dream, a flashback of memories we once lived.
Neelima said that though she is glad to have finally graduated, she has not found the happiness or peace that she thought was waiting for her at the end of her student life. It would have probably felt so had we been able to answer the last exam together, planned our graduation party, had a happy farewell and  exchanged parting notes and some emotional moments.
My friend Nupur Thapliyal, a law student at the Guru Gobind Singh Indraprashtha University in New Delhi, told me she was going through the same turmoil. And it's not just the graduation but the feeling that what was supposed to be a year of accomplishments has turned into one of anxieties. Not only have we missed the graduation we deserved, but the postgraduation scenario too has worsened for the class of 2020. With bar councils halting registration, loss of work opportunities and postponement of LLM exams, graduation does not feel like an achievement but a race — not with our contemporaries but with ourselves and time.

Virtual graduation is a two-sided story. On one hand, we feel proud of being the first batch in the history of academics to graduate virtually. On the other, it hurts that we never got a chance to bid adieu to college life.
We never got a chance to say goodbye to the place where we learnt to survive, which carved our future. We did not get to meet our batchmates, juniors, the teaching and non-teaching staff one last time. Year after year, we had given farewell parties to our seniors who graduated but when it is our turn, there will be none. This abrupt ending has left us unsatisfied.
When we passed Plus Two, we lived the custom of scribbling testimonials and messages on each other's school uniform. We had similar plans for graduation too. When the pandemic came in the way, I decided to complete the ritual by mailing my friends and teachers what I really wanted to say.
I remember, when I was in my third year, there was a family wedding that coincided with an exam. I had requested my professor to allow me to take the test online. He had told me that there was nothing like "virtual examinations", so I could not attend the wedding the following week. And here, now in 2020, I have just graduated virtually.

As told to Manasi Shah