The best debate
The Times Higher Education's latest university rankings might have raised quite a few eyebrows here, but there are metrics and metrics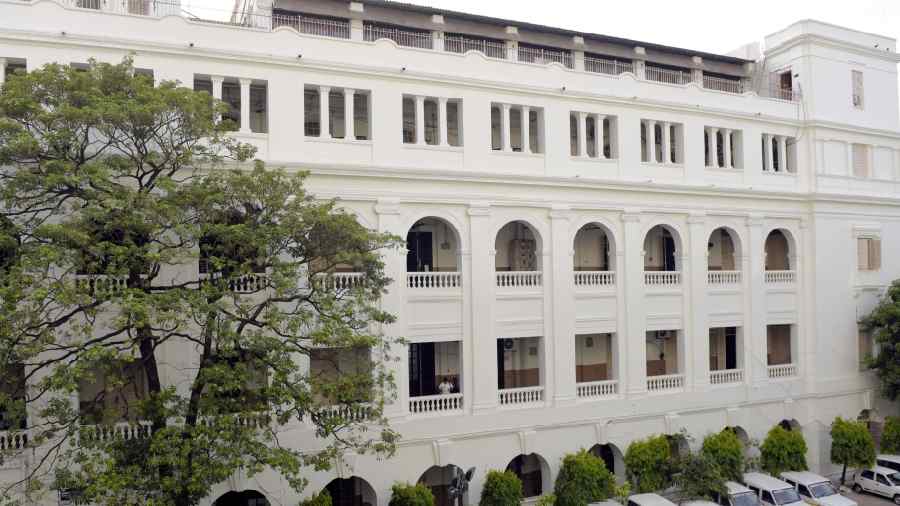 BRIGHT FUTURE: The freshly-painted College Street campus of Calcutta University
---
Published 24.05.22, 03:13 AM
|
---
Incredible as it may sound, the Times Higher Education's (THE) University Impact Ranking 2022 has declared the University of Calcutta (CU) first among all central and state-aided universities in India. Earlier known as the Times Higher Education Supplement, the first issue of this British magazine came out in 1971 and its World University Rankings first appeared in November 2004.
Academician and educationist Pabitra Sarkar remarked: "I am glad and take pride in this achievement. But I am sceptical about it. I don't know if the ranking has any value attached to it."
CU's image has taken such a beating that good tidings related to it are hard to believe. But Arun Grover, former vice-chancellor of Panjab University (PU), said, "THE rankings are as credible as any other well-known international rankings, like QSS. Different rankings give different weightage to different parameters in their mix. In 2013 and 2014, PU, Chandigarh, was rated high in THE rankings and many people in India were sceptical. But the IITs started to provide data to International Rankings thereafter." It was during Grover's tenure as vice-chancellor between 2012- 2018 that PU's ranking had sprung a surprise.
Grover continued, "CU has a good ranking in the National Institutional Ranking Framework system as well. It was the first to start the university departments and schools of research in the Indian universities system. All the top research institutes of India are full of students from universities in West Bengal."
Phil Baty, Chief Knowledge Officer, THE, said, "THE Impact Rankings are re-defining excellence in global higher education based on how universities are improving our world, not on traditional measures such as wealth and scholarly prestige."
Founded in 1857, CU is India's oldest modern university. An online notice by CU vice-chancellor Sonali Chakravarti Banerjee, dated April 28, had initially announced the ranking. "University of Calcutta has been adjudged Rank 1st among all central and state-aided public universities and institutes in India on the basis of holistic growth and development. We have secured overall world ranking: 201-300."
Banerjee said, "In keeping with UNO guidelines for sustainable development, four out of 17 goals were set — quality education, gender equality, decent work and economic growth, and partnership.
"The metric of expenditure per employee aims to explore the extent to which the university is a significant economic driver. Higher values show better performance.
"In the metric of gender equality, from the administration to students and teachers, a large number of women are represented. The proportion of women receiving degrees is also high. Measures have been taken to increase access of students. The university library is open to all."
Infrastructure development was Banerjee's priority. The Public Works Department (PWD) restored the heritage buildings on the College Street campus. As part of its outreach programme, CU has adopted the Giri Babu Lane slums.
It has signed MoUs with famous universities, citations to research papers have increased and so has collaborative work in the fields of science, humanities and technology.
However, politicisation of education is its bane. CU faces severe financial constraints as the state contribution is negligible. Infrastructure development is hampered thereby.
The College Street campus has lost its gravitas following the PWD makeover. Tight security makes free access to the campus difficult.
Most students chase degrees, but a small number of its teachers and students both in its science and liberal arts departments have kept falling standards in check.
Bhaskar Chakraborty, retired professor of history, CU, said: "Despite erosion of standards, CU's performance index is still high because of a handful of teachers in most departments. That conceals the flaws in administration."
Research of international standards is not a rarity in science departments. Said Amitava Raychaudhuri, professor emeritus, department of physics, CU: "It is of international standards although the laboratories need to be modernised. The number of PhDs may not be high but many students are Bhatnagar awardees. The syllabus is modernised regularly. Earlier, a negligible number of women joined physics. Now their numbers have swelled. Students join from all over the state and not just the premium colleges."
Students are no longer attracted to the liberal arts as they feel landing jobs would be problematic. Dipankar Sinha, professor, department of political science, CU, said, "We still get good students but they are in a minority. Where gender ratio is concerned, 85 per cent of the students are women."
Chinmoy Guha, professor of English, CU, and former VC of Rabindra Bharati, said, "The new crop of students is brilliant and sincere. But they need someone to lead them. Good teachers are often posted to distant colleges.