The IAS Dream
The Telegraph tells the story of a candidate who has taken the UPSC exams for the fourth time in a row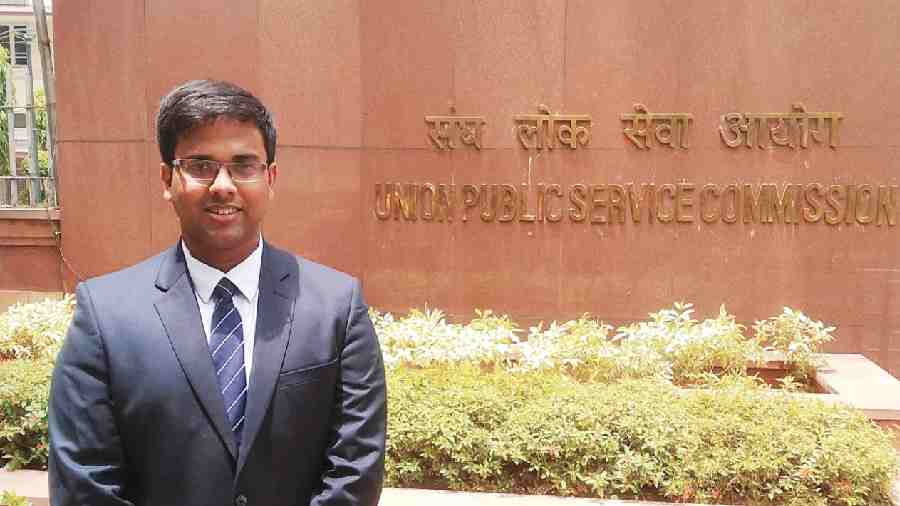 Indrashis Dutta
Pic courtesy: Indrashis Dutta
---
Published 21.06.22, 02:56 AM
|
---
Indrashis Datta from Midnapore ranked 94 in the civil services exams this year (UPSC 2021). This was his third attempt and second successful attempt. In his first successful attempt — UPSC 2020 — he had ranked 318 and was placed as an assistant controller of defence accounts (probationer) in New Delhi. And on June 5, 2022, he appeared for the UPSC exams for the fourth time. His target is to make it to the top 50. Only a top rank will secure him a place in the Indian Administrative Services.
Datta is an accomplished molecular biologist but is hellbent on cracking the civil services — considered among the toughest entrance exams in the world because lakhs of candidates compete and only 0.1 per cent to 0.4 per cent succeed in clearing it.
He says, "There is no other career that provides such a diversity of work profiles where one can work at the grassroots level with the poorest in society as well as make key policies at the top level that help run a huge nation like India. No other job can give such immense satisfaction and impact the lives of millions."
Before he joined the race to crack the civil service exam, the 27-year-old had been a research scholar in the department of molecular and cellular biology at the renowned Weizmann Institute of Science Rehovot in Israel. "There I had been doing research in the field of ageing after I'd cracked a scholarship," he says. Getting the scholarship was not easy, as he had to cross the hurdles of GRE, TOEFL and a series of video interviews by three professors. "I think my CV also helped impress the interviewers to some extent," says Datta.
He studied for a bachelor's in science (research) in biology at the Indian Institute of Science (IISc), Bangalore. At Weizmann Institute, he got his master's in science.
Just when he was about to apply for a doctorate degree, a senior PhD candidate from India studying in Weizmann urged Datta to appear for the civil services entrance. "He told me about the status and contribution of a civil servant to a country's economy. I too started studying profiles and interviews of several toppers," he adds. After a thorough recce, Datta decided to return to India and settle down in New Delhi where he joined a coaching class that would help him prepare for the competitive exam.
It was a tough decision to forsake a lucrative career in research. But his family supported him even as he changed track. His mother (a school teacher), his father (an insurance sector worker) and his elder brother (a pulmonologist) encouraged him through all of this. Keeping up one's spirits is a tough challenge and it's only natural that many aspirants lose hope and fall into the grip of despair. It's an even more uphill task if one doesn't have a back-up career, or a fall-back option.
"My family members whole-heartedly supported my decision to prepare for the civil services. Whenever I felt depressed, they supported me emotionally. Besides, their financial support helped me focus solely on the examination," he says. "In-person coaching is quite expensive, as are the living costs in Delhi," he adds.
But, the UPSC syllabus is so vast that he could not cover it in a year. His first attempt in 2019 was unsuccessful. Undeterred, he carried on with his studies. "I covered all the gaps and did not leave any portion of the syllabus uncovered," he says. His rank in the 2020 exam — 318 — helped him join the Indian Defence Accounts Service (IDAS) under the Union ministry of defence, Government of India.
Currently, he holds a post at IDAS, but had taken leave to appear in the UPSC prelims. "My batchmates at IDAS are attending training at the Arun Jaitley Institute of Financial Management in Faridabad," he says. In the 2021 exam, he improved his rank to 94; now he expects to be allotted a post in the Indian Revenue Services-Income Tax (IRSIT) if not IAS.
Should he make it to the top 50 next year and become an IAS officer, he wishes to utilise his experience of biological research — especially in the fields of agriculture and health — gained at IISc and Weizmann Institute. "I wish to address the problem of soil degradation in wide swathes of India. And also, try to solve the problem of the rising burden of healthcare expenditure for an ageing populace," he says.
To civil service aspirants with limited means, Datta's advice is to go for online coaching. He also stresses that after the pandemic, a lot of study materials for the entrance exam are available for free online.
However, he warns candidates not to get distracted by websites or tips. "Any sort of distraction must be avoided before the exam," he says. For that reason, Datta has stopped using a smartphone. He wraps up thus: "It's all about hard work and perseverance, which actually prepares you for the very challenging job ahead as a civil servant."