The Chronology: You suppress. We protest
College student Shalini Singh shares her experience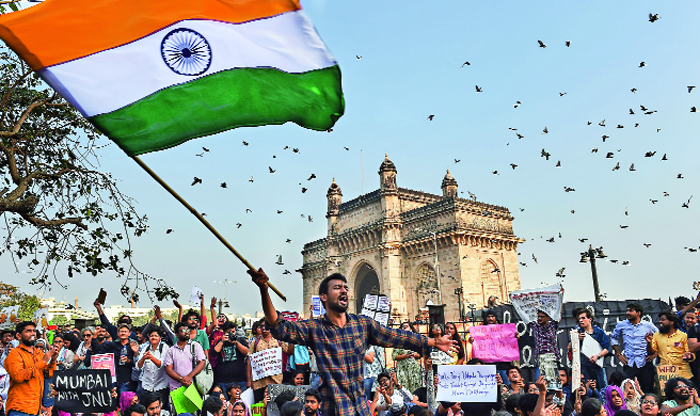 ---
---
Some events have the power to turn your whole life around. On December 14 last year, as news of police violence at Jamia Millia Islamia surfaced, I started making frantic calls. Not only was my childhood friend a student there, many others I know were also either students or lived in that area. Phones on campus were unreachable and I scrolled endlessly through photos, praying and hoping that I wouldn't see a photo of one of my friends in a bloodied state. The anti-CAA and NRC protests had my support since the beginning but after that one night, the movement became a little more personal. Universities are meant to be safe spaces where students have the freedom to express their views and to protest. This crackdown on any dissent that was voiced served a shameful blow to our democracy. Soon after, there was violence in North Campus, AMU, and more recently, in JNU. And so we took to the streets.
We gathered in locations across Delhi. At Mandi House, Section 144 [it prohibits the gathering of five or more persons, holding of public meetings and carrying of firearms] was implemented minutes before the march was meant to commence and large numbers of protestors were detained. On the same day, protestors, including Umar Khalid and Yogendra Yadav, were also detained at the Red Fort. All the protestors were packed into buses and dropped off at the outskirts of the city. Perhaps they thought this would stop them. But later that evening, every single one of them showed up at the protest at Jantar Mantar. We joked that it was the most "Delhi thing" to do.
When the incident at Daryaganj happened, reports of unimaginable violence against women and children were coming in. Large numbers had been detained. We made our way to the ITO to demand their release, and sat there protesting till dawn. Photos showed the streets of Daryaganj, an area frequented by students to purchase books at cheap prices, covered with shoes and articles of clothing lost as people fled. A day after the attack, I made my way to Daryaganj to find out more. The streets were so clean that it seemed like a Swachh Bharat event had taken place. As I was walking back to the Metro station, my friend spotted something. Behind a public toilet lay piles of shoes and clothing, some of them bloody. We stood in silence, took a few photos and made our way to another protest.
December was a month full of firsts for me. It was the first time I was protesting against something and also the first time I got detained. A "gherao" had been planned at the UP Bhawan. I reached it a little before the scheduled time. As I stepped out of the autorickshaw, a few cops surrounded me and put me in a jeep. All the detainees were then put in a bus and taken to the Mandir Marg Police Station. Inside, we raised slogans as we discussed our plans after our release. Hours later, when we were finally allowed to go, each one of us headed to one protest or the other. The fight wasn't over.
And that was when I first made my way to Shaheen Bagh. I had been around it to protest at the Jamia campus, but that day was the first time I was introduced to the powerful women of Shaheen Bagh.
Warm smiles receive you as you enter the heavily-barricaded area. Before you can even take it all in, someone comes up to you to ask if you have eaten or would like a cup of warm tea. After the locals have made sure that you are comfortable, the reality of the situation sinks in.
It has been over three weeks since the people of Shaheen Bagh started their peaceful protest against the CAA and NRC. Never before has a movement managed to touch the hearts of people as well as the nerves of government like Shaheen Bagh has. In the biting cold of winter in Delhi, you can see children shouting popular protest slogans as they play hide-and-seek, women with babies they are still nursing. "If we don't speak out and stand up now, what will we tell our children when they grow up?" one mother says.
When you walk through the now-famous Shaheen Square, you hear songs of freedom and justice being hummed. A group of college-going boys sits around a bonfire and sings Hum Dekhenge by Faiz Ahmed Faiz as starry-eyed children watch, trying to grasp the lyrics. A young girl sits on the road, chalk in hand, writing messages for the police drone in the air to see. Aawaz do. Hum ek hai. On January 7, despite the cold and a light drizzle, everybody remained at the protest site. They shared warm cups of "Secular Chai" from a popular tea-seller there who boils hundreds of cups in one go. A group of students from universities across the country sets to work even as it rains, lifting bricks scattered across the road to create structures in which they later planted saplings. They had convinced a local nursery to donate a few saplings. On being asked why they were doing this, one of them revealed that each plant was in memory of someone who had lost their lives since the protests started.
The violence since the protests started is scary and baffling. The amount of head injuries makes us wonder if the police brutality was really in "self-defence". The comments made by leaders are disappointing. But we are students from the land of the freedom struggle. We are students from the land of Bhagat Singh and Chandrashekhar Azad. We are students from a country that exists because of protests and movements. We are the movement. And history is witness to the fact that when students take to the streets, fascism bows down.
The writer is a student of Indraprastha College for Women in Delhi