No, Not That One
Students from India who have secured places in US universities are facing vaccine hesitancy of a different sort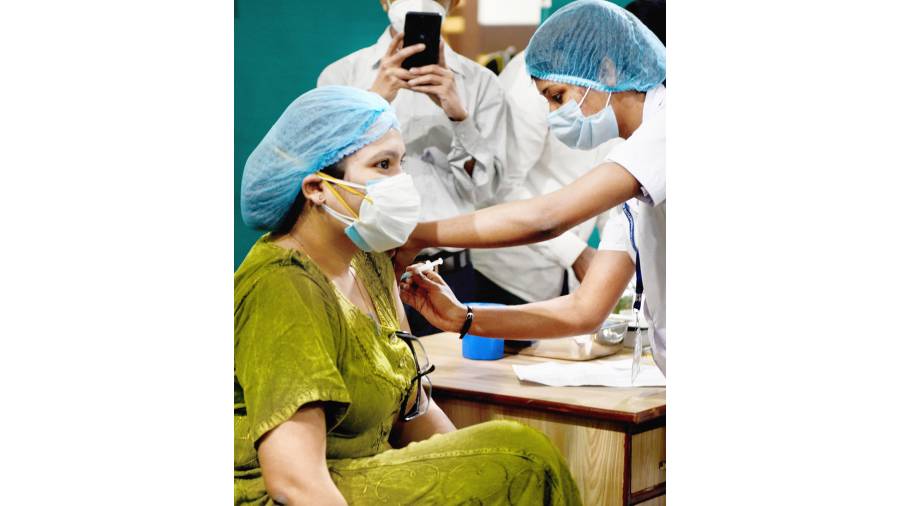 VEXED NATION: Covaxin being administered at a Calcutta hospital
Debosmita Bhattacharya
---
Published 15.06.21, 12:49 AM
|
---
Milloni Doshi, a 25-year-old student from India who is supposed to start her master's degree this fall at Columbia University's School of International and Public Affairs, has a problem. Although Doshi has been vaccinated against the coronavirus, she received two doses of Covaxin, which is made by an Indian manufacturer and is not currently approved by the World Health Organization (WHO), as required by the university in New York, US.
Columbia has told her she will need to be revaccinated with a different vaccine once she arrives on campus, but no one can say for sure if it is safe to do so. "I am just concerned about taking two different vaccines," she wrote via a messaging app. "They said the application process would be the toughest part of the cycle, but it's really been all of this that has been uncertain and anxiety-inducing."
Since March, more than 400 colleges and universities in the US have announced vaccine mandates, requiring students to be immunised against the coronavirus. But the rules have been designed primarily with domestic students in mind, leaving international students scrambling — particularly those in India and Russia.
Neither Covaxin nor the Sputnik V vaccine, which is manufactured in Russia, has been approved by the WHO. American students, however, have access to the Pfizer-BioNTech, Moderna and Johnson & Johnson vaccines, three of the eight authorised by the health agency, according to a WHO spokesperson.
The disparity could hinder colleges that have made it a major priority to retain international students, who brought in close to $39 billion in tuition dollars in the year before the pandemic, according to one analysis. The situation is particularly challenging for students in India, which sends approximately 2,00,000 international students to US colleges every year, the second most after China.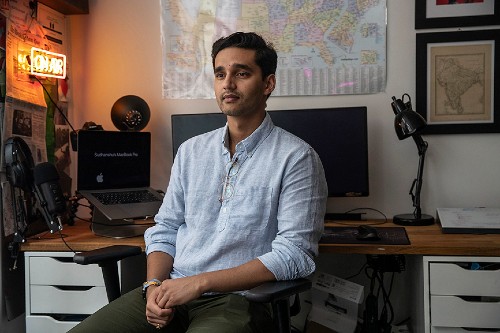 "Every day, we get 10 to 15 messages and inquiries, saying, 'What does this mean? How does this impact me?'" said Sudhanshu Kaushik, 26, who dropped out of his MBA at New York University last year to run the North American Association of Indian Students, which works to help fellow students.
Among the questions flooding Kaushik's inbox: What happens if I cannot get my vaccine in time? Will I still be allowed to matriculate in the fall? What should I do if the vaccine I can get locally is not approved by my college?
The Centers for Disease Control and Prevention has tried to provide guidance. The agency considers people fully vaccinated several weeks after they have received the requisite doses of any of the vaccines authorised by WHO, said a spokesperson, Kristen Nordlund.
Besides the three vaccines currently available in the US under emergency authorisation by the FDA, the world body has, according to its website, also approved three versions of the AstraZeneca vaccine, including one made in England and one made in India; the Sinopharm vaccine, which is manufactured in China; and the Sinovac vaccine, also made in China.
Many universities appear to be following these guidelines: "If a student has had a WHO-approved vaccine," said Clayton Rose, president of Bowdoin College, "then the student will be considered to be vaccinated." At Columbia, where one-third of the student body is from overseas, international students will be asked to present either their WHO booklet or a letter from a physician confirming they have received the requisite doses of one of the vaccines vetted by the world body, said Donna Lynne, chief operating officer of the university's medical centre, who heads the campus's Covid-19 response.
But that leaves two categories of students that will face a more complicated — and potentially problematic — process.
There are those who will not succeed in securing a vaccine before the start of the fall semester. Bowdoin and many other universities say they plan to have clinics on campus that'll offer one of the three FDA-authorised vaccines.
The trick is that two of those — Pfizer and Moderna — require the first and second dose to be spaced three weeks apart; because someone is only considered fully vaccinated two weeks after the last dose, the process lasts a minimum of five weeks. During that time, will students be required to quarantine while the rest of campus goes back to normal? Will they need to undergo routine testing?
Campuses are proposing different measures, with some saying that those students will need to self-isolate in their dorm and attend classes remotely. Others are saying the students will be expected to wear a mask and undergo testing.
The more complicated scenario is if students received a vaccine that's not been approved by the WHO. Many colleges are proposing that those students will need to be revaccinated, which presents both medical and logistical conundrums.
No data exists on whether combining vaccines from different companies is safe.
"Since Covid-19 vaccines are not interchangeable, the safety and effectiveness of receiving two different vaccines have not been studied," Nordlund, the CDC spokesperson, wrote in an email.
She added that the CDC was recommending that people who were vaccinated outside the US with a vaccine that was not authorised by the WHO should wait a minimum of 28 days before taking the first dose of one of the FDA-sanctioned vaccines.
Many universities were vague on how they plan to deal with the logistical complexity of spacing out these unrelated vaccines, beyond saying that they planned to accommodate students undergoing this process.
NYTNS