How are Indian research scholars stranded abroad faring?
The Telegraph finds out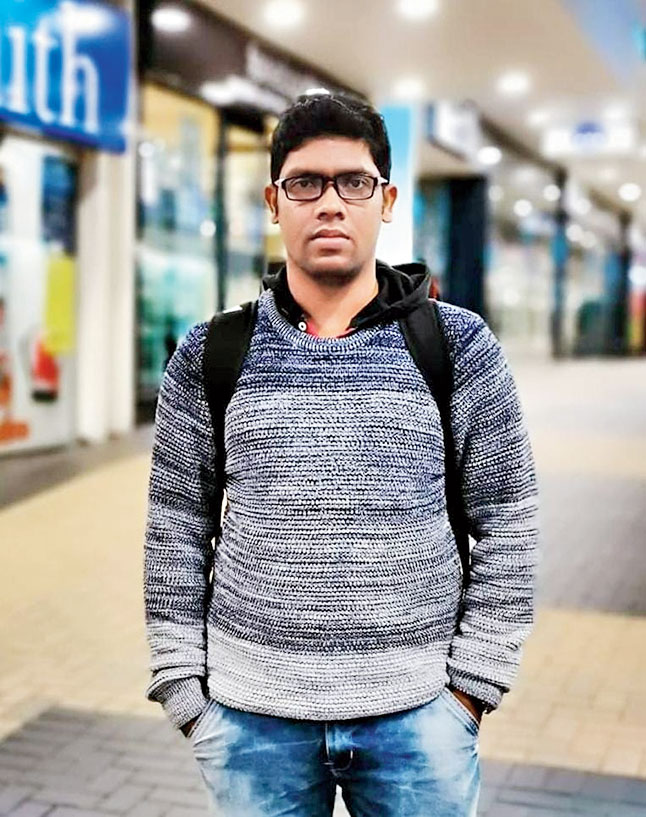 ---
Published 08.04.20, 12:10 PM
|
---
Debanjan Mondal

PhD student at the University of Huddersfield, UK
There's no official lockdown here yet [wrote Debanjan on the last day of March but a lockdown was imposed in the UK last Saturday, April 4]. First, citizens were advised to avoid social gatherings. Then universities, pubs and restaurants were asked to shut shop.
The university has asked us to follow the NHS guidelines and advised us to stay home. We are using the Zoom app for classes and to stay updated about our work. We have been told to check the current government rules for immigration or visa problems.
The supermarkets are open but most of the items are out of stock. There are no adequate masks to be found and no medical attention until your condition gets severe. You can't get your health checked even if you suspect you have been infected. You are not allowed to contact NHS until you have breathing problems. The careless response and irresponsible behaviour of the people as well as the casual approach of the government have us worried.
Due to the shutdown, many of us have lost our part-time jobs. It is becoming difficult to buy food and pay the rent. I have only £30 left in my account and other students are in a similar situation.
Staying shut in a small room with little money and no help from the embassy has me panicked and depressed. It seems that the door to any solution has also been locked. We are stuck, mentally and financially. We are appealing to the Indian government to evacuate us from this country. If the situation continues — many are saying the lockdown may be in place for six months — we will die for sure without any help.
The lesson I have learnt is that you should never go abroad without a full scholarship, especially if you don't have a strong financial background.
Also, a lot of people are blaming us for the outbreak of the virus in India. They are saying only rich kids go abroad to study so there is no need to get them evacuated. I want to clarify that one, international students are not the ones who have spread the virus and two, everyone who goes abroad for studies does not belong to rich families. I myself come from a lower middle class family. And after getting a degree, most of us go back and serve our country. So people should be proud of us, not shame us. I have had many bitter experiences and learnt some valuable lesson because of this situation.
Sayani Ghosh
Virology technician at Massey University, New Zealand
New Zealand is currently in lockdown for all non-essential businesses so most people are staying at home.
All of us have to stay in lockdown for four weeks, starting March 26 if we are non-essential workers. We are allowed to take a walk outside as long as we do so with the person we are in self-isolation with. We have to maintain a two-metre distance from everyone else and we are not allowed to go and visit anyone.
It is now autumn here and winter is just around the corner. The days are warm (22°Celsius) and sunny while the nights are quite cool with the temperature going down below 10°C. And it is raining more frequently these days. It is also getting darker faster.
I am currently working and studying from home as the university is in lockdown. Incidentally, I am a lab manager and virology technician. I am responsible for making sure the lab is compliant with health and safety and industry standards. My job involves carrying out research projects, diagnostic tests, technical supervision of students and demonstrating in teaching labs.
I am privileged enough to have a warm home with all the necessary amenities as well as job security so I can ride out the lockdown without any worry. Some people are not as fortunate.
The only problem I am facing is keeping to a strict daily routine so that staying at home all day does not get to me. I have fixed hours of work, study and working out at home and I try to stick to them.
I now have more time for my indoor hobbies such as cooking, gaming and video calling people in different places in the world. My friends and I have managed to have online pub quizzes and yoga classes together via apps such as Zoom and Skype. The uncertainty of how long this lockdown will last and how life will change after it is of course on everyone's mind.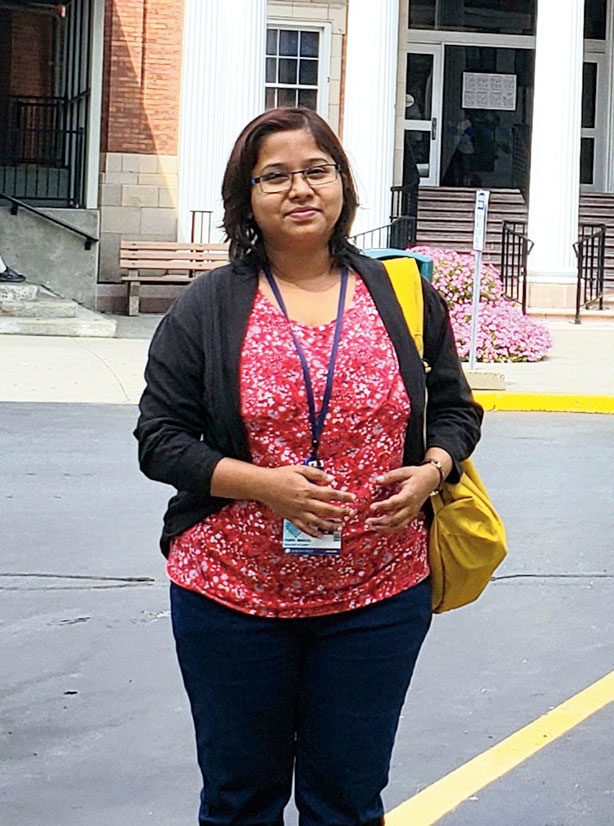 Pampa Mondal
Doctoral student at Alabany Medical College in New York, US
I was about to start new rotation and courses from March 7. But unfortunately, Albany had its first Covid-19 case at the beginning of March. The Albany Medical College asked us to take scrupulous care of hygiene [hand washing et al] but within a week cases surged to 22 and our director postponed our course and rotation. Right now I am staying at home and studying about what my future research should be.
I get an email from Albany Medical College whenever there is an update.
About a fortnight ago, Albany Medical College requested us not to visit the campus and library. Everything on campus, including the student lounge, is closed. Only PhD scholars who are conducting important experiments can visit campus after discussing with their respective supervisors.
Although the governor has requested everyone to stay at home, a few stupid people just don't seem to care. As coronavirus cases in New York shoot up [67,551 at last count], I am totally staying at home. I am getting my salary on time and I usually go out only once in two weeks to stock up on groceries for the next fortnight. Grocery stores, Walmart and drug stores are open. Public transport is open and punctual.
Most of the time I study and think about my future research topic. I have access to the online library. Professors, the graduate office and librarians are available via email or video chat if required. In my spare time I watch movies, read books and play online games.
Ravi Lochan Singh
Managing director, Global Reach, Overseas Education Consultant, Sydney, Australia
Australia is not as "locked down" as India is. It has closed its borders to international travellers who are not citizens or are non residents. All essential activities are on but most have been "advised" to work from home. Schools are open but only for children whose parents have to be at work as they are in essential jobs. Restaurants are shut but takeaways and home deliveries are allowed. Cinemas and everything except food stores are closed.
Universities moved their teaching "online" two weeks ago. Students are attending lectures and tutorials from wherever they are staying. Libraries of some universities are open for short periods.
International students who worked part-time in hotels and restaurants have been affected. Those with part-time jobs in food stores and in security or cleaning are being able to manage. The Indian community is helping affected students as much as possible. Some restaurants are offering free food. As of now, things are manageable but it will certainly be a matter of concern if the situation lingers.
Mahasweta Paul
Doctoral student at the Nanyang Technological University, Singapore
Singapore has done a wonderful job so far in keeping the pandemic panic in control while efficiently handling confirmed cases, both domestic and imported. Strict border control is being implemented to keep short-term visitors at bay. Some social gatherings and large events have been suspended while schools and universities are being encouraged to go online but there has been no official notice of a lockdown [that changed recently as Covid-19 cases rocketed. Singapore will have a month-long lockdown starting today]. Incidentally, all seating at my university canteen as been removed but takeaways are available
So far, doctoral students have not been asked to suspend work but work from home is being encouraged, especially in the corporate sectors.
We have not faced any problems as yet and daily lives have not been severely affected. There are things we have to patiently and carefully maintain such as social distancing, getting our temperature noted before getting entry anywhere and strict observation of "stay-at-home" notices, if given but no major disruptions so far. We are being asked to be compassionate, kind and considerate. These are very important lessons in the present situation.
Sayantani Chatterjee
PhD student at Macquarie University in Sydney, Australia
Sydney and the rest of New South Wales, the most affected state in Australia, has been locked down since April 3. Schools are shut, our university is running online classes. Research has been made limited. We have not yet faced many problems in day-to-day living. Supermarkets as well as all essential services are open.
People have to abide by the isolation rules at this moment and the "stay-at-home policy" is crucial. Stocking up on daily essentials is not imperative but many are hoarding. I still can't get over the fight between two old women over toilet paper that I saw at Woolworths. Eventually, the store manager had to intervene to break them up.
Debojit Saha
PhD student at the Max Planck Institute for Biophysical Chemistry in Göttingen, Germany
All shops and facilities with an audience will remain closed here till April 18, except for daily needs stores. My institute will stay shut until April 20. People have been asked to work from home and maintain a minimum distance of 1.5 metres from others. The situation is definitely not optimal for working but keeping the severity of the infection in mind, this is the safest option.
People are keeping themselves isolated at home and only going out to buy daily commodities. After the first few days of panic buying when stores had empty shelves, daily goods are now available.
The lesson that the pandemic has taught us is crisis management. To contain it, people should drastically change their way of living.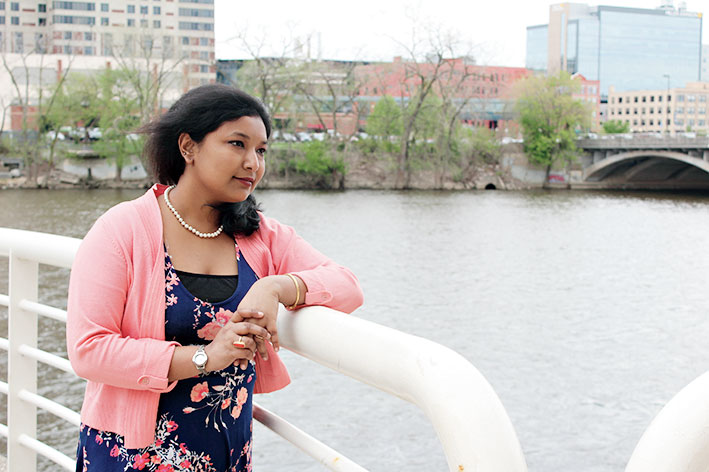 Sugandha Basu

Research associate at the University of California, San Francisco, US
In San Francisco the order of "shelter in place" was issued on March 17 and I have been home ever since. The order was also issued for five other Bay area counties and is active till April 7. Next, the whole state of California was put under "stay at home" order from March 19 and no end date was announced. My husband lives in Los Angeles and we don't know how long it will be before we can see each other again.
Here, the grocery stores, pharmacies and other essential services are open. Restaurants are open only for take out or delivery. Sometimes people have to wait in long queues for grocery.
At the university, we were asked to shut down all non-critical research by March 18. We are only allowed to go to the lab to maintain critical research such as mouse work. For that, every lab has chosen two or three essential personnel and only these people are allowed to enter the building. The roster has been planned in such a way that no more than two people are in a lab at a time. I haven't faced any problems in my daily life as yet. I can get essential stuff or medicine and I can go grocery shopping though sanitisers and toilet paper are out of stock. Most racks in the store are empty. I can order groceries online but there are no delivery slots available for the next seven days.
I live in a shared house so I have to be extra cautious to maintain hygiene and social distancing. I regularly disinfect the common kitchen surfaces, door handles and my cell phone to reduce the chances of infection.
I think some people are still being very casual and not staying at home. A few days back, people were gathering on beaches and in city parks. Thankfully, all of them are now closed. I don't know whether young people are holding parties. But my housemate wanted his friends to come over a week ago and I totally disagreed.
I am staying at home, taking all the safety measures recommended by WHO. I went to my local grocery store once last week. I went very early so that I could avoid a crowd.
I think it's tough to control the mental stress at this time. I am doing yoga, eating healthy food, listening to music and trying glass painting for the first time ever. And I am checking information only from credible and valid resources.
We need to slow down, to realise that our health is most important and maintain basic hygiene. I would request all my countrymen and women to please, please stay at home at this crucial juncture.