Gardening for you and your family
Let your imagination fly green to make the most of staying home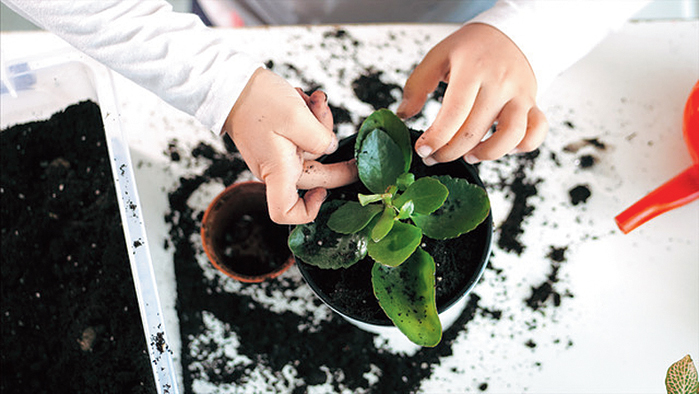 ---
---
Apart from all the bad news doing the rounds, there is also positive news such as of how the planet has started healing itself in various ways. As I've often said, nature has its way of overturning what we humans tend to ruin. The current global scenario can be taken as an ideal example wherein all other forms of life are flourishing beautifully and better than before. As the days go by and we spend more and more time indoors, stuck wondering about our doings, it could do us good to utilise this time wisely.
Especially as kids tend to get restless about how to while away time, it is indeed the perfect time to bond with them and introduce the values of nature to them. Start new practices and get your hands dirty along with them. Replace mobile time with nature time, TV boredom with green projects and binging YouTube with colours and fun. Here's listing a few ways you can go about doing that:
Green Scrapbook
Collect leaves and twigs of all shapes and sizes.
Dry them — remember how we used to dry them in between the pages of our school books?
Once dry, let them use their imagination and create things with them.
Stick them on the pages of a scrapbook or make art out of it like simple houses, trees or even a scenery.
Paint on them and stick them on an old door or walls.
Ask the kids to label the leaves according to their names to get them familiar with plants.
Make a lockdown memory corner
Use a couple of long, dry twigs and tie them together with a twine that is about 12-15-inches-long.
Decorate it with colours, buttons or anything else that you desire.
Make a loop to hang the twigs horizontally from the walls.
Take ribbon, twine or whatever you have and cut them at different lengths into about six-seven pieces and tie them vertically from the twig, leaving the loose ends down.
Now hang or paste pictures, notes or funny quotes to this ribbon and you will have all your quarantine memories to look back upon later.
Try some good old germination
Missing out on a garden or an open space? Lack of open space? We have a solution for you too. How about growing something without mud? Let's try our hand at germination! Remember the old school days? Well let's recapitulate.
Soak red chana overnight for some good, old germination.
Put those in a container with holes the next day and cover it with a wet cheese-cloth.
Don't forget to put a container of water below. Make sure you change the water every week.
Keep it covered with cheese-cloth for two days.
In about half-a-day, the roots will start to grow.
Two-third days onward, the shoot will start to grow.
Let it grow for a week and sprinkle water every day.
Cut it leaving an inch and use it on salads, soups and vegetables.
It will regrow. But do this twice and then remove as nutrient-content will lessen.
John Muir once said, ' In every walk with nature, one receives far more than he seeks.'
Instead of limiting their actions, let your kids explore, wander, broaden their activities and let nature be the ultimate guide.
Monika Poddar owns Calcutta-based plant boutique Chlorofyl. Reach her on Facebook at @ChlorofylKol and @chlorofyl_giftinggreens on Instagram