Design Thinking: a new style of solving problems with a dose of empathy
Learn to solve problems at work and in life with Design Thinking and a liberal dose of empathy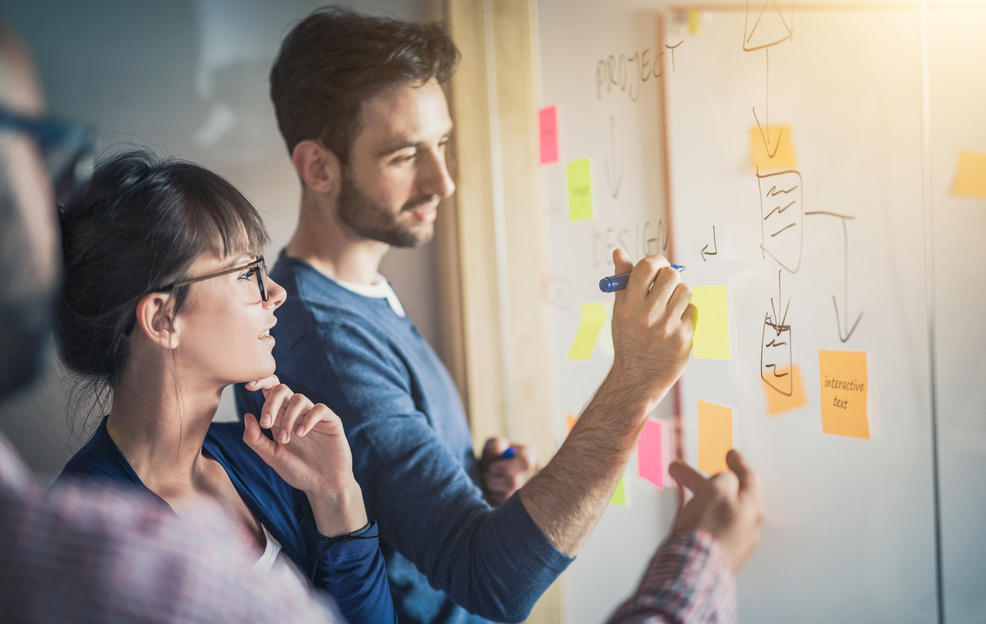 Design Thinking has been around for centuries as a problem-solving framework but it's only in the last 5-10 years that the concept has gained ground as an alternative to a purely analytical approach to problem-solving.
Shutterstock
---
Published 19.11.18, 06:46 PM
|
---
Picture this. You work for a company in remote East Africa that sells treadle pumps used to irrigate small plots of land. After a few years, you notice that the pumps have been selling extremely well in some regions while they don't sell at all in other regions. You've been tasked by your boss to increase the sales figure in the low-sales regions.
What do you do? You think design and apply human-centred Design Thinking principles to sort out the problem. Design Thinking has been around for centuries as a problem-solving framework but it's only in the last 5-10 years that the concept has gained ground as an alternative to a purely analytical approach to problem-solving. In fact, it was the master artist of Italian Renaissance, Leonardo Da Vinci, who applied the concept of design in fields ranging from flying machines to anatomical studies.
Ashoke Chatterjee, former executive director of the National Institute of Design in Ahmedabad, believes Design Thinking is all about "imagining the future". "It brings together an interdisciplinary team to solve a problem or create something new," he says. According to him, British mechanical engineer L. Bruce Archer — who later became a professor of design research — was the modern proponent of the concept. "Archer designed an 'optimal hospital bed' for UK's National Health Services, which was adopted as the standard across the world," he elaborates.
How do you solve the treadle-pump sales puzzle with Design Thinking? Simple, you reach out to prospective buyers. You get into their shoes and find that sales are low because of how the pumps operate. You are supposed to stand on the pump and push a pedal to make it work. Now, most of those using the pumps are women and pushing the pedal makes them sway their hips in a way that is considered very immodest and is actually taboo in their society! "Once we realised the problem, the pump was redesigned, and adoption rates shot up," explained Melinda Gates, head of the Bill & Melinda Gates Foundation, while explaining why the organisation takes Design Thinking so seriously, and how it's helped them achieve so much in different parts of the world.
The concept was summed up by business magnate and investor Steve Jobs, believed to have fuelled the modern design revolution as the CEO of Apple Inc: "Design is not just what it looks and feels like. Design is how it works."
Design is not just about a product, fashion, jewellery or home décor, points out Nidhi Goyal, associate dean, Anant National University, Ahmedabad. "You can apply the concept of design on any system, procedure or process. Design Thinking is a mindset to develop and deliver innovative ideas and solutions to complicated problems. It teaches you to think critically and develop creative problem-solving skills," she says. Goyal cites the example of Apple phones, the most sought-after designer product. "We love Apple products because of their minimalist design. For instance, the single-user button and the superb touch interface in iPhone. People are ready to spend a fortune to get one," she says. According to her, empathy is a key element of Design Thinking. "As a designer, you have to put yourself in the users' shoes. You have to think from the other person's perspective," she explains. Design Thinking emphasises the importance of deep exploration into the lives and problems of people. That is the reason sales representatives in East Africa had to delve into the life of women farmers to find a solution.
Empathy requires us to put aside our learning, culture, knowledge, opinions and worldview purposefully, in order to understand other peoples' experiences of things deeply and meaningfully. It requires humility, because we also have to abandon our preconceived ideas and biases. It requires that we have a heightened awareness of other peoples' needs, wants, motivations and goals.
Amit Sheth, professor at Anant National University, believes India needs Design Thinking in every aspect of life. "We have to think original and question existing things. This can be included in planning towns, designing bridges and urban infrastructure," he says. He rues the fact that India's urban planners hardly use this concept. "When Mumbai's suburban train network or Calcutta's Metro Railway were planned, no one had thought that these cities will expand and explode with people in a few decades. Poor design leads to at least several deaths in suburban trains in Mumbai and frequent snags in the underground railway system in Calcutta," he explains.
Sheth cites Netherlands as a country that has taken Design Thinking seriously — in politics, development, urban planning and in multiple spheres and across diverse platforms. "No decision or policy is implemented by the Dutch unless it is approved by a design body. It can be a housing, a road network or a healthcare project," he says
Anant National University — that focuses on the fields of Architecture, Interior Design and Urban Planning — has introduced bachelor's and master's courses to teach students Design Thinking. Its course on Interaction Design trains students to design and develop interactive digital products, environments, systems and services required to solve contemporary challenges. "Above all, we try to awaken empathy, an innate quality in students, so that they can be good designers and problem-solvers in diverse fields," says Goyal.
Go ahead and put yourself in another's shoes to solve problems.