The Indian pharmaceutical industry might be a ray of hope in the feared economic slowdown
The post-coronavirus world will see jobs galore in the Indian pharmaceutical industry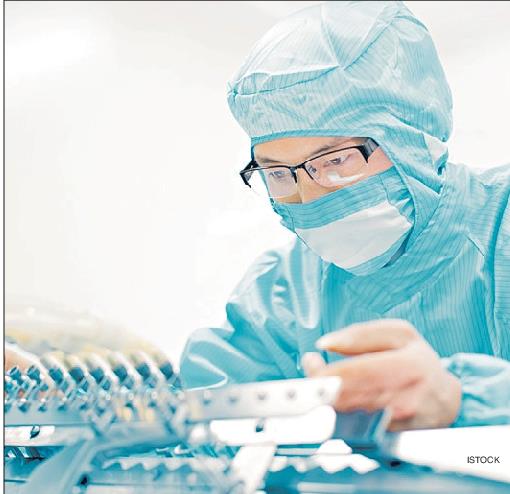 Researchers in laboratories all over the world are working to develop a cure to the novel coronavirus.
iStock
---
Published 28.04.20, 12:11 PM
|
---
The coronavirus pandemic has hit us hard, socially, financially and emotionally. By now, we are familiar with the need to flatten the curve by practicing social distancing. But what will happen after the lockdown? While there are fears about an economic slowdown and unemployment, could the Indian pharmaceutical industry blossom in the post Covid-19 world? Sritama Pramanik got a job offer while India is in lockdown and has started working from her home in Berhampore, Murshidabad. 'We track all phases of drug development from discovery through clinical trials to launch. We help the global pharmaceutical companies gain insight into the drug development trends across the industry and identify new business opportunities,' says Pramanik who has just completed her MBA in healthcare management from the Goa Institute of Management and is now working as an external consultant, Pipeline Intelligence, IQVIA, Bangalore. While it is a time of nail-biting anxiety for most finalyear students, people like Sritama might gain an upper hand as demand in the pharma and allied industries is likely to spike.
Researchers in laboratories all over the world are working to develop a cure to the novel coronavirus. Prasanta Kumar Das, associate manager of R&D at Zydus Wellness Products Limited in Ahmedabad, too is busy researching new products. 'We are working from home and at the laboratory on alternate days as our core work is laboratory-based. While working from home, we focus on documentation, strategy planning and studying research papers. We work in the lab with 3050 per cent strength to maintain physical distance,' says the man who did his MPharm from the Bengal Institute of Pharmaceutical Sciences in Kalyani.
A degree in pharmaceutical or life sciences may help students get absorbed by the industries now at the frontline in the Covid19 battle -- whether it be making diagnostic kits, drugs or vaccines. Avishek Shah is a researcher at a top multinational IT company in Noida and is currently working from his home in Kanchrapara, North 24-Parganas, on drug repurposing for Covid-19. 'I basically deal with in silico [using the computer] drug discovery, especially drug repositioning and drug repurposing using artificial intelligence and machine learning. This involves use of known information of drugs to allow usage in other fields. It is the time of big data and data-driven discoveries and there is a lot of scope in this field in healthcare,' says Shah who has done his masters in biotechnology from IIT Bombay.
Utsa Sinha, who did her MPharm in pharmacology from the Guru Nanak Institute of Pharmaceutical Science and Technology in Panihati, discovered that the field covered a wide domain. Take drug discovery or repurposing -- it involves partnership between myriad organisations and people from diverse fields. It is not merely performing experiments in a lab and testing for a putative drug; it involves a lot of upstream and downstream work, be it screening small molecules which might serve as possible drugs or analysing big data or monitoring the efficacy of a drug during a clinical trial. 'I work as a drug safety associate in pharmacovigilance, in which the safety profiling of a drug or biological product or medical device is done,' says Sinha who works in a reputed IT company in Calcutta.
Even after the pandemic, the pharma industry will be in much demand and may flourish. 'India is third in the world in terms of volume of pharmaceutical production and is the world's largest supplier of generic drugs. Postpandemic, generic drugs will continue to remain the focus while bio-pharmaceuticals (bio-similars, vaccines) will be the future. Application of data analytics and artificial intelligence is also growing. Growth in India will be export-driven,' says Arunima Bandyopadhyay, associate director, Integrated Product Development Centre, Dr Reddy's Laboratories Ltd, Hyderabad.
A pharma degree can get you jobs in pharma companies, the government, hospitals, different vendor companies, CROs (contract research organisations), biotech companies, start-ups and IT companies. 'A BPharm degree from a top notch Indian institute is definitely advisable. At Dr Reddy's, we hire not only from pharma, but also from IIT, ISI or those with a degree in biotechnology,' says Bandyopadhyay who has a PhD from the University of Washington, US, and was a postdoctoral fellow at Stanford University, US. 
Big picture
The pharmaceutical sector is not limited to medicines for human or animal use but includes medical devices, diagnostics, radiopharmaceuticals, nutriceuticals and even health authorities, academia and research centres, clinical investigator sites and contract research organisations.


The pharma sector offers opportunities for those with a bachelor's, master's or PhD degree from a wide spectrum of academic disciplines.


Drug research requires collaboration between team members from several scientific disciplines, such as biologists, medicinal chemists and pharmacologists.


Drug discovery and design are done in (big) pharmaceutical companies, academic research centres as well as in small spin-offs and start-ups. The ultimate goal is to deliver a few patented drug candidates, ready for development.