Career of the century: Financial analyst
A career in finance can be as exciting as that in the sciences or in engineering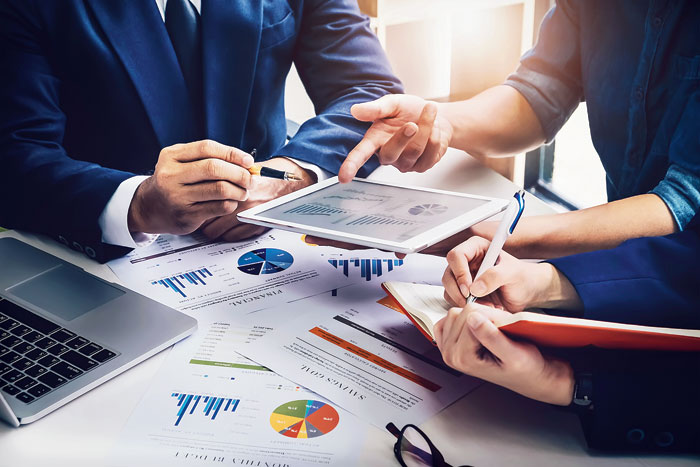 There are many attractive opportunities in finance
iStock
---
Published 25.11.19, 02:57 PM
|
---
If the previous century belonged to engineers, it can be argued that the current one will be ruled by finance professionals. We are talking about jobs and careers. Three decades ago, a qualification in finance would mean chartered accountancy or MCom; the career choices would be an accounting or audit job.
Today, the scenario is different. While accounts and audit remain as options, a career in finance means much more. Running a bank or government, managing an NGO or building a bridge — all require good financial planning. Hence, a growing economy requires a lot of finance professionals, just like the world needed engineers and scientists half a century ago.
Courses
If you want a career in finance, what are your options? An MBA with specialisation in finance or a chartered accountancy (https:// bit.ly/2XG3qeF) degree is good for a start. An MBA from the top IIMs — Calcutta, Ahmedabad, Bangalore, and now, Lucknow and Kozhikode — are in great demand.
In the case of finance, the pedigree of the institution is very important. That is because the best institutes, such as the top IIMs, always keep their curricula updated with recent developments in the field. What makes an MBA different from a CA is the focus on case-study-based learning and orientation to strategy. The course fee at good private institutes are high and most students would have to take an education loan to pay for it.
An MBA from one of the Ivy League US universities is considered a sure-shot pass to the corner office in large multinationals. But securing a place and a scholarship at such colleges requires many years of preparation and a lot of determination.
In the case of chartered accountancy, anyone who clears it in the first attempt would be very sought after. Chartered accountants (CA) have a good grasp of Indian corporate law and taxation. A student has to do an internship with a chartered accountancy firm, which provides him or her real-life experience. While the course is rigorous and meant for hardworking students, the fee is within the reach of those from not-so-affluent families.
However, an MBA or a CA degree is just the starting point. Depending on your interest and passion, many more options are available. If you want to become an investment manager, you can become a chartered financial analyst (https://cfa.is/2saMa Ti) while a course in financial risk management (https:// bit.ly/2QFRrfT) is suitable for aspiring banking and risk management professionals. Both these certificates can be pursued while working full-time and are more affordable than a full-time MBA.
Job openings
There are many attractive opportunities in finance.
Equity analyst: An equity research analyst analyses the fundamentals of a company (an investment opportunity) by studying the balance sheet and profit and loss statement, regulations, and trends in the economy and industry. He or she decides which stocks to invested in and when or which stocks to sell and at what price. An analyst requires a thorough understanding of how macro factors impact a company's performance. The field offers opportunities for women as well. Deborah Weinswig (https://www. linkedin.com/ in/deborahweinswig) is one such celebrated analyst.


Credit analyst: While an equity analyst looks at the "upside" potential in a company's future performance, a credit analyst will assess the "downside" risk of a borrower. The analyst studies various risks such as inter alia business risk (risks related to industry, market position and operating efficiency), financial risks such as financial performance and accounting quality, project risk and management risk. A rating analyst's goal is to predict if a borrower will be able to repay the loan. Rating agencies such as Acuité Ratings & Research Limited, banks and mutual funds employ credit rating specialists.


Investment banker: Investment bankers help companies and governments raise capital. They also facilitate mergers and acquisitions. They play an important role in the derivatives markets and pricing of financial instruments. This is arguably one of the highest-paying jobs; the employers are companies such as Goldman Sachs, Morgan Stanley and JPMorgan Chase.


Financial planner: A planner formulates strategies to secure the financial stability and future of a family or company. A planner has to understand the financial goals of a client and create a plan for investing and saving, depending on the risk-taking ability. Thorough analysis of investment growth, wealth preservation and tax planning is required for the job.


Forensic auditor: A forensic auditor examines a company's financial details and corroborates with evidence of embezzlement, money laundering or corruption. Most large accounting firms have a forensic audit department. Forensic audits require expert knowledge about the legal framework. With the world of finance getting more complex by the day, forensic auditors are in news every time there is a financial scandal.
Mumbai is called the financial capital of the country since it is home to many private equity firms, venture capitalists, private and public banks, brokerage houses, insurance companies and non-banking financial companies. While other cities also have opportunities for finance professionals (such as in corporate finance and banking), Mumbai takes the cake when it comes to senior-level opportunities.
Moolah matters
Finance professionals earn handsomely. The starting salary of a chartered accountant could be Rs 8-12 lakh per annum while an MBA from a top management college can earn upwards of Rs 20 lakh per year. This profession, however, demands the highest level of ethics.
Finance professionals are increasingly under scrutiny by law enforcement agencies and laws are being constantly updated to secure the economy from the fallouts of financial scams. A combination of hard work, determination, intelligence and ethics can lead a finance professional to high level of job satisfaction and a great reputation, apart from wealth.
The writer is CEO of the credit research agency, Acuité Ratings & Research Limited, and an indepen-dent director on the board of Indian Oil Corporation