B-School Redux
The Telegraph on the impact of Covid-19 on management education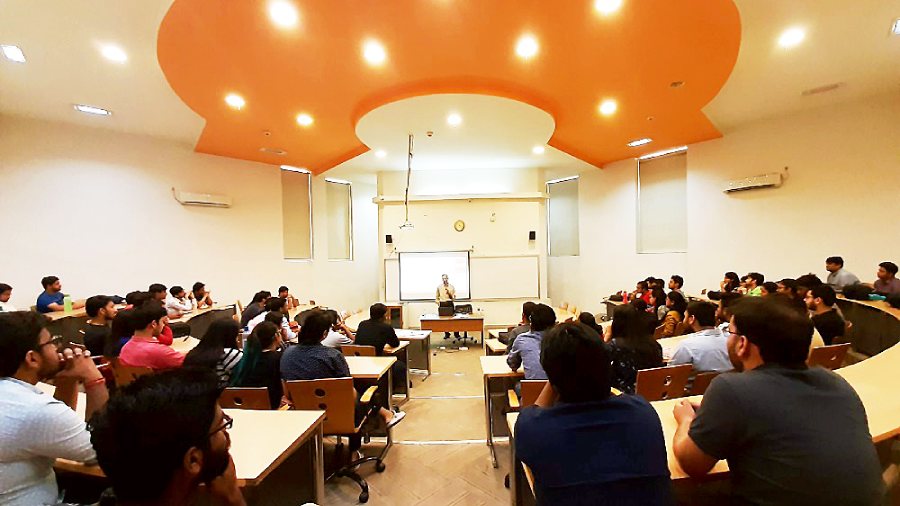 ---
Published 06.12.22, 04:34 AM
|
---
The pandemic has affected every aspect of our lives, including education. While the reach of and access to online education became critical issues for primary education in India, management education was faced with its own set of complexities.
Management education is different from other streams in many ways. A business management course is not about definitive things like a law or a theorem or the accession of a king to the throne; it's about solving business problems that are a product of a number of factors — including consumer behaviour and people management — in a rapidly changing world.
Management classes are, therefore, essentially about gaining perspectives about specific contexts and this can only happen through active discussions among peers, facilitated by the professor.
As a result, the Covid-19 pandemic not only required business schools to convert the medium of instruction, it also brought about substantial changes in all aspects of pedagogy — content, delivery and assessment — to achieve the unique learning requirements of a management programme.
As management schools grappled with the suddenness, ambiguity and complexity of the Covid-19 situation, they introduced changes that are likely to have an enduring impact on business education.
Content
The pre-Covid-19 world was already on the path of digitalisation; the virus accelerated the transition manifold. B-schools have to tweak their content to include skills that will help future managers navigate a digital, more complex and dynamic world. This will mean picking up data and tech skills such as business analytics and data science. In addition, students will need to be trained to become critical thinkers, problem solvers and better learners. The curriculum will need to be continually updated to keep pace with the changes in the talent requirements of the digital world.
Delivery
Online lessons during the pandemic have had several positive fallouts. One, all the stakeholders (students, professors, administration) are comfortable with the technology that enables it. Two, service providers have innovated with speed to make the online learning experience richer and more convenient. Three, professors have learnt to alter the way they teach, driving "learning by doing" to make classes more engaging. Four, B-schools have been able to reach out to global experts from industry and academia, and facilitate their interaction with the student community.
Student assessment
The biggest challenge in online education is ensuring fair and rigorous evaluation of student performance. The quality of assessment is critical to student learning; evaluation methods decide whether the institute is promoting learning by rote or rewarding the student's ability to analyse information and apply knowledge to solve business problems. While there were efforts made both by the service providers (to deliver platforms that enable fair assessment) and the teaching community (to find innovative modes of evaluation that work across media), online management education has struggled to find a good solution to the assessment problem.
The way forward
The increasing complexity of business models and the competitive landscape in a digital world has increased the relevance of management education that prepares students to make decisions in an uncertain and volatile world. I expect an increase in demand for B-school admissions, especially for those that have been able to tweak their curriculum and learning ecosystem to impart contemporary, in-demand skills. Skills around data — the ability to understand and use data to analyse business problems and find optimum solutions — across functions such as marketing, finance, HR, operations, supply chain and so on need to take centre-stage.
Management schools will have to disrupt what they deliver and how — creating an ecosystem that encourages critical thinking and business problem-solving in complex environments.
Hybrid learning is here to stay. Smart institutions will leverage the online option to bring more value to the class — in terms of accessing expert faculty and industry practitioners, engaging their global alumni and providing the community access to an eclectic mix of knowledge resources.
Online education will typically supplement in-class teaching — there is, interestingly, a renewed enthusiasm for the in-class experience as some of the inadequacies of pure-play online learning were exposed during the past couple of years.
Finally, B-schools will need to create structures that make them more resilient and agile — designed to handle disruption in skill requirement, student behaviour, technology, and environmental and social realities.
The writer is a senior management educator and scholar, and the founder-director of Praxis Business School Foundation. All views expressed are his own