The Swara Samrat Festival: A two-day musical feast
MUSIC: The vocalist, Sanjukta Biswas, enchanted listeners in Shudh Kalyan with the depth and generosity of her voice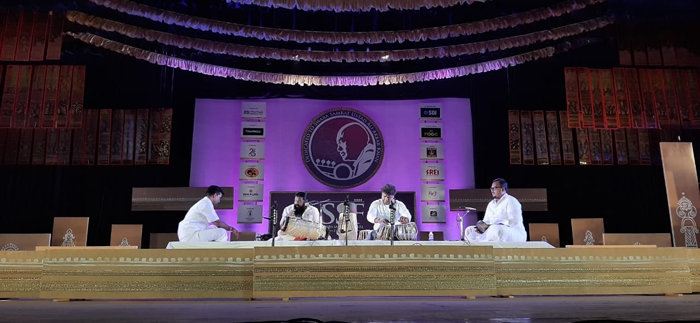 The Swara Samrat Festival commenced with Alaap, the performances by the young generation of Indian classical music, followed by a two-day music festival at Nazrul Mancha
The Telegraph picture
---
Published 17.01.20, 06:07 PM
|
---
The Swara Samrat Festival, the annual endeavour of Sreeranjini Musical Trust, was celebrated in different phases this year. It commenced with Alaap, the performances by the young generation of Indian classical music, followed by a two-day music festival at Nazrul Mancha. In the Alaap phase, the young Archik Banerjee created a vibrant mood with his tabla solo with the harmonium of Hiranmay Mitra. The melodious sitar of Mehtab Ali Niyazi in Bhimpalasree caught the audience's attention along with the tabla of Unmesh Banerjee. Shubhendu Banerjee played Patdeep on the harmonium.
The vocalist, Sanjukta Biswas, enchanted listeners in Shudh Kalyan with the depth and generosity of her voice. Raga Maru Behaag flourished with the soulful sarod of Abhisek Lahiri and Shubh Maharaj on the tabla. The Kathak performance by Abhimanyu and Vida Lal reinforced the festival's vibe.
The two-day musical treat began with the sparkling flute and violin duet of Ronu Mazumdar and Atul Upadhyay in Raga Brindabani Sarang, with the tabla of Tanmoy Bose. Uday Bhawalkar impressed the audience with the grandeur of his voice and in a dhrupad presentation in Bhimpalasree, assisted by Pratap Awad on the pakhwaj. Nisat Khan played Marwa while Anubrata Chatterjee accompanied him on the tabla. The Hindustani and Carnatic duet performed by Subhankar Banerjee (tabla) and Karaikudi Mani (mridangam) added a new dimension. Ajay Chakraborty entertained listeners with his usual expertise in Raga Jog.
The concluding day featured the Odissi performance of Sujata Mahapatra, who captured the life cycle of Lord Krishna with perfect skill. Rahul Sharma's Bhimpalasree on the santoor could have been more energetic, although he was well supported by Ramkumar Mishra. Arati Ankalikar enhanced the charm of Puriya Dhaneshree through her powerful voice and style. She was riveting in a tarana in adachowtaal and a composition in Hanskinkini, although she could have blended in a little more sweetness.
The solo tabla performance by Kumar Bose was enjoyable with the harmonium of Hiranmay Mitra and sarengi by Pankaj Mishra. Ashish Khan concluded the festival with Jayjayanti and Jhinjhoti on his sarod with Bickram Ghose on the tabla and Shiraz Ali Khan on the sarod.